60 Travel Packing Tips from the Experts
I am very excited to share these travel Packing Tips with you. It's the collaborative effort of over 50 of the best travel bloggers in the business! From travel wardrobe basics to practical tools and ideas, these expert tips reveal a treasure trove of information sure to make your trip planning easier. Pack light, pack smart!
TRAVEL PACKING TIPS FOR FLIGHTS – Comfort
If you travel regularly, keep the basics in your backpack. Saves a lot of time! Do not forget earplugs, a light scarf, medicines, sleeping mask and little scissors! A World to Travel
Lip balm, ear plugs, notepad, & panty liners for long flights (helps prevent yeast infections) and doubles the life of your underwear.  Green Global Travel
My Friend From Zurich shares their top three 1) scarf (multifunctional – if it's cold, if you need to cover up, to sit on…) 2) a must for plane trips: a small toilet bag with eye fluid drops, moisturizer, sanitizer and aspirin 3) ear plugs (to protect yourself from snoring roommates in dorms)
TFG TRAVEL PACKING TIPS: find out my 5 international flight essentials – they're not what you expect.
PACKING TOOLS – Travel Organizers & Travel Bags
Colored packing cubes as a means to organize your clothes. That way you can pull out the "shirts" bag quickly without searching and dumping out an entire backpack. Around the World in 80 Jobs
Don't bother with those fancy, expensive travel towels. Instead get a sarong. They're cheap and multi-use:  You can use them as a wrap, lay them out for picnics or sunbathing, they work well using them to dry off with, they're super light, and they dry very quickly, even in humid places. Top Packing Tips: DO invest in packing cubes. They make packing and living out of a suitcase/backpack more organized and much easier. 1 Dad 1 Kid
Take a range of see-through plastic bags with you. Useful for an overload of dirty washing you want to keep separate, replacing lost make up bags, storing souvenirs, and just generally keeping your bag organized without having to empty it every time you want to find something. Very useful if you like to compartmentalize, like I do. Vicky Flip Flop Travels
Always pack a few plastic baggies in different sizes. They are great for swiping food for lunch from the buffet breakfast or for putting those seashells in that your child collected. As a bonus, bring a small collapsible cooler with a baggie filled with ice from the hotel to keep your lunch cold or to refrigerate something that you pick up from the store for later. There and Back Again Travel
Always carry a huge garbage bag (clean, of course!) in your backpack's top pocket. You never know when you need to protect your backpack from downpour or wandering hands in your hostel. Solitary Wanderer
My best advice when it comes to packing: ziplocs! I keep everything in ziplocs, from toothpaste to shampoo to sunblock, to prevent any of them from damaging my clothes or electronics. It's a cheap & easy solution to make sure that your day isn't off to a bad start because of a face cream stain on your favorite jeans! Beatrice BP
I pack my daily supplements and vitamins in small zip-lock bags to reduce bottle bulk. Geogypsy Traveler
It's one of the many oft-repeated packing tips but seriously – a bunch of bags to separate out your clothes will prove invaluable. Compression sacks, packing cubes or just stuff sacks – use them to keep things organized and smush clothes down. Just make sure they're not plastic! Chasing the Wild
Make sure all your liquid items are in bags or separated somehow from the rest of your things. That way, if one of the bottles gets damaged, it won't get all over your entire wardrobe! The Kay Days
Instead of plastic bags, use cloth hotel laundry bags for storage. They are reusable, washable, and don't make that annoying rustling sound if you find yourself in a hostel in the middle of the night searching for something. Man on the Lam
Always use compression bags to pack your clothes.  Not only do they save space in your bag but they also double as waterproofing for valuables when you're out exploring. Flip Flops Abroad
Space bags are great, but don't forget you'll need to go through that process EVERY time you open your bag. Is it worth it? It's One World Travel
TFG TRAVEL PACKING TIPS: Use packing cubes! Read this post to compare various packing organizers.
HOW TO PACK – Travel Packing Tips and Tricks
Roll stuff, don't fold it, it seems to take up less space from my experience. Also, leave at least half of what you were going to take behind, you're not going to need it. Although you won't believe me and take it anyway, because everyone does, at least the first few times. Finding the Universe
I always roll my clothes because it takes up less space and clothes are less wrinkly.  I also bring an extra pair of contact lenses, no matter how short the trip and pack my glasses and a pair of underwear in my carryon in case of delayed luggage. Monkeys and Mountains
Pack elasticated bracelets as they can double as hairbands in a pinch and can be used to hold small items together. Also, I've never regretted taking those packs of mini tissues. Southwest Compass
I like to bring a few sheets of tissue paper along. I use tissue paper to roll up anything that is likely to get wrinkled. Works great. Bond Girl Photos
Use a suitcase where you can tie your clothes down tightly. It works like an iron. Boomeresque
TFG TRAVEL PACKING TIPS: Fold then roll your clothing as shown in this video tutorial!
TRAVEL PACKING TIPS for Fashionistas
Packing light provides you and your trip flexibility. Therefore, I pack mostly black and blue (jeans) clothes and provide color with scarves and accessories. I am also a confirmed "roller". Family Travel
Bring the Jeans, leave the heels. Make sure you bring the right bras. When you're stacked, it can be a real challenge to make sure the girls are locked and lovely. My fave combo is one everyday bra, one sexy bra and one sports bra. It's One World Travel
If you love your jeans, just pack them. No matter what else someone tells you—they take too long to dry, they smell bad wet, they are heavy—yes, they are all of those things … and they are also something you likely wear every day now, and you will on the road too. Oh, and use packing cubes!  A Little Adrift
Read the pros and cons of traveling with jeans.
Think twice about the hiking boots. Not only are they bulky and heavy, but I find that even when I've packed them in the past, I've always felt more comfortable wearing a pair of Toms or Chucks. Unless you're thinking about some serious hiking, you can get away with a much lighter (and more fashionable) shoe like this one. That Backpacker
Bring a black or brown dress and tops with you. I call it the 'safe' colors. You can wear them anyway, anytime without the worrying too much on how you look like. Bringing one stiletto or high-heeled shoes also helps especially if you need to attend a formal event. In terms of packing, bring cotton tops and if you're going to a tropical country, avoid bringing bulky clothes. Senyorita
Be conservative with shoes. Even shoes that you normally consider comfortable may pinch your feet or give you blisters. Go for the most comfortable yet neutral shoes you can find and make sure they're broken in, and bring cuter shoes for short outings or evenings. This is My Happiness
Wherever you are going, and in whatever climate, always, always have a posh frock and heels in case you need to dress up. Escape Artistes
Check out our favorite heels for travel!
No matter the climate I'm going to, I always travel with at least one scarf. It takes up virtually no room, and yet can have so many uses. A scarf can dress up a boring travel outfit, can give you a bit of warmth in chilly locales, can help you cover up in more conservative destinations, and can even serve as a pillow or sarong in a pinch. Dangerous Business
Resist last minute urges to pack extras (like extra t-shirts). Allow 30 mins extra time before you leave for the airport to edit what you've put in your bag. Aim to take at least three items out.  30 Traveler
This stems from my living in France and I have benefitted from it when it comes to packing.  I pack lots of scarves, not only do they take practically zero room in a suitcase but they are really versatile.  It allows me create multiple outfits from the same top and bottom by providing different colors and textures, but it also serves as protection against cold or sun.  I have used it as a picnic blanket and as something soft (or protective) to sit on.  Also, I pick up scarves wherever I travel so it turns into a travel moment too! Misadventures with Andi
Little black dress and cute flats – and a shawl go a long way. Nomadic Chick
Check out our top 10 cute and comfortable ballet flats for travel.
Lay out all the clothes you intend to take… then put half of them away! I've never regretted not taking any piece of clothing on a trip but I have regretted packing too much. Take double the amount of underwear that you think you'll need. A girl can never have too many pairs of clean knickers.  Flashpacker Family
When in Asia always travel with a scarf. It is perfect for places that use a bit too much air conditioning, throwing over shoulders or wearing as a skirt if your clothing isn't appropriate for temples and always makes clothing look a bit more put together. Asia Travel Tales
Bring versatile clothing that you can reuse in several outfits. I especially love wrap dresses that you can change from one-shouldered to halter to strapless and more! Christine in Spain
Want to still look good while you travel? Bring the clothes and styles you love so long as they're reasonable and don't take much space. I always travel with a skinny tie and skinny jeans (hipster essentials) because you never know when you'll want to look good—even when abroad.  Travels of Adam
TFG TRAVEL PACKING TIPS: Find out our number one packing tip!
TRAVEL PACKING TIPS for Families
One that's probably been mentioned a lot, but I live by! Lots of layering options for the kids reduces the need to pack lots of warm clothes. By layering it's easy to modify how snuggly they need to be and multiple short sleeve and long sleeve t-shirts to layer, are more space friendly than carrying extra jackets for example. Little Aussie Travellers
Your kids, especially toddlers, will ALWAYS need less than you think they will, especially when it comes to toys. An iPad or other tablet plus a very small bag of favorite toys can get you to your destination, while the actual place you are visiting is often entertainment enough. With so many new sights and sounds to explore you will find your toddler ditching that bag of cars you packed in exchange for every stick, rock, and leaf along the way. Walking on Travels
We are a family of 4 when we pack, we roll everything (except jeans and thick pants), it does give more space to pack. The Q Family Adventures
Traveling as a family of four, we use vacuum-sealed, airtight and waterproof space bags for each individual.  They compress clothes by squeezing the air out and give us more space, protect clothes from spills and an easier way to separate everyone's belongings.  They're also great for bulky items like sweaters and ski gear for those winter trips. The World is a Book
My best packing tip for families: make the kids pack and carry their own stuff. That way, whatever tempting cool clothing they want to buy along the way, they know they have to carry. Saves mom and dad's backs. Also, dark everything shows stains less, needs washing less, and if you happen to have a few tiny holes but the layers under are dark too, it's less noticeable! The Nomadic Family
My best pet travel packing advice is always bring your dog's blankets and pillows and a few toys that all smell like home. It keeps them calm in the car and lets them have a piece of home when sleeping in a different hotel every night. It's the best way to have well-behaved, well-traveled pets. The Constant Rambler
TFG TRAVEL PACKING TIPS: Read this packing list for toddlers and babies to make traveling with a family a breeze!
PRACTICAL TRAVEL PACKING TIPS for Everyone
Leave space in your backpack or suitcase. Use the extra room for souvenirs and purchases you make during travel. Awe Inclusive
When you are taking a short trip: pack your old underwear and throw it away after you wear it. I also take clothing I'm tired of and leave it behind, too. I pack underwear and jewelry in my shoes. Edgy June Travels
Pack a spork to make your street food experiences easier and more enjoyable. Travel Gear for Men
Don't forget the duct tape. You'll find a million and one uses for it. My Itchy Travel Feet
Here is a twist on an old standby.  3M has come up with a new type of Scotch Transparent Duct Tape.  It comes in various strengths, but it is not yet available in convenient mini-rolls. Savvy Traveling
Besides the normal things like clothing, body products etc. I take a traveling natural health kit. One of the key ingredients in this is essential oils, they're great for natural first-aid, to help ward off germs and bacteria and even for a bit of scent (smaller than any perfume bottle). I use lemon oil as my hand sanitizer wherever I go. Easier to carry and better smelling than most products on the market. Santa Fe Travelers
I always have a thread and needle. Not only can you save your own skin (from making an appearance in unwanted times and places), you can exchange your services for free beer. Going Nomadic
The best day bag for travel is a dry bag like this one that you can use to protect and store your valuables! We Heart Scuba Diving
String and cable ties – it's unbelievable how many times they've come in handy! Magnificent Potato
I always pack a hypoallergenic pillow case (one that zips) to cover skuzzy pillows, which often contain dust mites. And, of course, I pack a sleep sheet (some call it a 'sack') to protect me from bed linens I'd rather not touch. Chicky Bus
Buy a 'round the world' adaptor rather than one suited only for the country you're from & the one you're going to. Saves money in the long run and in the short term it gives you more flexibility (ESP during airport layovers). Inside the Travel Lab
I always carry earplugs and a headlamp. You never know when you will need them. Ordinary Traveler
Find out our top 10 travel essentials for backpackers.
I keep a "quick fix" kit in my cabinet and grab it for trips. It contains earplugs, a sleep mask, lip balm, ibuprofen, and extra contact lenses. I also bring flavored tea bags when traveling to relax with a cup of tea no matter where I am. As for clothing, I keep it simple, lots of black (goes with everything and difficult to stain!). Spanish Sabores
Buy a backpack that isn't a top loader. Backpacks like the Berghaus Jalan and the Osprey Farpoint zip most of the way round and open like a suitcase, which makes getting to your stuff a lot easier! Gap Year Escape
Keep a list of all the 'bits and pieces' you need for a 'weekend' 'overseas' and 'vacation' as each place requires different things to take especially in the electronics area – chargers, leads, memory cards, etc. A list means it's less likely to be forgotten. Kiwi Travel Writer
The best item I found in recent memory is a travel clothesline. If you'll be hand-washing your clothes while traveling, it's super convenient. SKJ Travel
Learn about how to wash clothes while traveling.
Because we at Green Global Travel often travel to off-the-beaten-path destinations, it's crucial that we pack light and carry clothes that can be washed and dried very easily. Green Global Travel
Always have a lip balm and your speedoe if you're traveling in Europe. And always pack light! Dream Euro Trip
TFG TRAVEL PACKING TIPS: learn the secret to packing light in 60 minutes!

A GIANT THANK YOU TO ALL THE TRAVEL BLOGGERS THAT PARTICIPATED IN THIS POST!
If you have any travel packing tips to contribute, share them in the comments! If you found this post helpful, please share and re-tweet to show these travel bloggers how awesome they are for hooking us up with their best travel packing tips! Thanks for reading!
---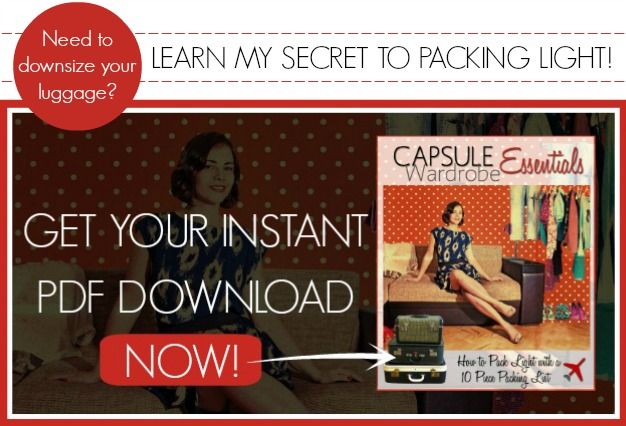 ---
Liked this article? Check out similar posts:
Share and Enjoy
Did you enjoy this article?
"DOWNLOAD 8 FREE PACKING TOOLS"
Sign up now and get your all-access pass to my free packing ebooks, outfit planner, and printable checklists!