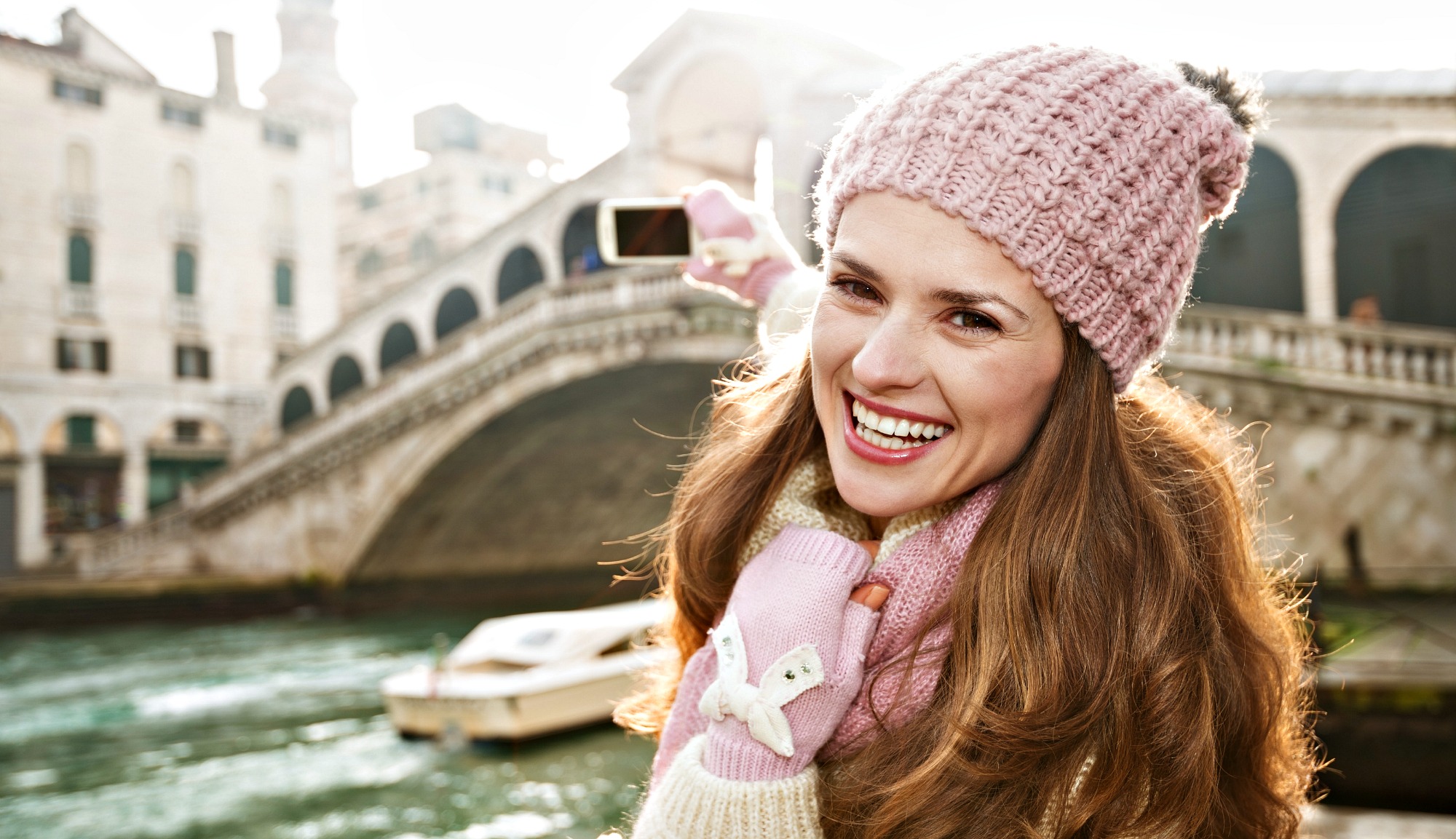 ---
Need tips on what to wear somewhere else? For a full listing of all our destinations, please visit our packing list page!
---
For this sample packing list for backpacking Europe, we've planned an itinerary for you that includes: Rome, Paris, Zurich, Amsterdam, Barcelona, Budapest, Prague, Berlin, and London. You can use these guidelines whether you're backpacking or on vacation.
Use this page for inspiration for a multi-stop trip and just add or replace your destinations. You can find tips for individual countries here!
---
Backpacking in Europe: Winter 
by Cailyn Cox
---
While weather varies from city to city, these visuals will help you determine the 12 key pieces for backpacking in the winter. Winters can be bitterly cold and harsh in some European cities, with a significant decrease in temperature and daylight hours. It's essential to be warm, comfortable, and prepared for unpredictable weather.

Before you get started, we suggest reading these other helpful articles:
If you need packing tips for another time of year, please read The Ultimate Backpacking Packing List for Europe.
---
Sample Packing List for Backpacking Europe in Winter
---
Sweater | T-Shirt | Denim | Button-Up | Shirtdress | Dress | Jeans | Jeans | Coat | Jacket | Skirt | Knit | Boots | Boots | Scarf | Backpack
Bottoms
1 Leggings
Leggings are comfortable with their stretchy waistband and fabric, and can be paired with virtually anything. Black is the best color to use as your base.
Check out the top 10 best leggings for women who travel!
1 Denim Treggings
Practical and stylish, you can wear this item more than once and mix and match to create a number of different looks.
1 Denim Skirt
Since denim is a thicker material, this skirt will give you added warmth and is great to team with knit tights for dressing up.
2 Jeans
Jeans are always flattering and a slim pair looks great teamed with ankle booties. Skinny jeans are more feminine than other cuts and denim is thicker than fabrics like cotton and linen.
When you backpack Europe in winter, opt for a lighter color and another pair in dark denim or black to add variation to your travel wardrobe. These are my favorite jeans for travel.
Tops
2 Long Sleeve Top
The longer length keeps you warm and is great for layering. When you find yourself indoors in a heated room, you'll be thankful you can remove some layers! Choose black to attract sunlight and thicker materials like denim for added warmth.
Follow these tips to choose the best fabrics for travel when you backpack Europe in winter.
2 Sweaters
A sweater is comfortable and warmer than a simple long sleeve shirt. They're wonderful worn with jeans and underneath bigger jackets.
1 Blouse
A blouse is fantastic for milder temperatures or worn underneath a leather jacket. Comfortable and chic!
Outerwear
1 Artic Jacket
This jacket will protect you from the bitter cold.
1 Leather/Faux Leather Jacket
Leather is a great travel material as it's waterproof, durable, and timeless. Wear your leather jacket on warmer days instead of a heavy coat or underneath a coat for the coldest days.
1 Water-Repellent Anorak
The cooler seasons see the need for jackets and coats that are thicker to keep you warm. This anorak will be your best friend for the cold and wet weather. Choose outerwear you can layer!
Footwear
It's essential to have appropriate footwear when backpacking in Europe. You need shoes that are durable, waterproof, stylish, and comfortable when walking for long periods. Your footwear depends on your planned activities and personal preference.
Read about our most recommended travel shoes for Europe.
1 Sneakers
These don't have to look like you just came from the gym! There are many styles of trainers that are both comfortable and fashion appropriate. Opt for a pair with faux fur or wool lining for added warmth.
1 Boots
The winter season can mean snow; be prepared with appropriate, warm footwear. Choose tall leather boots or even snow boots for temperatures below freezing.
1 Ankle Booties
These will keep your feet warm and dry during your travels. Ensure they're leather or a similar material for durability and comfort.
When you backpack Europe, you want to have versatile footwear. Make sure either your ankle boots or tall boots are in good condition and can be dressed up.

Extras and Accessories
Sunglasses
Make sure your eyes are protected with quality sunglasses with UV protection.
Umbrella
Don't be caught off-guard; carry a travel size umbrella inside your handbag in case you get caught in an unexpected rain shower.
Scarf
Scarves are not only the perfect accessory to add warmth, but also to add a touch of color and personality to an otherwise neutral outfit. Pick warm scarves (like wool) in your preferred colors and patterns. I love these easy-to-wear infinity scarves.
Hat
A hat like a slouch beanie will keep you warm and can create an edgy look.
Gloves/Mittens
These will come in handy!
Tights
Add 2 pairs of thick knit tights for added warmth.
Crossbody Bag
Check out our top picks for crossbody travel purses.
 Check out the Lazy Girl's Guide to Stylish Travel Accessories!
For individual countries, please refer to the corresponding packing list for Europe including advice directly from locals: TFG's Europe Packing Lists.
---
Weather for Europe in Winter
---
This is a brief summary of the weather for the cities we've chosen for our sample backpacking Europe itinerary: Rome, Paris, Zurich, Amsterdam, Barcelona, Budapest, Prague, Berlin, and London.
ROME 
Rom has a Mediterranean climate with hot, dry summers and mild, rainy winters. Summer is the most popular time to visit the city, which is situated on the west coast of Italy. There are many cultural attractions and an energy that makes it a popular tourist destination.
The winter in Rome is cool and rainy with temperature ranging between 4-13ºC / 39-55°F), which is warmer than many other winter destinations in Europe.
Get more tips in the Italy Packing List.
PARIS 
Paris: the beautiful French city known for its culture, fine food and wine, haute couture, and all things fashion. When visiting this city, it is important to pack clothing for fine dining and dressing up as well as comfortable clothes for walking and sightseeing.
Paris has a temperate oceanic climate with warm summers and cold winters. Rainfall is moderate and steady year-round. Winter has average highs around 6ºC / 43°F and lows around 1ºC / 34°F. Snow is uncommon.
Get more tips in the Paris Packing List.
ZURICH 
The largest city in Switzerland contains picturesque countryside, breathtaking architecture, great cuisine, and cosmopolitan nightlife. With the beautiful Lake Zurich, forests, and the Alps just 30 kilometers to the north of the city, there are many reasons to want to visit.
Zurich experiences relatively mild climates and is characterized by its summer highs and a very cold winter. The average high in December and January is a mere 2-3ºC / 35-37°F while the average minimum falls to around -4ºC / 26°F.
Get more tips in the Zurich Packing List.
AMSTERDAM 
Amsterdam is known to be a particularly rainy city (Europe's 4th rainiest). It's charming, beautiful, and filled with cobblestoned streets, flowers, and canals.
Amsterdam rarely sees the temperature drop below freezing for long periods. Average lows are around 1°C / 34°F and average highs are 6°C / 43°F. There's little sunshine but less rainfall.
Get more tips in the Amsterdam Packing List.
BARCELONA
Barcelona enjoys a Mediterranean climate of hot summers and mild winters. The city is beautiful and filled with museums and celebrated art. With its glorious beaches, sunshine, and constant celebrations and festivals, the infectious energy of the city will enchant you.
The winter in Barcelona is mild; the average high temperature is 13°C / 55°F and the average low is 4°C / 39°F.
Get more tips in the Spain Packing List.
BUDAPEST
The beautiful capital of Hungary is filled with historical legacy, museums, and impressive architecture that consists of baroque, neoclassical, and nouveau buildings. The city experiences a continental climate with moderate rainfall and temperatures that are cold enough to support a fixed period of snow each year.
Winters in Budapest are cold and bitter with temperatures that can go well into the negatives–it can drop to -29ºC / -20°F! However, the average daily temperature is around 3ºC / 37°F, with an average minimum of -2ºC / 28°F. There may be light but frequent snowfall.
Get more tips in the Budapest Packing List.
PRAGUE
The Czech capital is a bohemian-style city, rich with history and celebrated architecture. Prague's climate is continental, with clearly defined seasons, hot and rainy summers, and cold winters.
Winter in Prague is very cold and it always snows, although there's little rainfall. The average daytime temperature is 2°C / 36°F and nighttime is around -4°C / 25°F, although the city can experience severe cold down to -20°C / -4°F. Brr!
Get more tips in the Prague Packing List.
BERLIN
The German capital is a beautiful, vibrant city known for fashion, design, music, and art. The city experiences a temperate continental climate and receives all four climates with warm summers, cold winters, and moderate rainfall.
The winter season sees just a single hour of sunshine per day! It's cold and windy, with average daytime temperatures of 2°C / 36°F and night lows of around -3°C / 27°F. The city is cold, but there isn't much snow–instead, there's sludge and ice.
Get more tips in the Berlin Packing List.
LONDON
One of the most visited and celebrated cities, London is rich with history, architecture, art, museums, and trendy cafes. London experiences a temperate maritime climate with four seasons and no extremes.
Winters in London are cold, but not extremely cold. Snow is rarer in the city than elsewhere due to the "urban heat island". Winter sees an average temperature of 5°C / 41°F and lows around 2°C / 36°F. Rainfall is at its highest in late autumn and winter with short daylight hours.
Get more tips in the London Packing List.
---
Find out what to pack for backpacking in Europe year-round:
Click here to view the other Backpacking Packing Lists for Europe.
---

---
Additional Travel Resources for Europe:
---
LIKED THIS POST? PIN THIS PIC TO SAVE IT!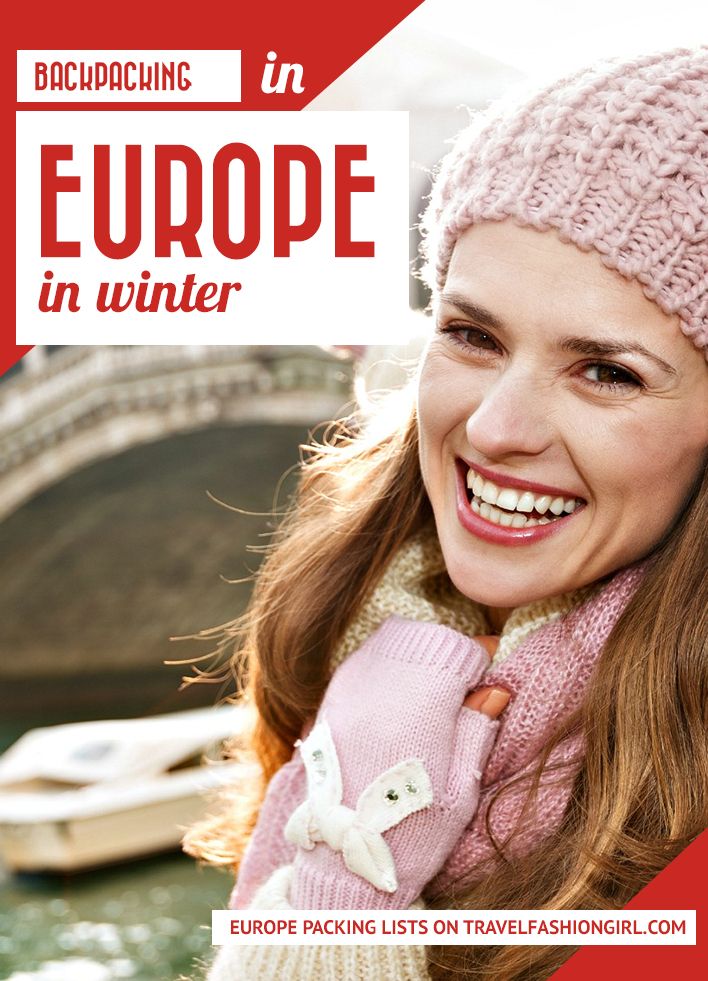 ---
Now that you know what to wear when backpacking in Europe in winter, please comment with your own travel essentials. Don't forget to share the love on Facebook, Twitter, and Pinterest. Thanks for reading!
---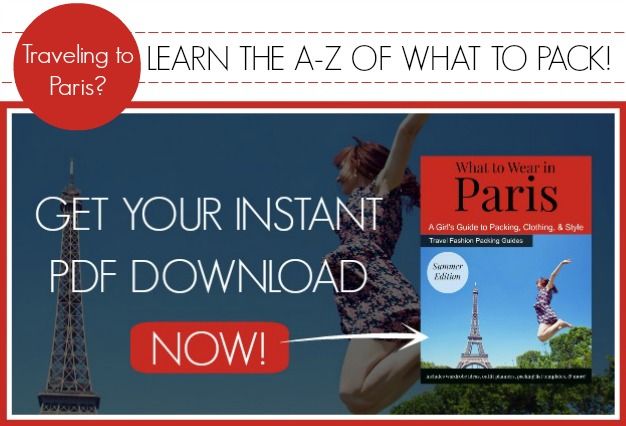 ---