Welcome to the Spring 2013 Edition of Travel Fashion Girl's Classic Packing List!
The Universal Packing Lists are your ultimate minimalist guide to packing light. Whether you're a fashionista or a no-frills traveler, these lists are made for you to customize them to fit your own personal style.
This isn't your average packing list! The clothing shown has been carefully selected and offers you brands, colors, fabrics, and functionality that will help make planning your travel wardrobe a breeze. By including a combination of well-known travel brands along with your favorite retailers, you'll find that you really can find a happy balance between travel and fashion!
Please keep in mind that each item shown is only used to represent visual ideas of how you can create your own custom list with the style and color palette of your personal preference. Have fun with it and get ready to have your own personal travel fashion show.
 For the original 12 piece Classic Packing List click here.
Wondering where to buy these items? Click here!
How to know if this packing list is for you:
This minimalist packing list is ideal for travelers that want to travel light no matter the destination or the length of the journey. Consisting of just 12 pieces of clothing, each item is chosen specifically to provide you with optimal function while also maximizing your travel outfit options. The Classic Packing List offers you flexibility and varying travel wardrobe options without the risk of over packing.
Follow this guide if you want a nice balance of clothing options on your trip. You can always buy fun new travel clothing pieces along the way. Remember, pack travel clothes you're happy wearing otherwise you'll want to replace items early in your trip. This is a great universal packing list!
To learn more about customizing TFG's Packing Lists to meet your needs, please read this guide.
Where are you traveling?
This list is equally perfect if you're traveling for business, going on a 2 week vacation or holiday, or if you're a minimalist traveler going on a long term trip. It's all about choosing the right clothing pieces to fit the needs of your travels, and making sure that you can mix and match each item.
This 12 piece packing list is highly recommended for Round-the-World or extended trips. You can tweak the list to fit with the seasons you'll be traveling certain countries. If you're visiting cold countries first, pack warmer items when you leave, then replace them with summer clothes along the way or vice versa.
Laundry:
Hand washing isn't always necessary. Laundry facilities or services are often times available in hostels or in the nearby area. Travel underwear can be easily washed without the need of a universal sink plug to keep you going between full laundry washings.
However, if you're planning on doing hand washing to save cash on the road, you might also want to get a few additional items like a universal rubber sink plug
, laundry clothesline
, and a few handy laundry soap sheets
 to make this process a breeze!
Guidelines to choose appropriate items:
As with all the lists, it is important to select clothing items that work well together and can be used interchangeably.
Color: 1-2 Color Stories. solids, patterns within the same color story
Fabric: Durable, quick dry, synthetics
Cut: Good Fit, classic styles that match with everything
Style: Appropriate in various settings: Beach, Temples, Villages, Cities, Treks, etc
Travel Bag: 40-50 Liter Backpack suggested or carryon suitcase. Packing cubes help squeeze many clothing items into a smaller space.
For a complete guide to choosing your perfect wardrobe, sign up for the free Classic Packing Guide e-book.
12 Piece Classic Packing List
6 Tops + 4 Bottoms + 2 Dresses
Two Tank Tops, Two Short Sleeve Tops, and Two Long Sleeves for varied climates. (Adjust sleeve length and thickness accordingly.) – Synthetic fabric, quick dry, solid colors or simple prints. Classic cuts that can be worn under dress or button up shirt to match and provide extra coverage if needed. 
Tunics are versatile
 and can be worn in more than ways than regular length tops. Include o
ne long sleeve button up shirt with light fabric, synthetics, polyester, or silk blend. Able to layer over other tops and dresses as a light jacket or cover up
Four Pants – 
Travel Pants
, Jeans, and leggings are all good options for travel. Light cargo pants are good and have multiple uses. Water Resistant properties encouraged but quick dry fabrics are important due to the minimal amount of clothing. 
Jeans work well
 on shorter vacations, trips to metropolitan cities, or cool climates. Remember, jeans may be heavy but they hardly have to be washed. You can never go wrong with a pair of denim shorts.
 Maxi skirts work well in a variety of settings and are both fashionable and conservative
Two Travel Dresses – Light Fabric, one in a Solid Vibrant Color/Print and one in Neutral Khaki or Little Black Dress. A sun dress is idea that can be worn casually during the day and dressed up at night. Convertible dress/skirts are ideal and this Little Black Travel Dress can go from day to night with a few quick tugs.
Outerwear – One Fleece/Hoodie/Cardigan and /or Water Resistant Jacket/Coat depending on weather
One – Two Bathing Suits – Reversible bathing suits allow you to mix and match. Choose one that has a neutral shade on one side so it can easily double up as a bra under your tops
Two Bras – neutral color that matches with all your tops. Read about choosing the best bras for travel.
One Sports Bra – if you plan on doing activities or have long bumpy transportation journeys
Seven -Ten Pairs of Travel Underwear – quick dry, avoid 100% cotton
Three pairs of shoes – One Pair of Flip Flops/Sandals/Flats and One Pair of Trainers/Hiking Hybrids. If you have space for a third pair, pack something to dress up your travel outfits. Read more about finding fashionable and comfortable travel shoes.
One belt that can be worn with pants and dress for practical style
One or two complete sets of costume jewelry – one of each: earrings, ring, necklace, bracelet
Multi-use Stick (check out the Nars Multiple Stick) and basic makeup essentials
If you want to pack light but need more or less clothing options, check out the other Universal Packing Lists and to shop functional and stylish travel gear, check out the Travel Fashion Girl Shop.
Download your free copy of the 12 Piece Classic Packing List by signing up for Travel Fashion Girl's newsletter – bringing you the best in destination packing lists, travel outfit ideas, women's travel, top spas, shopping destinations, and fashion and beauty tips!
---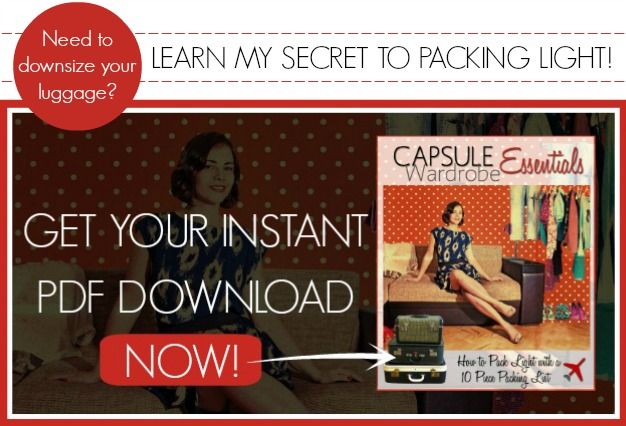 ---
Please share and re-post this minimalist packing list to help other travelers like you. Thanks for reading!
Share and Enjoy