Travel Fashion Girl offers Functional and Fashion Packing Lists!
Travel Fashion Girl provides four unique functional and fashion packing lists that you can customize to meet your needs and your personal travel style. Just as each girl is unique, one general packing list does not work for every individual. One size does NOT fit all.
Many backpacking checklists available tend to be geared towards male travelers and can be confusing. They can even cause you to pack travel clothes for women you don't need and that don't make sense for your trip. There's not reason that backpacking clothes can't provide optimal function and still have a fashion flair, too.
Travel Fashion Girl Packing Lists include stylish travel clothes to act as visuals to help clarify any potential uncertainties. The images shown reflect regular every day clothing and do not consist only of travel clothes for women. Your gear should be a combination of Form, Function, and Fashion. Travel Fashion Girl hopes that you'll find a functional and fashion packing list that can help you pack efficiently and effectively for your trip. Select the style of your choice for more info. Happy packing!
Perfect for a Weekend City Break
6 piece packing list: the basics that should be in all travel bags
The Minimalist Packing List gives you the ultra basics – the bare bones – what every traveler needs in her pack. If you're not a flashy traveler and want minimalist travel, this packing list is for you! Check out this post on how to use stylish travel clothes for minimalist travel.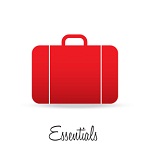 A Must in Every Traveler's Bag
10 piece packing list: complete minimalist packing made easy
The Travel Essentials Packing List shows you how to use the basic Minimalist packing list items with four added pieces of clothing to jazz up your options. This is a popular packing list for many travelers already on the road! Check out this post that shows you how you can mix and match 9 pieces of clothing to create 26 travel outfits.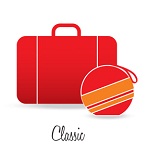 The Ultimate Packing List
12 Piece Packing List: the guide you can use for virtually any trip!
This Classic Packing List offers you a happy balance without going over the top. It gives you a nice assortment of items without feeling like you left anything behind. It's the ultimate packing list and can be used as a vacation, extended holiday, or RTW packing list.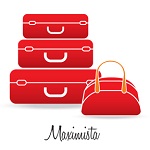 Perfect for minimalist 4 season travel and for RTW Trips
15 Piece Packing List: be fashionably prepared for anything
The Maximista Packing List offers packing options for the girls that just can't bear to part ways with their closets. Believe it or not, these quantities are more than generous. Travel Fashion Girl does not recommend that you exceed these quantities This list also acts as a great RTW packing list for trips that require multi-season clothing! Check out The Ultimate Round the World Travel Packing List post for more info.
To learn more about customizing TFG's Packing Lists to meet your needs, please read this guide.
How to use the Travel Fashion Girl Packing Lists:
Determine the weather in the regions you plan to visit on your upcoming trip to decide if you'll need clothing for summer or winter or both then adjust the suggested items accordingly.

Review each individual Functional and Fashion Packing List to get an idea about what type of clothing you might want to pack for your trip. You may need some technical travel clothes for women for certain activities such as trekking in Peru or Nepal.

Go through your closet and choose items that you feel will work for your travels. Lay everything out and assess each item individually. You don't have to pack stylish travel clothes if it's not your style. Just pack what makes you feel good and makes sense for the trip, too

Use the Travel Fashion Girl Style Mix posts to get new ideas about how to maximize your travel wardrobe and minimize your packing needs. Planning travel outfits in advance is a must!

Decide what Universal Packing List best suits you and have fun playing around with your chosen items! For specific locations, check out the Destination Packing Lists.
Share and Enjoy