Gifts for Travelers: Holiday Blogger Guides
Top Blogger Travel Gift Guides
Travel Fashion Girl's put together a list of blogs with great gifts for travelers that also act as awesome travel gear guides! Over the Christmas season travel bloggers created their must have travel gift lists. I've compiled some of my favorites to help you get your travel gear shopping list going. If Santa didn't bring you the right travel gifts for Christmas, use these lists to help you choose the top travel gear available.
Gifts for Travelers from the Top Travel Blogs
This is the first gift guide on the list because I love all the products and they're perfect for every trip. Check out the fun girly items on 5 Gift Ideas for High Maintenance Female Travelers from Life After Cubes.
If you're a digital nomad, check out Barefoot Nomad's Christmas Gift Ideas for the Traveler and Traveling 9 to 5's techie favorites with their choices for Holiday Gifts for Travelers. As a new digital nomad myself, I'm adding a few of their items to my list including a wireless router and Crashplan.
The Points Guy offers you a great list of luxe items for travelers seeking top of the line travel products. Discover some sophisticated first class gifts with this Last Minute Gift post.
Travel and Leisure gives you their faves with the Best Travel Gifts Under $50. With 25 products, you're bound to find something you'll love at an affordable price. Love the road trip board game idea and cute luggage tags.
Gadling hooks you up with an affordable and unique gift guide with Travel Gifts for the last Minute Shopper. Check out the Chic Travel Gift Guide video from Beauty in the Bag towards the end. Gotta have that carry on bag!
If you're a more youthfully experienced traveler, check out travel gifts for the boomer traveler by My Itchy Travel Feet. I like her "on the road" practical items and skincare products.
Christmas Gifts for the Traveler by Ian from Eager Existence offers a nice roundabout list for a variety of traveler personalities. Personally, I'm liking his "clothes" pick

Runaway Juno offers some great ideas for long term travelers with her perfect holiday gift choices. I'm for sure adding a kindle
 to my shopping list.
Shannon with A Little Adrift offers up her top eight favorite travel products. I'm all over the Lumix camera and the cool overland purse.
If trekking is your thing, Wanderlust and Lipstick's last minute shopping guide offers some great options for outdoor enthusiasts including a chic hoodie and handy water purifier.
Wandermelon's holiday gift guide for travelers includes foodie finds, a kickstarter gem, and a spa retreat. Original and helpful!
Maria from the Vegan World Trekker created this unique holiday gift guide which is 100% vegan friendly! Although I'm not a vegan, I like her choices for yummy snacks, toiletries including Lush vegan products
, and travel bags.
Hope you find some great gifts for yourself or for others with these blogger holiday gift guides. To check out Travel Fashion Girl's own top picks, check out Holiday Gift Sets for Women; Gadget Gifts for the Techie Traveler; and the Gift Ideas for Him 
If you have an awesome travel gift list on your blog or other suggestions for gifts for travelers, leave a link on the comments! Don't forget to please share and re-tweet this post. Happy Holidays!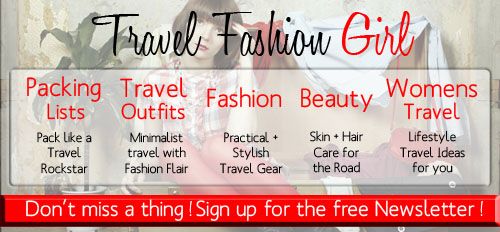 Share and Enjoy