Holiday Packing List for a 2 Week Trip to the Thailand Islands
How to Pack for a 2 Week Beach Trip in Thailand – Your Holiday Packing List!
While Mexico is a massive vacation destination for North Americans, Thailand is a travel must for Europeans on holiday. Thousands of travelers head to the Thailand Islands in search of sun, fun, and relaxation. With dozens of tropical islands and epic limestone cliffs overlooking the aquamarine waters; you will not be disappointed.
Whether you want to island hop the well trotted Samui islands in the Gulf, party in Phi Phi, or chill out in beautiful Railay; planning your holiday packing list for Thailand is relatively simple. With a temperate climate, you can fit your belongings quite easily in a carry on suitcase or travel bag. It generally stays hot in the evenings but you can layer if it gets cooler. View Travel Fashion Girl's Signature Packing Lists for general guides that show you what to pack for any trip.
If you're heading to South East Asia this holiday season, Travel Fashion Girl shows you how to pack for a 2 week beach holiday in Thailand.
10 Piece Holiday Packing List for Thailand Islands
5 Tops + 3 Bottoms + 2 Dresses
5 Tops
Add a basic tank and tee plus two additional tops you can dress up with shorts or your maxi skirt. Pack a light ¾ sleeve or long sleeve top that gives you extra coverage in temples or smaller villages. A great option is a top that you can also wear on the beach when you want to have a break from the sun. Play with your travel outfits to make sure your tops are interchangeable with the rest of your travel wardrobe. A fun idea: choose a scarf with a great print and work your color story around that! Check out TFG's post about infinity scarves.
1 Pair of Shorts
Denim shorts are a staple on the Thai islands. If you don't pack your own you can buy them here starting at $3. They're easy to wear and can usually be worn several days without needing a washing. Not a denim kinda gal? Choose a neutral color that you're okay taking to the beach.
1 Maxi Skirt
A nice maxi skirt in a light fabric keeps you cool and can be worn in different settings if you choose to venture further into the inland of the Thailand. At the moment, you can find cute maxi skirts available in the tourist shops and markets. Check out these cute and stylish travel outfits featuring maxi skirts.
1 Sun Dress
Nothing better than to slip into an easy lightweight sun dress for a day out. Pair with flip flops during the day for a casual look and add sandals at night to take it up a notch. Add a scarf for style and extra coverage in the mainland. Respecting the local culture should always be priority when traveling.
1 Dress/Playsuit
This dress can be a basic cotton LBD you can dress up or down or a sexy number you picked out especially for your holiday. You can also go with something fun and classic like a black playsuit that can be worn anywhere. You want something you feel comfortable wearing out to dinner and on the dance floor. However, unless you're planning to attend a very formal event or upscale dinner, you'll also be good to go with a pair of shorts or sun dress – just add some nice sandals and accessories and you'll have a dressier look in seconds! Want more travel dress ideas? Check out TFG's Top 5 Convertible Travel Dresses.
1 Pants
You should have a pair of light weight pants or even a playsuit during your time in Thailand if you'll be in Bangkok or in other mainland towns. While many backpackers wear shorts everywhere, it's good to be mindful of the local culture. Locals make exceptions for tourists, but being respectful is important. Grab a pair of casual or fisherman's pants in any tourist shop or market if you want light, airy, and comfy pants that will keep you cool in the high humidity. If you want something more rugged, try cargo pants.
2 Pairs of Shoes
A pair of dressier sandals is a must in most packing lists especially by the beach where heels aren't always the most convenient for some bars and restaurants. Skip the heels unless you have plans that require formal attire. A must in every travel bag, these are essential if you're hitting the beach. If you're an ultra-light packer and only want one pair of shoes, splurge on a hybrid pair that you can dress up or down.
Travel Outfits for Your Holiday in the Thailand Islands
AIRPORT OUTFIT:
Pants/Maxi Skirt + Top + Long Sleeve Top + Scarf + Sandals
BEACH OUTFIT
Shorts + Top + Flip Flops
SIGHTSEEING
Pants/Maxi Skirt + Top + Long Sleeve Top + Flip Flops
Maxi Dress + Scarf + Flip Flops
DINNER OUTFIT
Maxi Skirt + Top + Sandals
NIGHTLIFE
Dress + Sandals
If you don't think 10 pieces of clothing is enough for a two week holiday in Thailand, don't worry; you can have your clothing washed for about $2 or save space to go on a shopping frenzy in this shopping mecca.
Remember to cater your packing choices to what fits your needs. If you plan on exploring temples and working out, add a pair of trainers. If you don't plan to leave the beach, add a bathing suit and a kaftan in place of a dress. For more travel tips on packing for South East Asia, check out the Dos and Donts of Womens Travel Clothing in South East Asia.
SUGGESTED TRAVEL RESOURCES:
 Please share any holiday packing list travel tips in the comments and don't forget to re-tweet this article to other travel fashion girls like you.  Thanks for reading!
---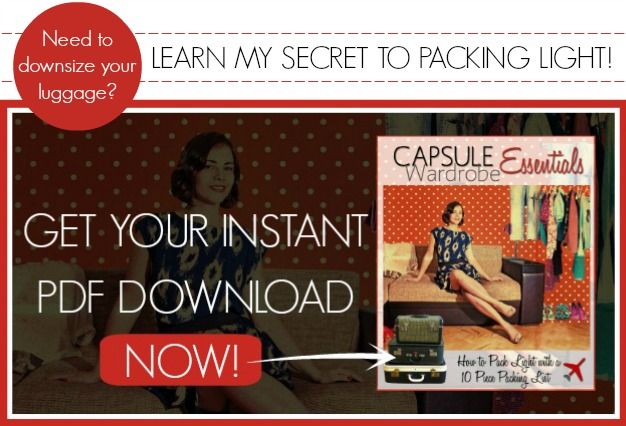 ---
Liked this article? Check out similar posts:
Share and Enjoy
Did you enjoy this article?