TFG Interview with Brandy from It's One World…Travel
Today's Travel Fashion Girl is Brandy from

Its One World…Travel

.

I had the pleasure of meeting Brandy this

summer at my Workaway Work Exchange in Thailand. She just launched her beautiful website that includes an awesome backpacker checklist – a valuable resource I wish I had when I started traveling four years ago. Check it out!
Brandy and I share one major packing style in common: we both travel carry on only with a 40L backpack. We also have one major difference: half of her backpack is filled with goodies that can make any traveler envious. Not only does she travel with a wide assortment of underwear (also recommended by Erica from OverYonderlust) but she also travels with more make up and beauty products than a department store make up counter!
I don't know how she does it but it works. Other than her make up addiction she chooses the Essentials Packing Style traveling with about 10 clothing pieces, including jeans!
Ladies, she's breaking all the rules and still traveling carry on. Find out her secrets!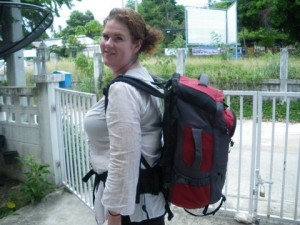 1. How do you feel about the original clothing selections you packed for your trip?
I made the mistake of carrying all my old clothes that I would have otherwise donated. I thought I would wear them on the road until they were too worn down or stained, then throw them away and buy new clothes on the road.
While traveling, however, I found many other ways I'd rather spend my money, so I just kept the same clothes. Wearing the same crappy clothes for 7 months really got to me.
2. Were there any items you originally considered must haves that were not worth carrying?
I brought a cardigan on my most recent trip to South East Asia. I thought it would be nice for the cold bus rides, or chilly evenings. I found out there are no chilly evenings, and that a sarong doubles just as easily for a blanket. It was unnecessary, but I kept it in my bag for 3 months!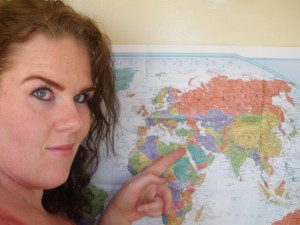 3. How do you feel about the quantity of the items you packed – did you have enough or too many shirts, underwear, socks, etc?
You can never have too many pieces of underwear. I never opened my backpack once and said "damn! too many clean undies!".  As a girl, our panties are pretty small. I ball up a few extras and tuck them into secret compartments in my backpack- it's like winning the lottery when I find them.
I try and wear flip flops whenever possible, so I only brought 2 pairs of socks–I probably could have done with just one.
I brought three bras: an every day bra, a sports bra, and a going out on the town bra. I think it was the perfect combo, and will always bring three bras.
4. Did you discover the need for any additional gear while on the road (whether for function or for fun)?
In Chiang Mai, Thailand, I learned about these wedge shoes that are made of plastic so that you can walk during big rainstorms and not worry about stepping in muddy puddles. I also found out that flip flops will fling the muddy water all the way up the back of your legs– so those shoes were a real necessity.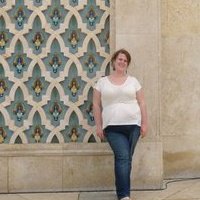 5. How do you feel about your beauty and make up choices? Too much or too little?
I am a beauty product addict. I brought tons of makeup and skin creams, but don't regret it. Sometimes the only way I am able to feel girly while in my old, backpacking clothes is to whip on a coat of mascara, blush, lip gloss and tinted moisturizer (with SPF, obviously). A clean, pretty face sets the tone for a good day in my book.
6. Do you have any travel packing tips for new backpackers?
Bring more underwear than you think you need, and make sure your bra is the best. When what's under your clothes is happy, you're happy.
Now that's some great advice! Check out Brandy's extensive Backpacking Checklist for great girls only pre-travel tips! From backpacker clothing to female safety tips, she's a one stop shop for all the pre-RTW planning you need.
If you'd like to be the next Travel Fashion Girl to share your packing experience with travel newbies please send me an email at Travel Fashion Girl at Gmail dot com.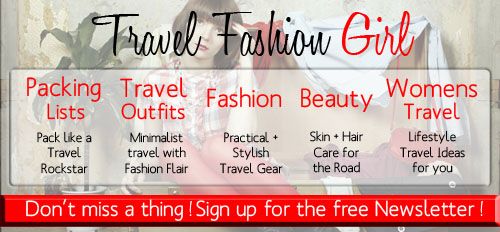 Share and Enjoy