Interview with Stylish Reena with Wanderplex
One of my favorite travel blogs is written by Reena Ganga from Wanderplex. She offers independent travelers awesome travel tips on anything from destinations to gear to cruises and photography. I was very excited to get an inside look on how this experienced traveler manages to travel so stylishly around the globe. Read on to find out more!
Interview with Reena with Wanderplex
Do you consider yourself to be more of a flashpacker or a backpacker?
 I don't like to label myself as either because I find I travel differently depending on the kind of trip I'm taking. On a short vacation away from work, I'll naturally want to indulge a little, while on a longer trip, I'll be looking for ways to stretch the budget. Consequently, I've done the hardcore backpacking through developing countries but I've also been fortunate enough to stay in some luxurious hotels. I've also traveled solo, traveled with family, studied abroad, lived as an expat – and all of these involve different levels of comfort and expense. Ultimately, what matters to me are the experiences I have when I'm traveling – I really want to feel as though I've gotten to know a country and it's culture.
Do you travel with a backpack or suitcase and recommend any specific style or brand?
I generally travel with a backpack. I have an Osprey Waypoint (note from alex: love this backpack too!) and I adore it because I have an extremely petite frame and this bag fits my body to perfection. The bag is 50 liters, but it compresses down really well, so I always pack it a third to half way full, leaving plenty of room for souvenirs. The backpack has also got a flap of fabric which normally tucks away, but can be zipped up over the arm straps – this creates a sleeker look in case you're in a situation where you don't want to look like a backpacker, and it's also great for when you check your bag at the airport – there are no straps to get caught in the conveyor belt.
I do occasionally travel with a suitcase, but only when I'm traveling to visit family or friends, or making a trip where I know I won't be moving around at all. In this case, I recommend choosing a suitcase that has inline skate wheels so that it rolls more easily.
How has your packing style changed from 2008 when you started traveling?
I've actually been traveling my whole life – my first overseas trip was between Australia and India when I was 6 months old! I started traveling independently when I was 16 and took trips abroad pretty much every year until a decade later when I finally decided it was time to take save up and take a yearlong trip around the world.
I think my packing style has always been fairly minimal but every trip is a learning process in terms of what does or doesn't work. You start to realize that certain fabrics don't wear well or are harder to care for, or that you shouldn't pack your favorite shirt because a laundromat in Southeast Asia might ruin it, for example. My approach hasn't necessarily changed but my packing list is constantly evolving as I become more ruthless about cutting out items.
How does packing for a one-month trip differ from packing for a 12-month trip around the world?
It doesn't. For me, unless the trip is shorter than a week, the length of time spent traveling doesn't affect how much or what I pack. The reason I say this is because if the trip is really short, I know I won't be doing laundry, so I'll pack a few extra clothes. But if the trip is longer, I'll stick to a minimal packing list and launder as I go.
What does affect my packing style is the type of trip I'll be taking. If I'm backpacking, the clothes, shoes and gizmos are different from if I'm staying in nice hotels and lounging by the pool. For example, I won't need my travel towel or "shower shoes" if I'm staying at hotels, and I won't need a hair straightener on a backpacking trip.
What items do you recommend to pack stylishly – do you carry a Little Black Dress, nicer shoes, or accessories?
You know, I generally avoid packing my best stuff as clothes get ruined more easily when you travel. Sunscreen, dirt, messy meals, unpredictable washing machines etc., can all wreak havoc on your garments. Pack presentable clothing that you feel good in but wouldn't be heartbroken to see ruined.
I don't carry a Little Black Dress because I'm yet to find the perfect LBD, and frankly, I feel happier in color! For looking dressier, I really love my printed jersey shirt-dresses – they don't wrinkle, they dry really quickly and they are appropriate for so many different situations.
If I'm traveling for a special event such as a wedding, I'll pack a clothes steamer. Mine is about the size of a thermos and does a mean job of getting wrinkles out of delicate fabrics, so it's indispensable for those shorter trips where you need to look polished.
As far as accessories go, I try to avoid expensive jewelry, as I'm paranoid about losing anything valuable or sentimental – not to mention the fact that flashy accessories could make you a target for theft. Instead, I usually pick up pretty handcrafted jewelry locally as they make great souvenirs.
Regarding footwear, I would say avoid extra pairs of shoes you'll only use occasionally since shoes add a lot of bulk to your luggage. Go for ballet flats or pretty sandals that can be worn both for a night out and during the day.
When it comes to the beauty routine, I like to keep things simple, but here's a little trick for feeling more glam: pick one small but non-essential item that makes you feel special – this might be a favorite perfume, a pretty eye shadow or a bright red lipstick – and pack it. Then when you have to doll up, all you need is a quick spritz of scent or swipe of color and you'll feel like a new woman. It sounds silly, but it works
Were there any items you once considered travel essentials that are now not worth carrying?
Traveler's checks. Two decades ago, the lack of free-standing ATMs around the world meant you often had to go to a bank branch to get cash anyway, so carrying traveler's checks was a safe and convenient way to bring money with you. Now, it's often hard to cash them and there are always high fees associated with doing so. I think it's easier to just carry multiple types of debit and credit cards along with a little hard cash (US dollars or euro) for emergencies.
What are your must have travel beauty and skincare essentials?
I would say the three things I wouldn't leave home without are lip balm, moisturizer and sunscreen. Between the dehydrating flights and the hours spent out in the sun, travel has a way of being extremely hard on your skin, so for me, essentials involve things that will protect or nourish my skin. I know these products are available globally, but I like to pack my own because I find many products are full of scary ingredients – I wrote about my epic search for the perfect sunscreen here, if you want to know more.
Do you have any hair or makeup products that work great for travels?
I suggest trying to pare down your products and minimize your beauty routine as much as possible.
For hair, I'll generally skip the hairdryer and just apply a small amount of Argan Oil, which helps define any natural waves and prevent frizz.
For the face, I like to use a tinted sunscreen so I get the protection I need as well as to even out my complexion. Alternatively, a powder foundation applied over a sunscreen or moisturizer can be fast and simple.
Choose multi-tasking cosmetics (e.g. a stick or crayon that can be used on eyes, lips and cheeks) that are quick and easy to apply. Think about it this way – would you rather spend an hour each morning applying makeup or being out enjoying the destination? In addition, many people around the world don't wear nearly as much makeup as we do in say, the US, so you'll hardly stand out for going the minimalist route.
What footwear do you choose for your travels?
I like to walk a lot when I travel, so for me, comfort is the number one priority. Unfortunately, finding shoes that are comfortable and attractive seems to be a herculean task! When I'm in backpacker mode, I always pack my Chaco boots and sandals – they have the most amazing arch support and I can wear them all day without any foot pain. The sandals are waterproof (so I can wear them in nasty hostel showers) and the straps are adjustable, which is great when your feet swell on long flights.
If I'm trying to look nicer, I'll pack shoes from a number of other comfort shoe brands. I have shoes from Merrell, Ecco, Orthaheel, Munro, Dansko and more, which have all served me well.
Any travel packing tips for new travelers?
You can get by with a lot less clothing than you think you need, especially if you pack neutral colors and non-distinct pieces. Make sure every top matches with every bottom you're packing so you can maximize the number of potential travel outfits. It helps if you remember that you won't be seeing the same people everyday when you travel, so no one will know if you wore the same shirt two days in a row.
It's a controversial one, but I would say don't pack denim unless it's a really short trip or you'll have access to a washer and dryer – jeans are impossible to hand wash and just take forever to dry.
And finally, when you're packing, roll your clothing rather than folding it – not only does it take up less space this way, it also prevents wrinkles.
Thank you for so many awesome packing tips Reena! Don't forget to check out her travel blog: Wanderplex and for more awesome packing tips check out these 60 Expert Packing Tips from Travel Bloggers.
If you're an experienced traveler and would like to share your own packing tips, please email me for an interview! Thank you for reading! Don't forget to share, re-tweet, and pin Reena's helpful packing tips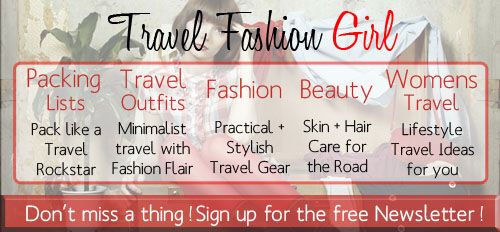 Share and Enjoy