This post contains affiliate links. Visit our Disclosure page for details.
When Beecology offered to send me a couple of complimentary samples of their products, I was very eager to try out their natural beauty products. Find out more about their products and how you can win a travel set in the Ultimate Backpacking Trips Giveaway!
---
 What's the Buzz with Beecology?
---
Beecology make natural skincare and hair products (all made in the USA) using honey, beeswax and other pure ingredients that are both good for you and the environment. The brand produces a full collection of natural products including lip balm, soap, shampoo, conditioner, body wash and lotion that keeps your skin and hair radiant the natural way.
It's the creation of a family of beekeepers who could not decide what to do with their excess bees wax and decided to try lip balm. They came up with a product they thought was great and with their friends and family in agreement – Beecology was born.
Not only do they strive to create high quality, ecologically friendly products using completely natural and renewable ingredients but they also donate 10% of their net profits to their consumer's charity of choice.
The sampler gift box I received contains shampoo, conditioner, hand and body cream and body wash all in a convenient sized of 1oz suitable for short trips or weekend travel. I tested out Beecology's products on a one week trip to Northern California for work.
A sampler kit like this one is a great way to test out a new product line without the price tag or commitment even if you're just looking to add a new product to your everyday routine.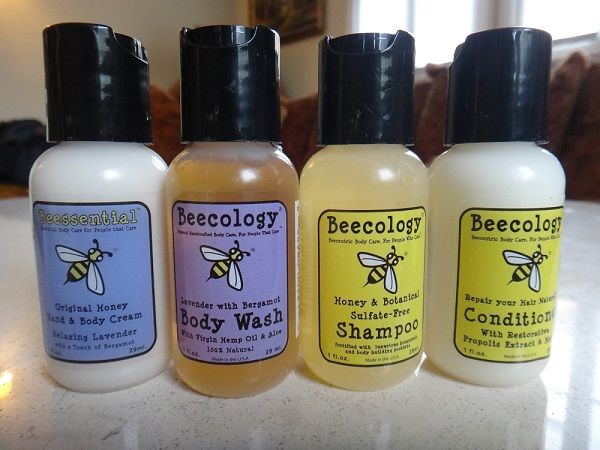 Beecology Product Details
Shampoo
Beecology shampoo is made from a recipe of pure ingredients, such as nettle, chamomile and yarrow that are sulfate and paraben free – chemicals that can damage your hair and skin, leaving your hair healthy and naturally soft. Aloe and honey are added for moisture and wheat and soy proteins for strength, body and softness – the shampoo 'gives you everything you need and absolutely nothing you don't.'
My thoughts: I'd previously tried expensive $30 sulfate free shampoos and really disliked the fact that they didn't lather. While the Beecology shampoo also doesn't lather, its conditioning texture made the product go on smoothly like conditioner not like other sulfate free shampoo. I really liked this and felt that my hair was getting washed gently but still clean.
Conditioner
Using flavonoids, exotic proteins and nature's oil – a mix of natural ingredients including aloe, honey, Cupuacu butter and hemp oil, the conditioner strengthens, repairs and nourishes hair.
My thoughts: I tend to feel that natural products lack in their repair power. Because my hair is very fine and limp, I don't need heavy conditioner so this worked well for my hair and didn't weight it down.
Body Wash
The natural body wash is made using pure oils, simple cleansing and moisturizing ingredients and natural fragrances to create a product with 'luxurious lather, intoxication scent and gentle but effective cleansing power.' Coconut, olive and hemp oils gently cleanse and moisturize while the aloe and honey pampers the skin, all body washes are free from artificial colors and chemicals preservatives.
My thoughts: One of the notable things about the skincare including both the body wash and the lotion was the refreshing scent. I tried the Lavender and Bergamot scent and it reminded me of the calming yet natural scents used at spas making it very relaxing to bathe with the shower gel and later use the lotion to maintain the scent.
Hand and Body Cream
Cupuacu butter, honey and olive oil are all combined to create this paraben free lotion, 'light on fragrance but heavy on healing power' the product is created from the best natural moisturizers around.
My thoughts: As mentioned above, I like the light and fresh spa-like scent from the lotion. As with the hair conditioner, I was concerned that because it was a natural product, it would lack in its conditioning intensity. The lotion does provide soothing yet light coverage, however, for my very dry skin I need to use intensive repair moisturizer. If you have normal skin, this would be perfect.
TFG Verdict:
All in all, these products are wonderful if you're seeking natural beauty options that are both good for you and the environment. I can't speak for their long term use as I only tried a small sample, but if you're curious to learn more, the travel kit's a great way to test them out.
---
 DON'T FORGET TO ENTER THE ULTIMATE BACKPACKING TRIPS GIVEAWAY FOR A CHANCE TO WIN THE BEECOLOGY TRAVEL KIT AND A BUNCH OF OTHER AMAZING PRIZES! ENTER NOW BY CLICKING THE IMAGE BELOW:
---
 Hope you enjoyed this post on the best travel towel styles. Please share it with your friends on Facebook, Twitter, or Pinterest. Thanks for reading!
I received two complimentary samples for this review: one for me and one for you!
---
Liked this article? Check out similar posts: