---
Need tips on what to wear somewhere else? For a full listing of all our destinations, please visit our packing list page!
---
Wondering what shoes to wear in Paris in summer? Find out what Parisian shoes I spotted everywhere, they styles I saw might not be what you'd expect. Take a look (Please note that these shoes are not a reflection of what many tourists were wearing.)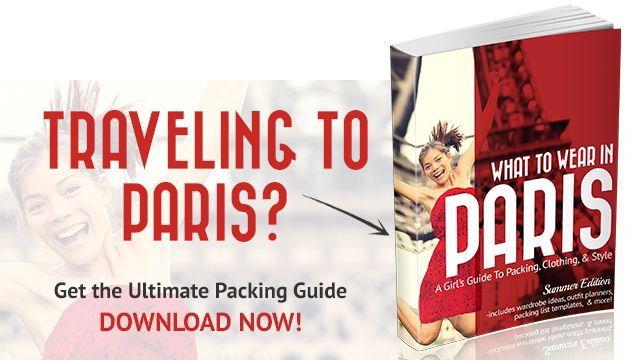 ---
What Shoes to Wear in Paris
---
One of the charms of visiting many European cities is strolling through the authentic streetscapes. Old buildings, narrow alleys, and picturesque towns make for lovely photos, but often come with a pitfall. One unexpected issue that many travelers discover once they get to Europe are the cobblestone streets.

Read about how to choose the best walking shoes for Europe.
Travelers may not be used to walking on cobblestones and end up with sore feet, mostly due to wearing cute yet impractical shoes. The key is to try to find a balance: something that is comfortable yet stylish, too.
Locals have much less issues with the streets than tourists and have perfected the art of finding the perfect shoes to walk in Paris and other cities in Europe.
The trends I spotted during my trip in Paris were:
leather tan sandals
navy wedges
white Superga sneakers
black ankle boots
ballet flats black
tan brogues
You'll notice the majority of the shoes I saw were flats in classic styles with neutral colors, not heels. I've created a visual below to show you the most popular styles and colors to help you plan what shoes to wear in Paris:
From top to bottom; right to left:
Espadrille | Wedge | Boots
Wedge | Sandals | Booties
Flats | Sneakers | Oxfords
Flats | Sneakers | Oxfords
The shoes shown above are similar options to the footwear trends that were most prevalent on the streets of Paris during my recent summer trip.
Plan your clothing using this Paris packing list and then choose the best Parisian shoes inspired styles to complement your travel outfits. Remember, 3 pairs of shoes is the magic number to pack when it comes to travel!
If you need help with your clothing choices, please read the 10 Step Guide to Packing for Paris.
Don't let your shoes ruin the trip of a lifetime! Click the below articles for more suggestions on what shoes to wear in Paris (and the rest of Europe):
Read our ultimate guide on how to choose the best shoes for travel to any destination!

---
What are your tips on what shoes to wear in Paris in summer? Comment below!
---
For more tips on travel shoes for Europe, please read:
---
Hope you liked this post on what shoes to wear in Paris. Please share it with your friends on Facebook, Pinterest, and Twitter. Thanks for reading!
---
Liked this article? Check out similar posts: