Travel Beauty and Grooming
It's not on common to go weeks without looking into a mirror when you're on the road. Sometimes you're just too busy having fun and experiencing life to worry about anything else. That's what traveling's all about – fun!
When you do finally take a peek into the mirror and remember all those girl things you used to do prior to traveling, don't depair – be prepared.
These are five easy and simple tools to help you keep well groomed on the road.
Problem: Unruly Eyebrows
Tool: Tweezerman Mini Tweeze Set Brow To Go

Solution: Quality mirror time is hard to come by when you're traveling making it easy to forget to pluck eyebrows. Carry small, inexpensive tweezers for weekly maintenance.
Outcome: Tidy and neat, plucked eyebrows give the face a fresh appearance
Problem: Dead Skin on Feet
Tool: Tatania Pumice Sponge Block

Solution: Feet take a beating during a Round-the-World Trip when you constantly live in flip flops. Use a small pumice sponge to scrub your feet on a daily basis.
Outcome: Smooth heels feel fresh and clean. They also look great in flip flops.
Problem: Rigid, dirty nails
Tool: Tweezerman Nail Rescue Kit

Solution: Use a mini, lightweight manicure kit including nail file and double sided cuticle pusher to give your fingernails and toenails a well groomed appearance.
Outcome: With a little effort and small initial investment, you can easily give yourself a DIY manicure and pedicure.
Problem: Bare Hands
Tool: OPI – Mini Lacquer Collection

Solution: Carry a tiny nail polish jar to give yourself an occassional touch up.
Outcome: Add a bit of polish to spruce up your feminine vibe. A little dab of polish can make you feel girly again. Nail polish is one of the best accessories to any travel outfit.
Problem: Unruly Hair
Tool: Goody Simple Styles Hair Pins

Solution: Carry bobby pins and other hair pins for a quick fix when nothing else will do.
Outcome: Without styling tools we're left at the mercy of our natural locks. Use hair pins to hold your hair in place, make a neat bun, or create stylish looks.
What are your travel beauty grooming tips? Share your secrets with the rest of the Travel Fashion Girls! Comment and Share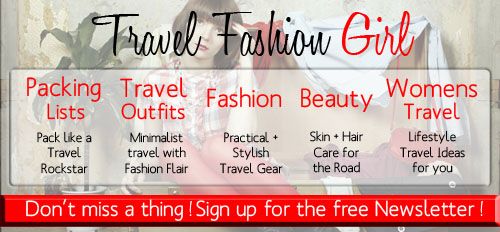 Share and Enjoy