What to Pack for Travel Shows and Conferences
What to Pack for Travel Shows: TBEX Clothing Style
by Katka Lapelosová
Although it is one of the major travel shows, anything goes at TBEX, "the world's largest gathering of travel bloggers, writers, and new media content creators."  You'll find clean-cut business types in svelte suits and dress pants, sitting next to nomadic, ethereal folks who may or may not use deodorant.  
Dress in the way that expresses you the best, but above all, dress COMFORTABLY.  This is going to be a long week and there will be little time to change – every minute spent in your hotel room is a minute lost for networking, pitching stories/press trips, and mingling with this intense travel blogging crowd.
A big part of TBEX is how you market yourself.  You're going to be making connections with people and companies from all around the world.  This year, there are going to be over 1,000 attendees – how can you stand out amongst the crowd?  Think of your travel style, and go with that.  If you're a casual, laid-back traveler, don't be afraid to wear what you'd normally pack for a trip abroad.  If you're a luxury travel fan, show off your luxe duds!  Love eco-tourism?  I bet you've got lots of sustainable fabrics to share with your peers.
Your travel style goes beyond what you write, so wear it proudly!
Travel Essentials
You're going to be doing a lot of walking/standing/sitting/schmoozing, so comfortable, easy to move around in clothing should be your highest priority.  Itching, pulling at or adjusting your clothing will only detract from the invaluable information provided at workshops, and will make you look like an awkward wannabe travel blogger instead of a kick-ass blogging professional.
With lectures and meetings during the day and interactive experiences at night, you won't have enough time to change from day to evening wear.  Better to bring pieces that can straddle both dimensions, like maxi dresses, blazers, scarves, sheer leggings and tunic blouses.  You want to easily transition from professional networking, to cocktail chatting.  Costume changes won't be an option!
Can't stand in heels for more than a few hours? Don't bring them.  From pre-conference press trips, to open marketplace browsing, and exploring the city of Toronto, this is a gathering of on-the-go folk.  Flats are your best bet, but make sure they are broken-in or else you'll be hobbling to the next TBEX Speed Date.  With all the business cards and press kits stashed into your carry-on, you'll have little space for additional shoes anyway.  Opt for convertible heels to bring versatility to your wardrobe.
And then there are the awesome travel blogger accessories you need when attending travel shows!  Choose a tablet over a laptop, they are easier to transport and better for any business transactions you might encounter.  Want to make friends fast?  Pack a mini outlet adapter to share outlet space with other bloggers needing to charge computers, Ipads, cell phones, etc.  Every good travel blogger needs a stylish business card holder to whip out those cute Moo Cards and collect information for your Roladex.  It's even easy to make your own!
Picking the right kind of luggage is just as essential as what you choose to pack away inside of it.  Rolling duffel bags are my favorite – they have the easy of a suitcase with the portability of a backpack, and most bags under 21' are suitable as a carry-on.  Another solid pick is using a messenger bag over a purse or backpack – it's less strain on your shoulders, and you can easily access all your blogging essentials without constantly taking off and putting your bag back on.  You're going to need room for all the professional paperwork you'll soon acquire.
TBEX Shopping
If you manage to steal away a few moments of "me" time, there are plenty of places to shop in Downtown Toronto.  The largest shopping center in the city is the Toronto Eaton Centre, with over 250 stores, restaurants, and services.  For shopping tips, check out Toronto Shopoholic's top five favorite shopping spots in the city.
Hope you enjoyed this informative post as much as I did! Check out Katka's other post on TFG about Permanent Hair Removal and her travel blog too: Katka Travels. Thanks!
COMMENT WITH  THE ITEMS YOU'VE FOUND TO BE ESSENTIAL WHEN ATTENDING TRAVEL SHOWS  AND DON'T FORGET TO SHARE THE LOVE ON FACEBOOK, PINTEREST, AND TWITTER! THANKS FOR READING!
Author Bio:
Katka is a tour operator and travel writer from New York. She has helped build content for such start-ups as BakPak Guide, Where's Cool? and Venus Zine, and currently contributes articles on Matador Network. Check her out on Twitter: @katkatravels and on her blog www.katkatravels.com
---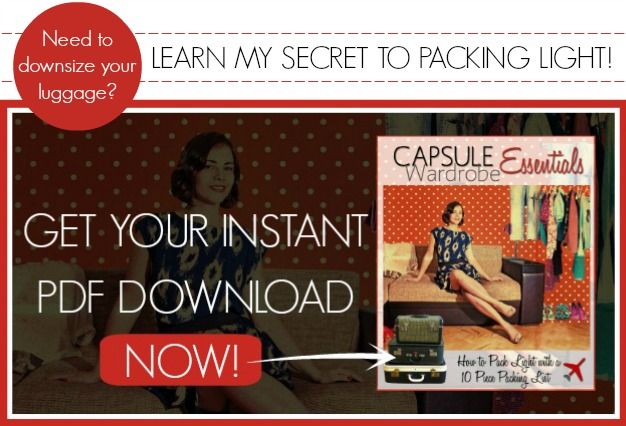 ---
Liked this article? Check out similar posts:
Share and Enjoy
Did you enjoy this article?
"DOWNLOAD 8 FREE PACKING TOOLS"
Sign up now and get your all-access pass to my free packing ebooks, outfit planner, and printable checklists!