---
Need tips on what to wear somewhere else? For a full listing of all our destinations, please visit our packing list page!
---
Wondering what to wear in Italy? TFG's guest fashion blogger and native Italian, Jacopo Grazzi, shares his European insight and tips on how to dress like a local!
---
What to Wear in Italy
Written by: Jacopo Grazzi
---
Italy's clothing styles vary from the north to the south; it can be difficult to decide which approach to take when you're planning what to wear.
Milan and the north of this beautiful country have a very fashionable and sometimes over-the-top style. The culture is similar to big European capitals, where trends evolve and people customize their style according to personal tastes.

Rome and the south have more local trends and traditions. They don't care as much when it comes to clothing, but make sure you don't show too much skin–locals aren't big on overly-revealing clothing.
Originally, I come from a city close to Venice in the northeast, but I've traveled all over my country, so I can help give you tips on what to wear in Italy.
We love Airbnb for accommodation in Italy and other parts of Europe. Sign up here for a $20 credit!
WEATHER IN ITALY
The north is normally cold in winter and warm and humid in summer. Cities located on a higher altitude are more windy and cold, but you can enjoy a summer heat, thanks to the sun.
The south is characterized for being warmer, year-round. In some areas, it doesn't even snow! Rome and the south are very hot in the summer 35°C/95°F (May-September), but it can be enjoyable thanks to the sea breeze. Winters are warmer and not as cold, with better weather than in the north.
Michael Kors Backpack | Polarized Sunglasses | Italy Guide Book
TRAVEL ESSENTIALS
Sunglasses are a must every season; the sun seemingly never stops shining on the Italian peninsula. During spring and summer months, pack proper sun (and after-sun) protection if your skin is not used to the bright rays. You can burn easily if you are outside during the hottest hours of the day.
Touristy cities like Venice or Rome are made for walking, so be sure to choose comfortable shoes. Consider waterproof shoes for the colder months and simple, comfortable, canvas shoes for the warmer months.
A pair of fancy heels is recommended, as locals like to dine out with style and elegance. In some venues, hosts at the entrance might not let you in if you're wearing flat shoes.
Waterproof Boots | Comfortable Wedges | Italian Sneakers
TFG recommends choosing wedges over stilettos to walk safely and smoothly over cobblestone streets.
SHOPPING IN ITALY
If you find you have left behind an essential, or need to add to your travel wardrobe, don't panic. Italy is the cradle of fashion and all of the biggest brands are located in every city. Stores like H&M and Zara are highly fashionable, with a wide range of clothes.
Italian department stores such as Coin and La Rinascente can be handy when looking for quality items. You can also find designer outlet stores in major shopping destinations, too!
What to Wear in Italy in Spring
Casual V-neck T-Shirt | Silk Tank Top | Button Up Shirt | Silk Chiffon Blouse | Swing Dress | Striped T-Shirt Dress | Black Jeans  | Mid Rise Skinny Jeans | Pleated Midi Skirt | Raincoat | Poncho | Cardigan Sweater | Black Flats | Booties | Straw Floppy Hat | Leather Crossbody Bag
Weather:
Spring in Italy is unpredictable. The temperatures can vary from chilly to warm and sometimes even hot, from a minimum of 15°C/59°F to a maximum of 28°C/82°F. When it rains, and during early morning hours, the temperature can go down to 10°C/50°F. Checking the weather forecast before any trip is always recommended.
Italy Packing List:
Italian spring is beautiful–you can spot flowers and green everywhere. I consider spring the best season to plan a trip to Italy, as the temperatures are more moderate compared to summer.
Look for bright and light colors during this finicky season; when it's sunny, it's very warm. Jeans are a must, along with skirts in light fabrics. Stick to dark denim–it's always in style.
Match your bottoms with a classic tee or pretty blouse, and don't forget a sweater and light jacket for layering on cold days and evenings and a waterproof outerwear item, such as a light trench coat, for unexpected rainstorms.
Light brogues or waterproof canvas shoes are essential. Recommended accessories include a silk neck scarf for cold mornings, jewelry (remember not to take expensive pieces), and sunglasses. A sun hat is recommended but not essential.
Choose one of these stylish travel raincoats for women to keep you dry!
What to Wear in Italy in Summer
Basic Shirt | Silk Tank Top | Swing Tank Top | Sleeveless Blouse | Striped T-Shirt Dress | Flared Dress | Utility Shorts | Casual Shorts | Pleated Midi Skirt | Skater Skirt | Off-the-shoulder Blouse | Cardigan Sweater | Slide Sandal | Wedge Sandals | Straw Floppy Hat | Leather Crossbody Bag
Weather:
Summer in Italy is insanely hot: temperatures can reach 35°C/ 95°F or higher. In some cities in the north, like Milan and Venice, it can be extremely humid. The south is hot but it's better ventilated, so it's more enjoyable. Be careful to protect yourself during the hottest hours of the day by wearing suncream and a sun hat.
Italy Packing List:
According to my experience, choose light and bright colored clothing to avoid scorching in the blaring heat. Cotton, linen, and rayon fabrics are best.
If you go to the seaside, pack a colorful bikini. An elegant one-piece is acceptable if you don't want to show too much skin. Don't forget your sunglasses, sun hat, and sun cream.
For city sightseeing, dress comfortably with loose and light clothes. Skirts, capris, or (dressy) shorts are essential; a nice top or a dressy blouse and a hat will complete the look.
Make sure you are not wearing revealing clothing when you visit religious sites. You can be asked to leave or they might not let you in–bring a shawl that you can wrap around your shoulders for coverage when needed.
Planning to visit religious sites? Find out what to wear to the Vatican!
Pack a pair of beautiful summer sandals and canvas shoes for the day and a pair of open-toe heels for a fancy night out. Note that locals don't appreciate flip-flops being worn anywhere but seaside.
In summer, most events are outside as many venues have gardens and al fresco spaces with evening cocktail parties and happy hours. These are the best times to wear your favorite cocktail dress and enjoy the summer breeze. It's recommended to pack a light jacket and cardigan for cooler days and evenings.
This is a selection of the best sandals for travel in summer!

What to Wear in Italy in Autumn
Jersey top | Silk Tank Top | Button Up Shirt | Silk Chiffon Blouse | Swing Dress | Loose Shirt Dress | Black Jeans | Mid Rise Skinny Jeans | Mini Skirt | Raincoat | Poncho | Cardigan Sweater | Black Boots | Booties | Scarf | Leather Crossbody Bag
Weather:
Autumn does not differ much from spring. Temperatures fluctuate from 15°C/59°F to 24°C/75°F and it rains quite a lot. In the plains in the north of Italy, you can experience foggy days, which are quite fascinating in cities like Venice or Milan.
Italy Packing List:
When planning what to wear in Italy in September and autumn, you should pack the same items mentioned in the spring section. These two seasons are similar and the only variations may be an umbrella and trench coat. The key colors of the season are brown, purple, gray, and black, but you can always choose lighter colors to provide relief from warmer weather.
When in doubt, plan a monochrome packing list for Italy consisting of mostly black, chic leather boots, a stunning handbag, and silk printed scarf.
Follow this easy packing solution when traveling in between seasons!
What to Wear in Italy in Winter
Button Up Shirt | Wool Sweater | Cotton Blend Sweater | Long Sleeve Tee | Oversized Shirt Dress | Knitted Dress | Black Jeans | Mid Rise Skinny Jeans | Winter Coat | Down Jacket | Poncho | Print Skirt | Black Boots | Booties | Cashmere Beanie | Leather Crossbody Bag
Weather:
As mentioned before, winters can be quite cold. In the north, it snows a lot and sometimes it's difficult to move around the city without slipping. The south is warmer but it snows at least once a year. Temperatures range from 10°C/50°F down to -8°C/18°F. And where the climate is humid, it's colder–you can feel it in your bones.
Italy Packing List:
Pack a pair of warm gloves, a thick scarf, and a hat. If you are planning to go to the north, I suggest a padded winter coat and layer of merino wool thermals, too.
In the south, you can take a winter coat or a quilted jacket. The rule in winter is to dress in layers as temperatures might change during the day, so pack some long-sleeve tops, warm sweaters, and cardigans.
Waterproof leather boots or warm brogues are essential. A waterproof rain jacket can be useful, but I would suggest taking an umbrella, as it is more handy and fashionable.
The secret to packing light in winter is thermal underwear for women–find out why!
Italy Summer Clothing for Men
Men's summer clothing was a hot topic on TFG, so we're sharing a quick visual to help you get your guys ready for a trip to Italy in the summer. Tailored, smart shorts (not baggy cargo shorts) paired with stylish sneakers like these shown above are acceptable in hot weather.
For more ideas on what to wear in Italy, please read this Ten Step Packing Guide!
Travel Outfit Ideas For Italy
---
---

---
What are your tips for an Italy packing list? Comment below!
---
Please Note: Most of Europe's Budget Airlines have this Carryon Bag Allowance: 55cm x 40cm x 20cm. Always check your airline's individual baggage rules and regulations in advance.
---
For more tips, please read these Europe packing lists:
Suggested travel resources:
Please read our Ultimate Packing List for Europe featuring stylish tips for multi-country travel.
---
LIKED THIS POST? PIN THIS PIC TO SAVE IT!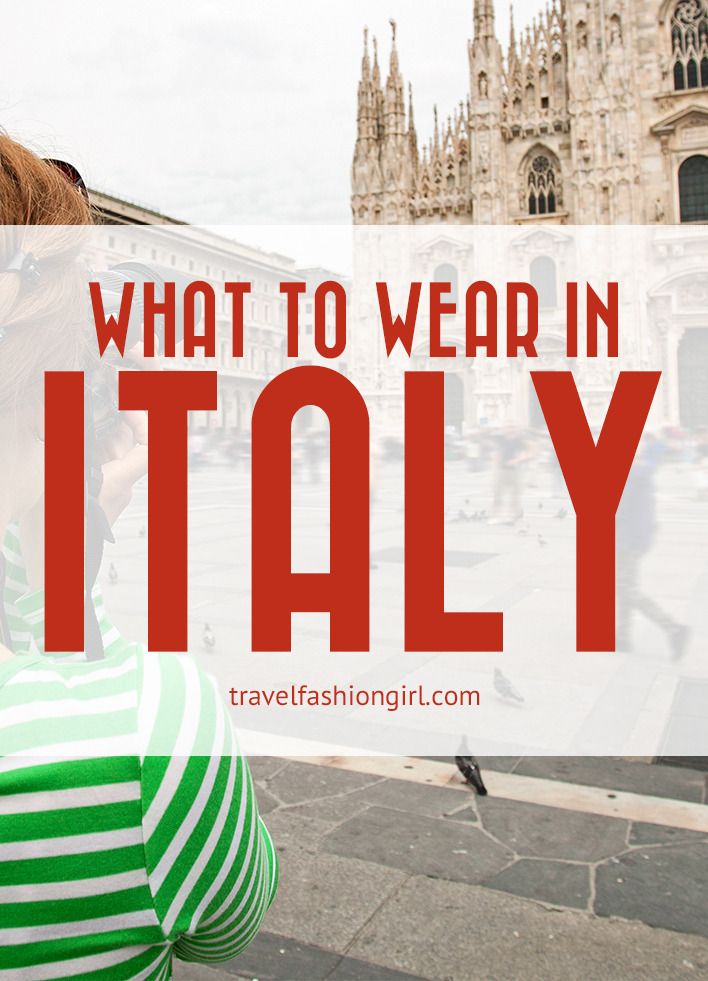 ---
We hope this packing list helps you plan what to wear in Italy so you can dress like a local. Don't forget to share the love on Facebook, Twitter, and Pinterest. Thanks for reading!
---
Liked this article? Check out similar posts:
Share and Enjoy