What to Wear in Paris: Packing List and Capsule Wardrobe Ideas
To help you plan what to wear in Paris, Parisian shopping expert Chloe Johnston helps us create an authentic packing list for your travel to this extraordinary city.
Chloe runs a travel company featuring shopping tours in Paris – perfect for a fashionista! Originally from the US, she's been visiting yearly since she was 12 years old and has now launched CJ Shopping Tours that has her traveling to Paris at least 5-6 times per year!
To find out more about Chloe and her company, check out CJ Shopping Tours, and follow her on Facebook and Twitter.
---
---
Paris Clothing Style:
---
When considering what to wear in Paris, it is important to remember that the city style is tailored, chic, yet conservative with an edge. Parisians love neutral colors and adhere to the "No more than 3 colors rule."
To avoid looking like a tourist, and standing out on the Parisian streets, then it would be advisable to avoid items such as UGG boots, sneakers, flip flops, and sweatpants. Remember that at all times you should look presentable; your goal is to maintain a comfortable look, whilst exuding femininity and edge.
Leather Jacket / Sunglasses / Infinity Scarf / Cross Body Bag / Flat Sandal / Slip-Ons / Lonely Planet French Phrasebook
Travel Essentials:
---
The perfect accessories and the touch of color for any outfit is are a handbag, and a scarf. You can use your handbag, belts and scarves to brighten up an otherwise neutral outfit. The perfect bag for Paris would be a crossbody bag, that you can use for your daytime look, with a removable chain that can transform your bag into a classically elegant clutch (and you look) from day to night. Paris is a city where you will require a good pair of sunglasses – the perfect day accessory.
Hotels and apartments often supply the guests with umbrellas, however if you feel you may not be supplied with one, it's always good to come prepared, and bring your trusty travel umbrella with you on your trip.
Shopping in Paris:
---
You only need to hear the word Paris, to conjure up thoughts about one of the greatest fashion capitals in the world. Paris is a city filled with designer fashion houses that you can spend hours in, however if you are looking for stores that are more budget friendly you can try out: Monoprix, Tati, City Pharma where you will be able to get all your basic travel essentials.
What to Wear in Paris in Spring
---
A P C merino wool pullover / Pocket blouse / Cotton crew neck sweater / H M rayon blouse / Layering t shirt / Vince Camuto white double breasted coat / Mango dark wash jeans /Sam Edelman leopard boots / Superga sneaker / Mango glass sunglasses
Weather: Chloe says:  Spring in Paris is always UNPREDICTABLE, so be prepared for anything and pack an item for all the elements.
Packing for Paris: as mentioned spring in Paris is unpredictable and so you will have to be prepared for all the elements. Be sure to have a jacket on hand for the cooler days, and layering is essential. A stylish light sweater, long sleeve tops and t-shirts are great to mix and match and team with long skirts, tailored pants which you can wear with your favorite comfortable ankle booties. Again Parisians love the color black, so try to produce a wardrobe in black, which you can add a touch of color to with your scarf, belts or handbag.
Maxi dresses are perfect to wear under a light jacket for the warmer days, the length will give your legs added protection from the wind, opt for a dress in black, it is always a figure flattering color and will allow you to accessorize accordingly. Do not forget your sunglasses and your spring wardrobe is complete.
As a little extra, Paris is the city of lights, fashion and love, so if you want to feel a little more French, pack your prettiest undergarments into your wardrobe, no one has to know and it will leave you feeling glamorous!
What to Wear in Paris in Summer
---
Madewell eyelet dress / Mango grey top / J Crew drapey top / Rayon top / J Crew keyhole top / Mango flared skirt / J Crew cotton skirt / Vince Camuto keyhole dress / Lucky Brand ankle strap sandals / Sneaker / Vintage eyewear
Weather: Chloe says: summers in Paris can get very hot, but the weather is unpredictable and it can turn chilly. You will find the hottest time of the day is usually the mid to late afternoon.
Packing for Paris: If you're wondering what to wear in Paris in May and June; for the cooler days you'll need for a good pair of jeans in the darker shades, which you can wear tucked into your comfortable ankle booties, however summer is also the time to make use of your wedge sandals which will instantly transform your wardrobe into a summery one.
You can bring out your dresses; belted dresses always look feminine and have a great fit. If you prefer a maxi dress or a summery cotton dress those all work for summer and are a matter of style and preference.
To ensure you are prepared for unpredictable weather, don't forget your waterproof gear, whether this may be a jacket or a strong but small fold-up umbrella.
Lastly, accessorize with sunglasses, a summer scarf and jewelry, something subtle yet stylish, to give a touch of color and enhance your skin tone and outfit.
Costume jewelry is always a very personal option, try to pick pieces that you'd feel comfortable on holiday in (nothing too expensive or flashy) and something that reflects your own individuality and sense of style.
What to Wear in Paris in Autumn
---
Weather: Chloe says: Autumn weather is cool, but the surroundings are always beautiful. Autumn colors always create a picturesque setting; however as in spring the autumn seasons in Paris are always unpredictable.
Packing for Paris: Once again, ankle booties are perfect for the autumn weather, and will look great teamed with leather pants, or dark jeans. The Parisians love the use of leather, so use the autumn season to use leather as your base. Leather is a great material that is not only waterproof but also warm, so it you will have added protection from the chill. So add a leather jacket and a pair of leather shorts to your wardrobe.
If you don't feel comfortable wearing leather there is a vast selection of faux leather materials which have more durability to them.
Tights or stockings are always perfect to wear underneath your shorts or belted dresses, not only do they provide added protection from the elements but they also provide a more modest look, if you don't want to bare your legs in the Parisian streets.
Pant jumpsuits are always feminine and chic, which you can wear with any stylish jacket or tailored blaze for an extra touch of sophistication. As always remember to pack various t-shirts and long sleeve tops to create layers and mix and match your outfits. And finally, your scarves which add some otherwise forbidden color to your wardrobe as well as your favorite sunglasses.
If you think you can't pack light with leather clothing, check out my post on How to Pack  for Europe's Budget Airlines where I squeeze in my leather pieces and still fly carryon only!
What to Wear in Paris in Winter
---

Weather: Chloe says: you can expect weather that is both cold and wet during the winter seasons, with occasional days of sun.
Packing for Paris: The perfect footwear for a colder climate is of course a pair of boots. Waterproof are always optimal, leather is a comfortable and durable material, however you can opt for faux leather materials that do a similar job. If you want added warmth with your footwear opt for boots that have a warm inner lining such as wool.
Tucked into your boots to create the perfect winter look will be your dark jeans, or thick trousers. Layering is always essential for the colder climates so pack long sleeve tops, a few sweaters and even a t-shirt or two to wear underneath your heavy fitted jackets or a warm coat.
Accessories  not only add style to your outfit, but also to your warmth. Opt for long cashmere or silk scarves in the colors of your choice as well as a stylish hat and fingerless gloves, as these allow for easier use, if however you'd rather have the added warmth a pair of black leather gloves will look very chic.
Since winter in Paris is a wetter month, do not forget to pack waterproof gear, a waterproof jacket or an umbrella is always your wet weather essentials.

A final tip:
---
It is always important to remember to hydrate when traveling, both on your journey to your destination and at your destination. As with every country that speaks a foreign language it will always be beneficial to learn a few key French phrases; this will make the reception to you a lot fonder, as you have taken the time to learn simple courtesy.
Have a Kir Royale, enjoy the sidewalk cafes and museums and most importantly have fun!
Enjoy your trips to Paris! 
Please note: Most of Europe's Budget Airlines have this Carryon Bag Allowance: 55cm x 40cm x 20cm. Always check your airlines individual baggage rules and regulations in advance.
SUGGESTED TRAVEL RESOURCE:
---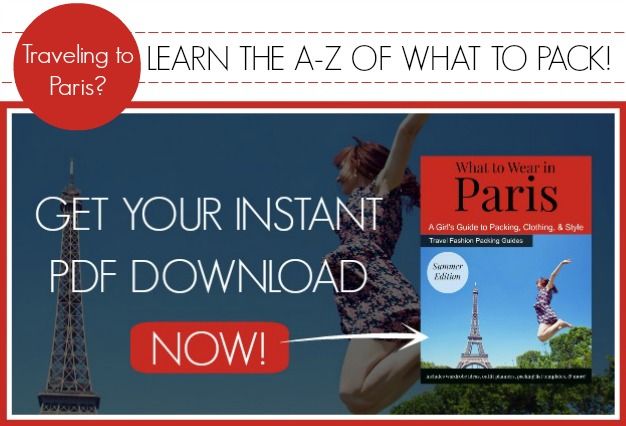 ---
MORE EUROPE PACKING LISTS
Please read our Ultimate Packing List for Europe featuring stylish outfits and travel tips for 9 countries.
Hope this packing list helps you plan what to wear in Paris so you can dress like a local. Don't forget to share the love on Facebook, Twitter and Pinterest. Thanks for reading!
Liked this article? Check out similar posts:
Share and Enjoy
Did you enjoy this article?
"DOWNLOAD 8 FREE PACKING TOOLS"
Sign up now and get your all-access pass to my free packing ebooks, outfit planner, and printable checklists!