This post contains affiliate links. Visit our Disclosure page for details.
Wondering what to wear in Vancouver in winter? Here are some locals approved outfits for day, night, and anytime!
---
What to Wear in Vancouver in Winter
Written By: Soheila Yalpani
---
Vancouver is, without question, a beautiful city, with tall, glassy buildings, framed by mountains, forest, and ocean. The city itself, especially the downtown, is relatively small compared to other "big" cities, with a small, but growing volume of nightlife and cultural activities.
Fashion-wise, Vancouverites are fairly casual compared to our more fashion-conscious cousins out east in Montreal and Toronto.

THE WEATHER
Rule #1: This is the only rule of fashion in Vancouver: carry an umbrella. Carry it with you at all times. Will it rain today? Yes. The answer is always yes.
I can't write an article about what to wear in Vancouver in winter without mentioning the rain. It really rains all winter long. Not like a monsoon, just a steady, incessant drizzle.
However, don't let this deter you from visiting; an oft-used cliche about Vancouver is: "You can sit on the beach in the morning, go for a run in the forest in the afternoon, and be up on the mountain for a ski by nighttime."
The Ultimate Vancouver Uniform: Athleisure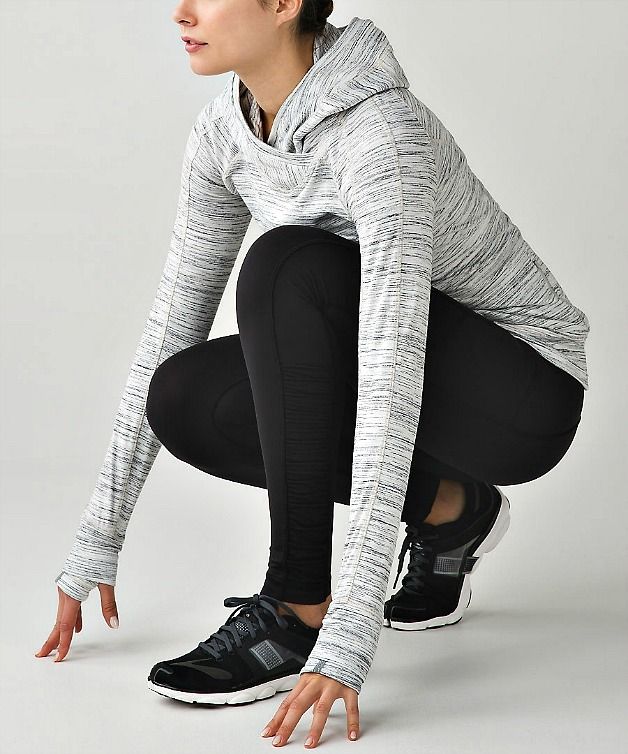 Vancouver is the birthplace of Lululemon. For those of you who don't know the brand, Lululemon is the cult-like "athleisure wear" company that started the worldwide yoga pant craze and authored profound spiritual mantras like "Stress is related to 99% of all illness" and "Sing, floss, and travel."
Love or hate the look, Vancouverites take their Lulu very seriously. It may not be the classiest fashion on the planet, but it is super comfortable. And there's no way your butt won't look good in those pants.
For a budget-friendly version, check out the TFG fan fave Zella brand from Nordstrom!
These are all appropriate situations to wear your yoga wear in Vancouver:
At home
At brunch
At the gym
At the grocery store
Out shopping
Walking around the city
Oh, yes, and to the yoga studio
Here are more athleisure wear inspired outfits!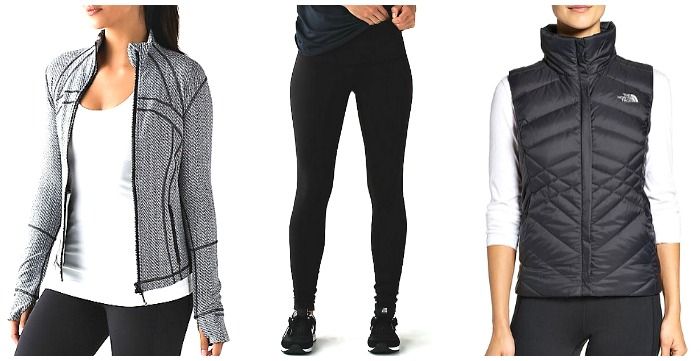 Define Jacket / Wunder Under Pant / Aconcagua Down Vest / Nike Free RN
WHAT TO WEAR IN VANCOUVER ANYTIME:
Top: Long sleeve athletic top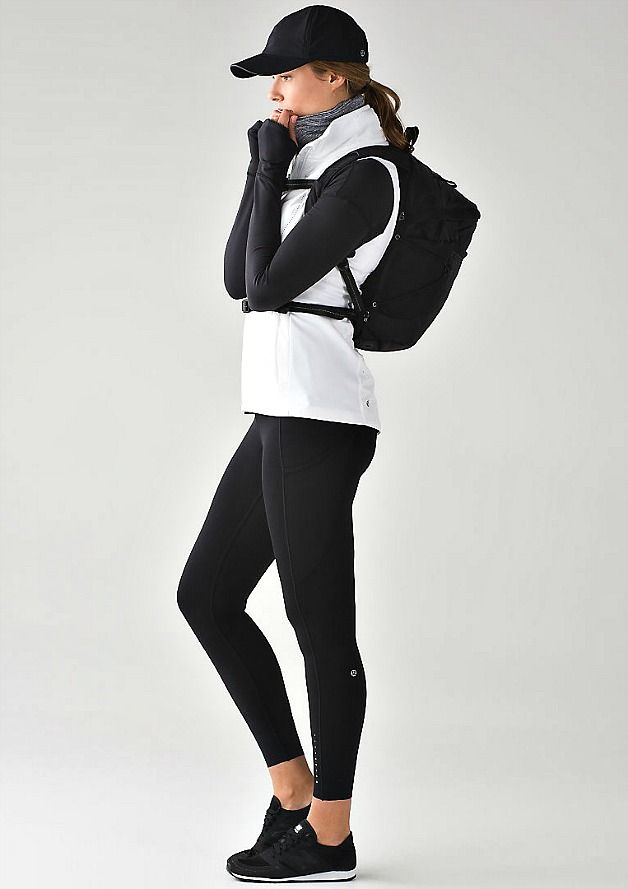 Long sleeve top / Long black legging / Vest / Nike Free 5.0
Seriously though, Vancouver is known for its beautiful scenery. No trip to Vancouver is complete without working up a sweat with the backdrop of Rocky Mountains and the Pacific Ocean. So zip up your $148 "Think Fast Hoodie," take a final sip of green juice, and head out for a run along the seawall (sadly, it's too cold to do yoga on a standup paddle board in winter).
You'll almost feel like a local! You may even hear another Lululemon mantra echoing in your head: "Live near the ocean and inhale the pure salt air that flows over the water. Vancouver will do nicely."
It's warm enough in the winter that long leggings, a long-sleeved thermal top, and a vest are usually enough to keep you comfortably warm. (Note: you might feel colder than the locals do if you're not used to a cold winter at home.)
These are what our readers voted as the best leggings for travel!
Daytime Look
Long Sleeve / Wool Blend Coat / Jeans / Black Boots

WHAT TO WEAR IN VANCOUVER IN THE DAY:
Jacket: A wool overcoat will keep you warm. Check out stores like Michael Kors and Club Monaco.
Jeans: Nice-looking black or dark blue skinny jeans
Top: A long-sleeve top
Shoe: I recommend black leather boots (prepped with waterproofing spray). Definitely don't wear suede–the rain will destroy it. Browns Shoes are great for high-quality footwear.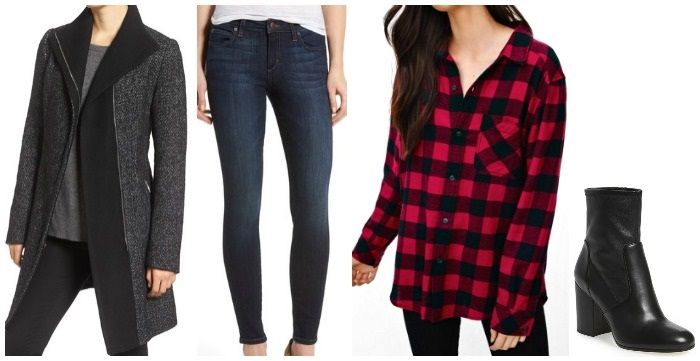 Eva Belted Tweed Jacket / Ankle Skinny Jeans / Brisco Blouse / Britta Boot
When it's time to take off the yoga pants and be a bit more civilized, a simple uniform will take you wherever you need to go. Vancouver doesn't get super fancy during the daytime. Think boots with skinny jeans, a cute top, and a jacket.
If you're doing some shopping in Vancouver, stop at an Aritzia boutique, a favorite amongst the city's young ladies, and stock up on the basics for the Vancouver uniform.
Note: for a while it was popular for girls in Vancouver to stomp around in Ugg boots paired with yoga pants. After a period of soul searching, we've stopped doing this. Avoid this look.
Evening/Going out Look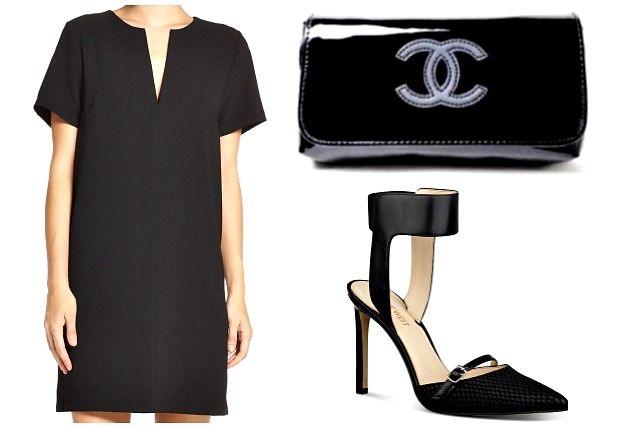 Little Black Dress / Ankle Strap Pump / Chanel Clutch
While Vancouver may stay casual during the day, girls definitely love to dress up to go out for a night dancing or to the local bars. Styles vary a bit from neighborhood to neighborhood. Here's what to wear under your coat in downtown's two main nightlife areas:
Margaux Off the Shoulder Dress /  Devin Sandal
YALETOWN / COAL HARBOR / ALBERNI STREET
Dress: Wear your cutest dress. Remember, Vancouver doesn't get super cold, so you can go bare-legged even in January. The best shops for buying dresses here are BCBG, Marciano, Holt Renfrew, and Nordstrom.
Shoe: Heels, heels heels. Most of the bars and clubs are clustered together on the same few streets. Also: Vancouver has a tiny downtown, so even if you decide you don't like the scene in one area, you'll never have to trek too far in your stilettos to get around.
Accessories: Vancouver girls are fairly label-conscious, so now's the time to bring out your Chanel clutch.
This is fake lips/designer bag/sugar baby territory. You'll want to look your shiniest–but think more Real Housewives and less Jersey Shore.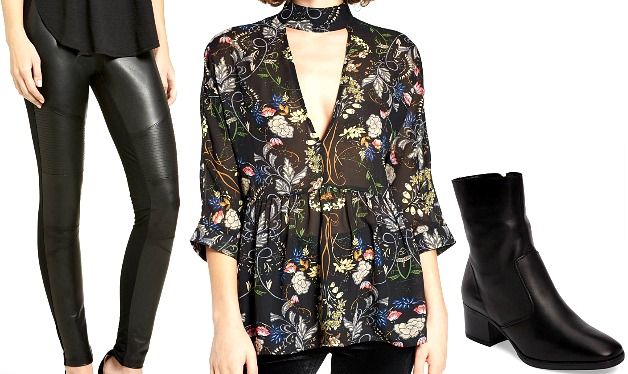 Leather Leggings / Choker Detail Babydoll Top / Black Boots
GASTOWN
Pants: Leather leggings–they have great ones at the Caldezonia boutique.
Accessories: Edgy jewelry. Now's the time to wear your nose ring proudly.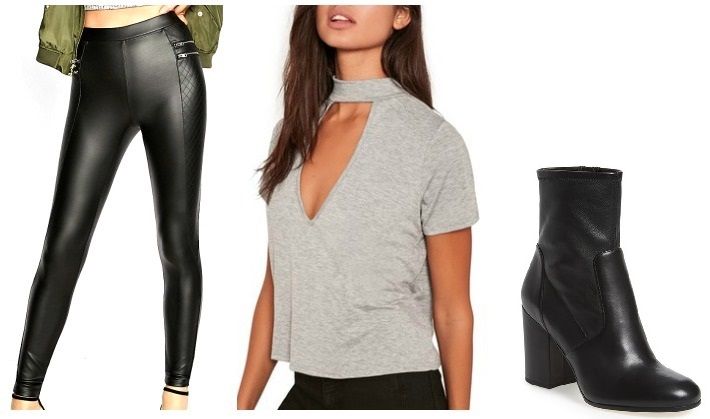 Zip Moto Scuba Legging / Choker Tee / Britta Boot
Gastown is the newly cool hipster part of town. Think tattoos, bearded men, trendy eateries, plaid, and funkiness. The key here is to look really good without looking like you're trying to look good. It's not easy for most of us (being a girl is complicated).

---
Enjoy Vancouver! And remember: it's ok to complain about the rain–you'll fit right in!
What are your tips on what to wear in Vancouver in winter? Share them below!
---
LIKED THIS POST? PIN THIS PIC TO SAVE IT!
---
For more packing tips for winter travel, please read:
---
I hope you liked this post on what to wear in Vancouver in winter. Please share with your friends on Facebook, Twitter, and Pinterest. Thanks for reading!
---
Author Bio: Soheila Yalpani is Project Manager and the Principal of Oppfinn Consulting. She also runs Thinkstr.co, a blog for digital nomads and entrepreneurs about business, innovation, money and travel. For more travel tips, follow her blog!
---
Liked this article? Check out similar posts: