I love people watching at the airport. I'd love to be an airport paparazzi but I don't think that airport securities would appreciate me doing that so instead of harassing people for pictures I jotted down a few airplane outfit ideas I recently saw in European airports and thought I would share my favorites with you!
---
Best Real People Airplane Outfit Ideas
---
Easy Comfort
Long Grey Cardigan / White V-neck Top / Black Leggings / Ankle Boots / Printed Duffel
This by far is the easiest airplane outfit for anyone to duplicate. Easy to wear basics in neutral interchangeable colors plus a few stylish accessories – simple flight fashion!
Glam Globetrotter
Peach short sleeve button up / White Trousers / Brown Riding Boots / Gold Earrings / Suede Cropped Jacket / Black ray bans / Louis Vuitton Suitcase / Handbag
This look is definitely for the ultra-glam jetsetter. I saw this outfit on a woman as she went through security and I couldn't help but stare in awe at her elegance and designer style. I'm not sure I could pull this off but cheers to you if you can!
Easy Breezy
Off The Shoulder Army Free Long Sleeve Dress / Printed Silk Scarf / Tan Strappy Sandals / Structured Handbag
What a great look if you're headed to a warm destination! I'd definitely carry a cardigan with me in my personal item for the in-flight chills but this is sexy, sophisticated and a cool take on this season's neutral – military green.
Rocker Chic
Ankle Moto Boots / Black Faded Jeans / V-Neck Tee / Unbuttoned Denim Top / Black Leather Jacket / Crossbody Camera Bag / Wheeled Carry-On
This is definitely more up my alley, at least when traveling to cities. The one issue is the metal on the jacket and boots but they're easy to take off as you go through the security line. Totally worth a little effort.
Trench
Khaki Trench / Striped T Shirt / Skinny Washed Black Denim /Ankle Designer Trainers in Gold
Understated elegance, this classic look seems to be a timeless airplane outfit in Europe since I saw women of all ages sporting an ensemble such as this. The trench was EVERYWHERE at Heathrow airport in November and rightfully so. It's an investment piece that's sure to stand the test of time.
Pretty in Pink
Black Ankle Boots / 2 in 1 Jumper / Jeans / Pink Wool Coat / Hard case Spinner
I absolutely love this and can imagine an epic picture in front of the Eiffel Tower in Paris. The neutral wardrobe is offset by the bold statement coat which is a great travel strategy when traveling in the winter. After all, your pictures will mostly be of you in a coat, why not make it a great one?
Boho
Flare Black and Grey Striped Trousers / Black Dolman Top / Suede Brown/Dark Tan Boots with a Short Medium Chunk Heel / Two Chain Bracelets / Nice Watch / Sunglasses
This look took me by surprise but I really like the unexpected combination. Easy to wear, comfortable pieces with weather-friendly boots and a few key boho pieces that exude editorial-worthy confidence. Love it!
---
Aside from the wardrobe choices above, what stood out above all was that all these travelers had freshly styled hair and makeup, which really adds the finishing touch to even the most casual of airplane outfit ensembles. Don't forget that a good blow dry and mascara goes a long way!
What's your go-to airplane outfit ? Share in the comments!
---
For more ideas and tips on air travel, please read:
---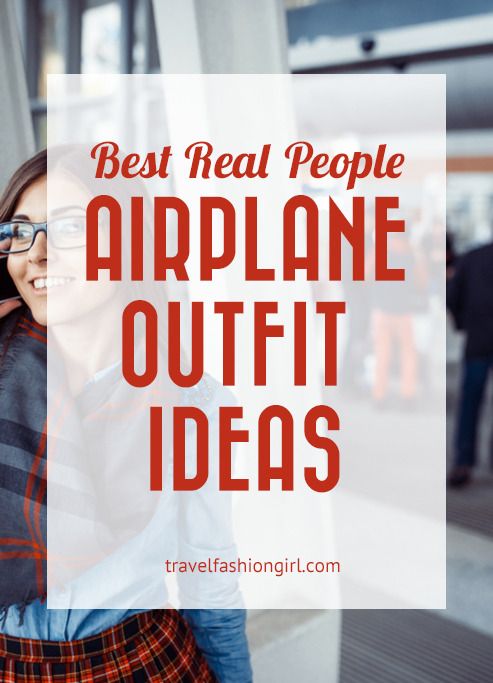 ---
Hope you liked this post on these airplane outfit ideas. Please share it with your friends on Facebook, Twitter and Pinterest. Thanks for reading!
---
Liked this article? Check out similar posts:
Share and Enjoy