Southeast Asia is one of my very favorite places in the world; and Thailand in particular is near and dear to my heart. This is a region rich with culture, food, fun, and a budget that all travelers can enjoy.
I spent 5 months backpacking Southeast Asia in 2010 during my RTW trip; 8 months in 2012; 6 more months between 2013/2014; and continue to live here on and off currently. Hope you enjoy my packing list for backpacking Southeast Asia!
---
What to Wear when Backpacking Southeast Asia
---
The countries that make up SEA include Thailand, Cambodia, Laos, Vietnam, Malaysia, Singapore, Brunei, Borneo, Philippines, and Indonesia. Check out my suggested South East Asia backpacking routes for itinerary ideas during your time here.
Singapore is a metropolitan city so the typical backpacking Southeast Asia gear won't work here. Check out this Singapore packing list for more tips.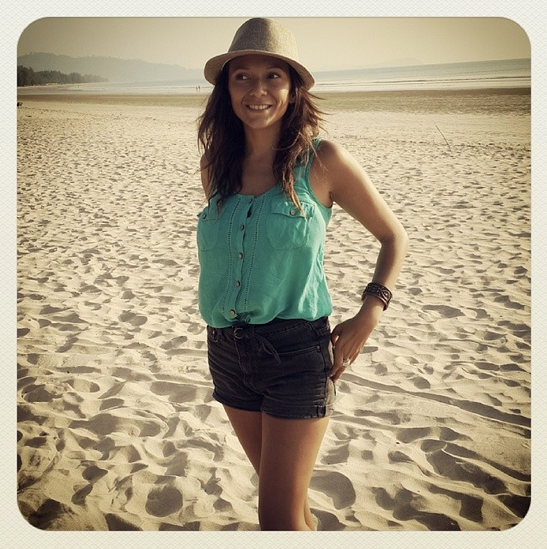 To make sure this packing list is as accurate as possible I've teamed up with Kaila Krayewski from the Blonde Traveler that has lived in Thailand for over 5 years and has also spent extensive time backpacking Southeast Asia. She's passionate about making travel more fun and friendlier for western women and created Blonde Traveler to do just that.
Travel Tip: I highly recommend using the Lonely Planet Southeast Asia on a Shoestring guide book. I absolutely love the transportation guides plus – if you're traveling alone – this is most popular guide for backpackers in the area so it can help you meet other travelers too! You can also get the eBook version.

12 Piece Backpacking Southeast Asia Packing List
Tank | Blouse | Top | Tee | dress | Playsuit | Trousers | Short | Sweater |  Jacket | Tank | Dress | Sandals | Backpack Sandals | Hat | Crossbody
In the above visual, I've created a classic packing list of just 12 clothing items that would work well backpacking Southeast Asia. In the looks above you can also get outfit ideas for some major travel destinations in the region.
DRESSES
1 (Maxi) Dress/Skirt – a long skirt is a cooler option to wearing pants in the heat
1 Sun Dress – can't beat the comfort of light and airy summer dresses
1 Shorter Dress – can also be used as a beach tunic and worn as a top
BOTTOMS
 1 Linen Cargo Pants – can be worn casually in towns and also paired with tennis shoes for trekking
1 Knee Length Cargo Shorts – cover the knees to stay cool and modest at all times
1 Denim Shorts – a SEA beach town must have
TOPS
3 Short Sleeve Tops – flowy and breathable fabric allows you to maintain modest while staying cooler
1 Sleeveless Top – a SEA beach town must have, plus it's hot!
A note on tops: pack them in varying lengths but if you prefer sleeveless, pack more sleeveless and if you prefer long sleeves, pack light, airy fabrics.
OUTERWEAR
Pack a couple of warm items depending on your planned activities: if the temperature drops post-rain, if you're trekking, or for colder areas like Sapa in Northern Vietnam. However, if you opt not to (as I do), inexpensive clothing can be easily purchased.
1 Fleece, Hoodie, or Cardigan
1 Rain Jacket or Light Jacket
FOOTWEAR
 1 Flip Flops – ESSENTIAL! Choose a pair of flip flops that can be dressed up like my favorite iPanema's sandals. These not only work like flip flops but as a dressier pair of sandals too. Plus, they're cute and comfy!
1 Comfortable Walking Shoe –  Outdoor sandals or Birkenstock sandals. Your feet need to breathe. It's too hot to wear tennis shoes/trainers every day.
1 Functional – depending on your activities nice sandals or tennis shoes/trainers. Read more about choosing the best shoes for travel.
Travel tip: Remember, don't pack just in case items, anything you need you can buy here for a low price! Keep reading for more tips below.

More Travel Outfit Ideas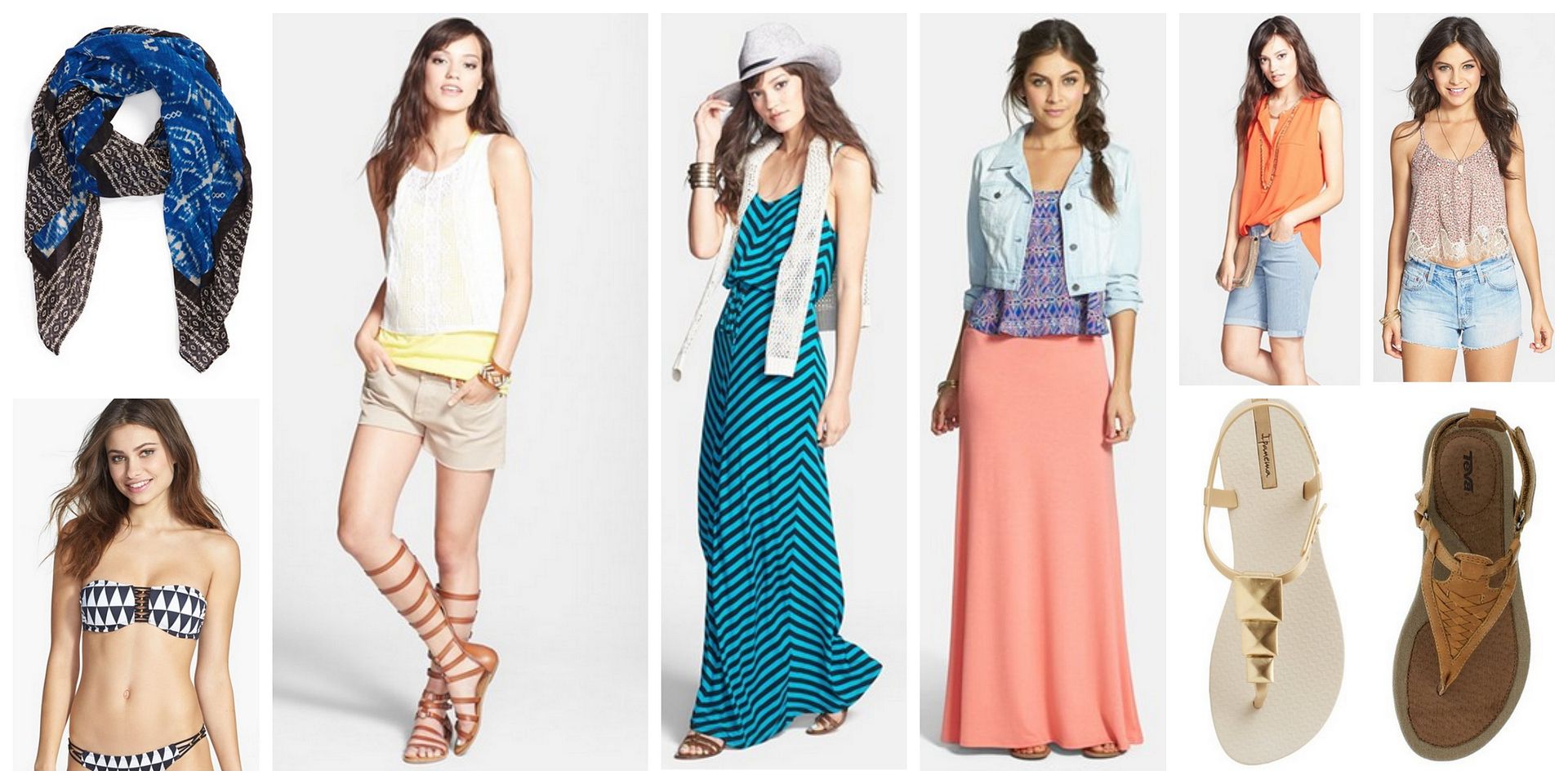 Scarf | Bikini | Outfit | Dress | Skirt | Outfit | Shorts | Flip Flops | Sandals
How to Pack for Monsoon Season
Don't let rainy season ruin your travel plans. After experiencing a taste of the Thailand monsoon in 2010, the biggest mistake I made in 2012 was allowing the rainy season to scare me into rushing through cities with the hopes of avoiding the rain. (We very much dislike the rain and avoid it at all costs.) In the end, it wasn't so bad after all.
The point is that you can't control these situations or foresee how the weather will turn out. Go with the flow on your South East Asia holidays, and see where your travel experience takes you.
If you end up somewhere you don't like, jump on one of the many inexpensive transportation options and move on. It's not uncommon to meet up with new friends over in a neighboring country.
FOR THAILAND: Any time throughout the year you will find rain somewhere in this vast country. From my observations: the western southern islands get hit May-September; the eastern southern islands get hit October – February; and the mainland can receive rain year any time although peak times are May – September.
For the most part, it would be too hot to wear rain jackets but if you have varied travel plans it may not hurt to bring one along just make sure it's made from lightweight, breathable materials.
Kaila with Blonde Traveler says: If you're visiting during Monsoon season,and even if you're not, it's a good idea to grab a cheap plastic raincoat from the 7/11, and carry it with you at all times. You never know when the monsoon will hit.
For more raincoat ideas, click here.
What to Wear in Monsoon Season
While it's advised to pack a rain coat for the rain, I find an umbrella is convenient because the rain comes with the heat and it's never a good combo with a muggy jacket. Plus, you can use it to block the sun. As Kaila, suggests, you can also pick up a cheap poncho if you opt against carrying a rain jacket (as I do).
TRAVEL TIP: Please keep your planned activities in mind including trekking. If you know you will be participating in outdoor activities, plan accordingly.
If you Don't Pack the Right Clothing for Backpacking Southeast Asia:
I can't stress enough that you can basically buy an entire wardrobe upon arrival when backpacking Southeast Asia. Two of the most common travel gateways to the are Kuala Lumpur and Bangkok. You can find anything you want and you can even have clothing custom made at a low cost practically anywhere in SEA.
Whether it's clothing or toiletries; you'll be okay! 7-11 is a god-send providing (air conditioning!), food, beer, makeup, beauty products, and everything else in between for a small cost. For clothing, you can find markets almost everywhere and you're never far from a fun shopping opportunity. Pack light!
Kaila with Blonde Traveler says: If shopping in Bangkok, head to Platinum Fashion Mall, which has 5 floors of everything a woman could ever dream of wearing, for most price ranges, though most of it is relatively cheap. Everywhere else, inexpensive clothing is available in local markets. Thais love clothes, so you won't have a problem finding something you love, to fit your budget!
If you're headed to Cambodia to see the wondrous Angkor Wat, stop by the boutique in Siem Reap which features Rany Som's exquisite jewelry line Graines de Combodge. I love the coral inspired necklace!

---
TFG Recommends: For girls traveling solo throughout SEA, check out Blonde Traveler. They provide a unique resource for women if you want extra assurance during your trip. Their membership includes: live translation help, legal advice, dietary advice, tracking services, emergency assistance, live travel counseling, and travel discounts.
What are your essentials for backpacking Southeast Asia?
---
For more posts on backpacking Southeast Asia, please read:
---
LIKED THIS POST? PIN THIS PIC TO SAVE IT!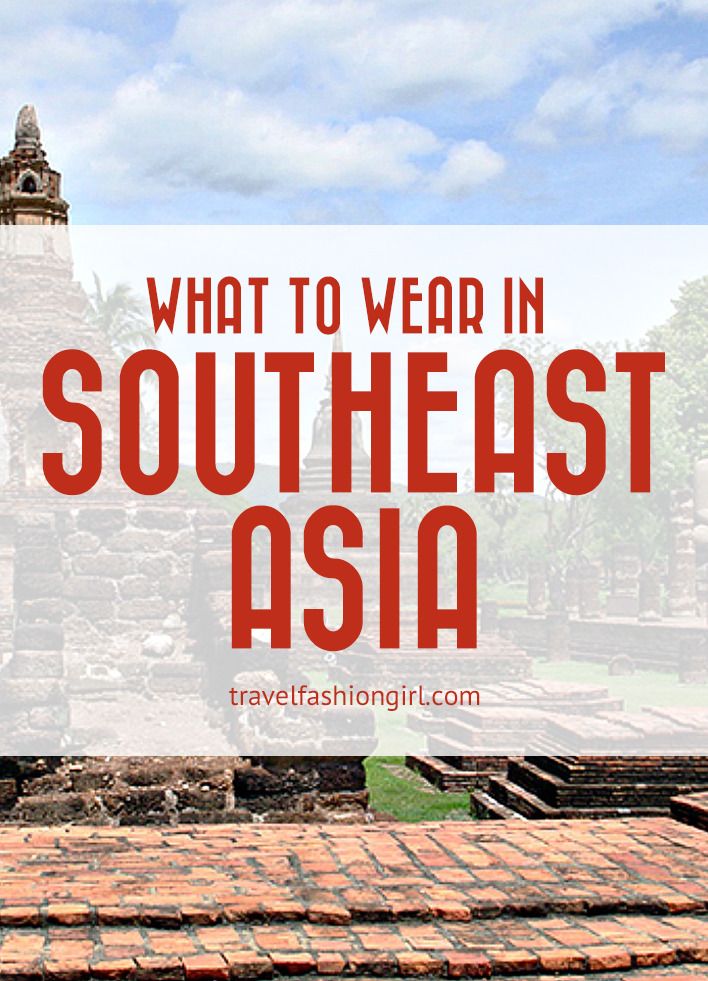 ---
Hope you liked this Backpacking Southeast Asia Packing List. Please share it with your friends on Facebook, Twitter, and Pinterest. Thanks for reading!
---
Liked this article? Check out similar posts:
Share and Enjoy