I can't believe I'm actually saying this but I think I finally have found the best travel pants for women – and I love them!
A couple of months ago Anatomie hooked me up with a selection of their new travel clothing collection. I created a variety of travel outfits using their clothing including the Skyler travel pants. I didn't know it at the time but these are actually incredible travel pants, women now have fashionable trousers to choose from.
---
Travel Pants You Can Wear with Heels!
---
I've worn them comfortably on long flight transportation journeys with trainers and stylishly in big cities like London and Madrid with my beloved combat boots. I used them in Thailand on the beach with my iPanema thong sandals and in contrast, I played in the snow with them in the UK. For the final stamp of approval, I paired them with heels for drinks with the girls in LA and they loved them so I know you will, too.
When I first saw them, they looked basic and didn't really stand out as anything special. I assessed them with other female travelers to gauge their opinion on these travel pants for women and it wasn't until they saw their potential that I did too. I gave them a chance and I'm really glad I did.
Anatomie Wear Travel Pants: Skyler Skinny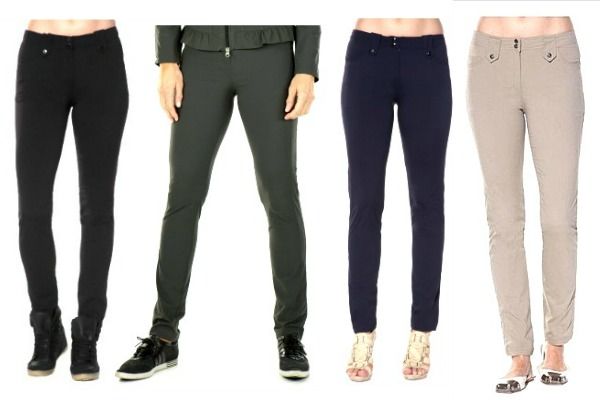 To shop, check out the Skyler slim fit travel pants.
10 Reasons these are the Best Travel Pants for Women
➊
Style
These women's travel pants have a slim, classic cut making them a basic that you can wear anywhere. Although they are labeled as "skinny" fit, they have more of a slim fit and aren't as tapered at the calves or ankles as your average skinny jean. They're simple and well made so you can wear them for business and look professional; wear them in a European city without looking like a tourist; and even wear them in a village without having a sloppy appearance. As an added bonus, you still look classy even while trekking.
➋
Thin Fabric
Unlike my old Northface travel pants for women; these have ultra-thin fabric and take up a 1/4 of the space. They fit easily into a slim packing cube and hardly weigh anything at all. They're feather light which also feels nice against your skin. They're the perfect choice for those that want to travel light in size and weight. While the fabric is thin, it's not sheer hiding dimply skin imperfections that some light fabrics don't hide. Phew!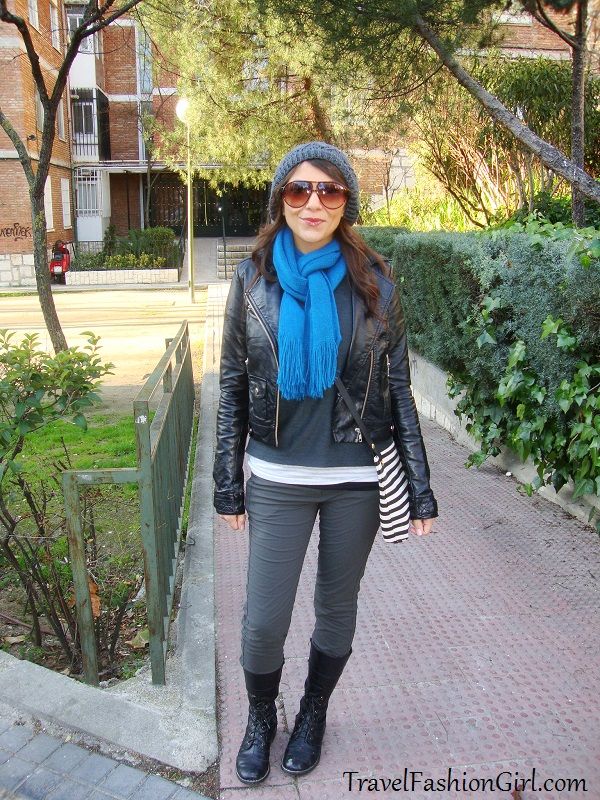 City travel in Madrid, Spain
➌
Color
Their classic colors can work well with practically any color schemes. They won't look dirty if they are and can be easily dressed up or down. They offer black, grey (which I'm wearing), navy, and khaki.
➍
Comfort
These pants totally rocked the comfort factor when I wore them on plane and train rides in Europe. The fabric has an awesome amount of stretch which allows breathability and gives you plenty of room to move around with ease. I didn't look like I was going to the gym but felt like I could have worn them to work out if I wanted. I love my jeans but I don't like long transportation rides in them since skinny jeans aren't very generous with blood circulation. I'm big on wearing leggings or long dresses so I can sit in whatever pretzel like position and stretch out if I need to.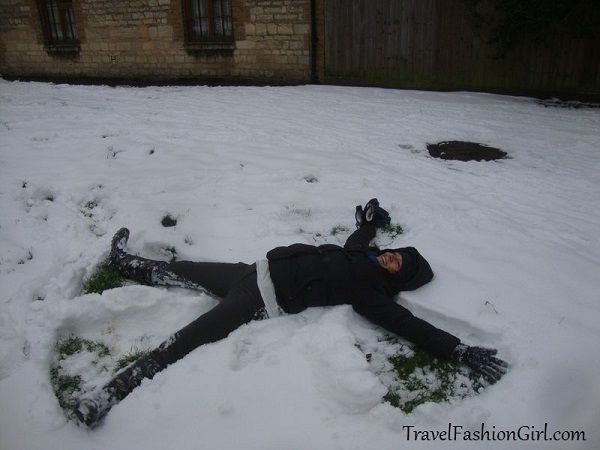 making snow angels in the UK winter
➎
Snow
The ultimate test for a pair of travel pants is how they hold up in diverse weather conditions. As the UK froze and I did, too, I was eager to get out and play in the snow! I made a snow man, went sledding, and even made snow angels all while wearing the Skyler trousers. I thought I was going to be miserably cold and the snow would seep through the seams but to my surprise, the fabric was hardly even damp! Even my under layer of tights stayed dry! Effective water resistant fabric is a MAJOR plus in my book.
➏
Professionalism
There comes a time in every traveler's journey that we need clothing that's a bit more polished whether we're meeting important people, flying first class or doing business. These travel pants for women make the cut and look classy. I attended the FITUR travel show in Spain and needed more professional clothing to network with potential advertisers. These pants worked great with a blazer and cute and comfortable flats.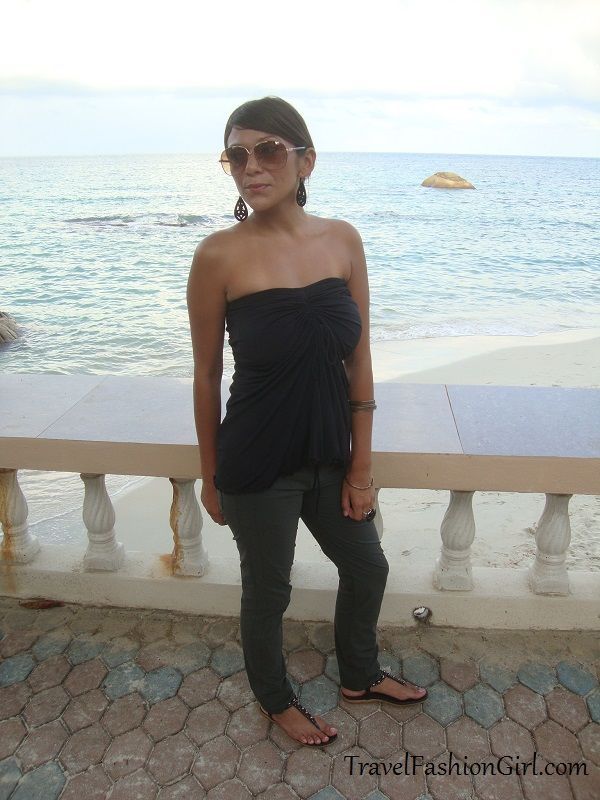 Beach living in Koh Samui, Thailand
➐
Length and Fit
I'm vertically challenged at 5'2" and have the worst time finding pants that fit my properly. Pants always fit my waist and are too baggy on my thighs or fit my thighs and hips and don't zip up in the waist. These pants not only fit my hips and thighs but they also fit perfectly in length with just a quick fold! The fabric stays in place a the fold so I don't even feel the need to get them tailored. Please note that they're actually two inches longer than they look on me because I've folded them in.
➑
Quick Dry
I love testing out fabric to see what it can handle and how quickly it can dry. It takes forever to dry clothing in the UK because we don't use a dryer and it is beyond cold inside the house. Instead of drying the pants by the heaters like the rest of my clothes, I hung these up to dry over the shower door in the bathroom without heating. After a few hours they were dry before the clothing that was on the heat. In Thailand, it dried in two seconds with the blaring November heat. Impressive in both scenarios. As a bonus, the fabric always bounces right back to the original shape when washed without getting stretched out like linen and cotton fabrics!
Read this post on Choosing the Best Fabrics for Travel.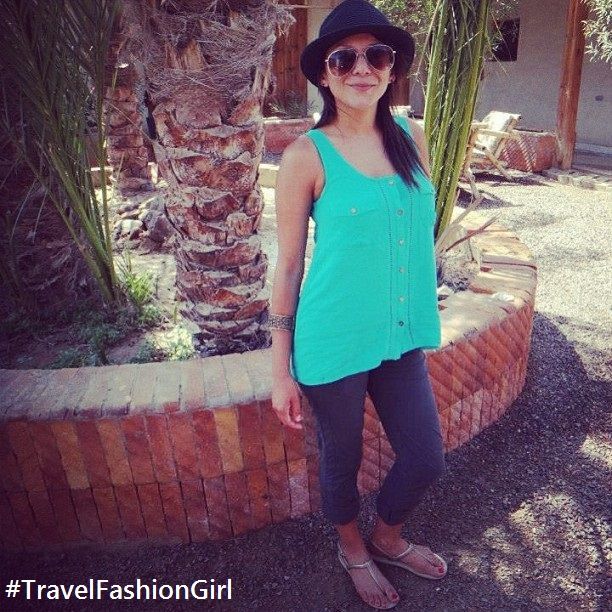 Rolled up as capris in 104F heat Dahab, Egypt
➒
Heat
To keep my travel wardrobe versatile, I opted against buying the genie style harem pants many travelers wear when traveling conservative areas including the Middle East. For my trip to Egypt, I decided to wear these travel pants instead which not only helped me blend in with the locals and expats but also ended up being extremely comfortable in the extreme 104F heat. They even felt like like loungewear on days I just chilled out and worked on TFG.
➓
Versatility
When it comes down to it, every item in your travel wardrobe must have multi-use. It shouldn't be all fashion and no function especially when you have a long journey ahead of you. I felt good wearing these travel pants in just about any setting even with heels and a nice top for nice dinner. I even turned them into casual capris by folding them up as shown above.
 paired with heels for drinks with the girls at home in LA
TFG recommends:
The Skyler travel pants from Anatomie Wear are available in sizes Small – X-Large and in colors Black, Navy, Grey, and Khaki. Because they're ultra quality pants and you can wear them on the road, for work, and at home they also have a great cost per wear value.
I'm 5'2″, weigh 110lb and wear a size small or 4-6 in other clothing brands and fabrics with stretch. Their size small fits me very comfortably and is not too tight or too loose. Because of my height, I fold them in 2 inches which is why the length fits well in the pictures.
For more details, check out this page. Anatomie has a body type guide and a fit and style guide here: Anatomie Wear Travel Clothes For Women
Anatomie Offers Other Stylish Travel Pants
If slim fit pants aren't your thing but you still want a quality pair of travel pants, Anatomie has a wide selection of trousers that you may like. You can browse their entire collection here: Anatomie Travel Pants or check out my ultimate guide to travel pants.
TFG Picks For Additional Anatomie Pants Styles: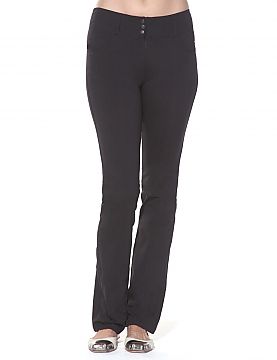 Paola
Straight leg pants with flared legs are known to be universally flattering on the majority of body types. Anatomie's Paola pants offer a look that everyone can love. Learn more about the Paola Travel Pants.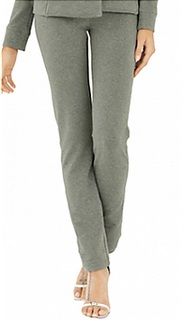 Tania
For those looking for travel attire for business, the Tania pants offer an elegant slack style that can take your from work to fun in no time. Learn more about the Tania Travel Pants.
Susan
Similar to the Skyler, these pants have a slim fit but are jazzed up with some dashes of flare including zippers at the ankles and back pockets for a little flavor. Learn about the Susan Travel Pants.
Other Bloggers Review Anatomie
If you want to find out if other bloggers think that Anatomie offers the best travel pants for women, check out their reviews: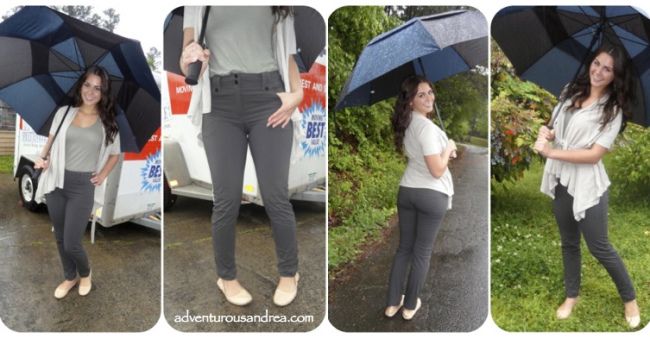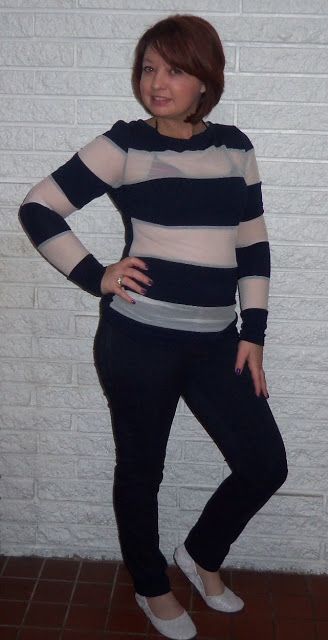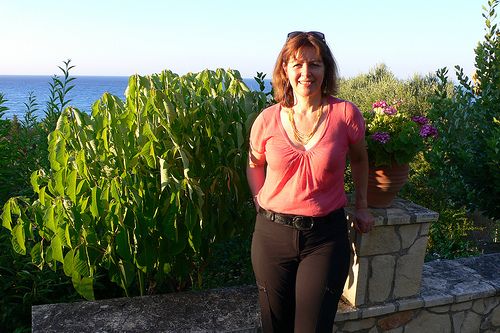 ---
I was not paid to review this clothing line. I received complimentary clothing and will receive a bit of commission if you check out the links in the articles which helps keep TFG afloat. Thanks for reading!
---
---
 Share your choice for best travel pants for women in the comments! Thank you for reading and don't forget to share the love on facebook, twitter and pinterest!
---
Liked this article? Check out similar posts:
Share and Enjoy