---
Join our community of 500,000 stylish female travelers! Sign up for Travel Fashion Girl's newsletter and never miss a thing!
---
When I determine if a clothing item is TFG Approved, I carefully assess the fabric to determine if it will withstand the test of travel. Read to to find out what's the best fabric for travel!
---
How to Choose the Best Fabrics For Travel
by Chantelle Mallin
---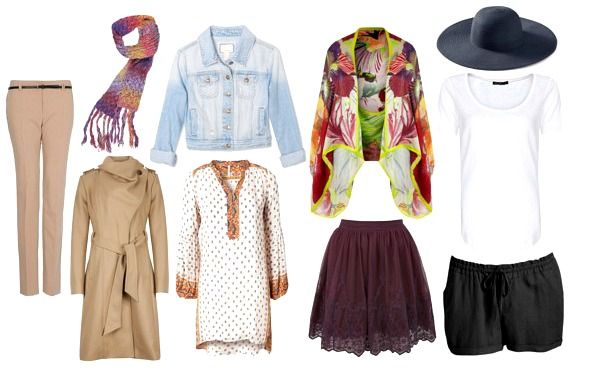 Trousers | Scarf
| Coat | Denim Jacket
| Tunic Dress | Cape | Mini Skirt | Sunhat
| Scoop Neck Tee | Linen Shorts
TFG's official blogger and fashion student Chantelle Mallin uses her textiles classes as inspiration to help you determine what fabrics are best for travel!
We're all tempted just to buy clothing based on style, but a closer look into the fabric of your travel wardrobe can help make travelling way more comfortable.

Fabrics for Travel in the Cold
Wool
Pure wool is like a super fabric, it has the ability to keep you warm in winter and cool in summer, wearing a wool garment will retain warm air and keep moisture out keeping you nice and toasty, it has the capability to absorb moisture from your skin and release it into the air, which is pretty cool and means you stay lovely and dry. Disadvantages include wool becoming heavy when wet and taking forever to dry.
Find out why merino wool is the best fabric for travel!
Polar Fleece
A high tech synthetic fabric part made from recycled bottles, a good alternative for people who are against wearing fabrics made from animal by-products, it is lighter that wool, offers better insulation, still remains warm when wet and dries fast. Fleece comes in a variety of thickness and colours.
Thinsulate
A highly insulating fabric catching air between you and the outside – the more air it traps the warmer you'll be. Thinsulate is a thin fabric, a welcome break from thick, bulky winter coats.
Polyester
Present in most outdoor clothing, the fabrics strongly woven fibres and occasional chemical coating stop moisture from getting through, keeping you nice and snug.
GORE-TEX
Used in a variety of outdoor clothing such as hiking boots and parkas, this high tech fabric is perfected to allow moisture to escape the body whilst remaining super waterproof and promoting a 'Guaranteed To Keep You Dry' promise; the science behind the fabric it is pretty cool. Garments made from GORE-TEX can be quite pricey, however if your used to battling extreme weather it's probably worth the investment.
Worth A Note
Don't forget to layer!! Also invest in a pair of thermal underwear, lightweight and guaranteed to keep you delightfully warm. Use thermal underwear underneath and never feel a winter chill!
Take a look at our round-up of the best looking fleece clothes available this season!
Fabrics for Travel in the Heat
Cotton
A popular fabric in warm climates as it is soft, lightweight, absorbs sweat, and lets your body heat escape, it's worth a note that cotton wrinkles like crazy, so best to look for a cotton/polyester blend combining wrinkle resistance with the coolness of cotton.
Linen
One of the best suited fabrics for summer, a sturdy and resilient fabric, that although stiff doesn't cling to the body, linen absorbs perspiration and dries quickly, again wrinkles easy so go for a blend.
Linen clothing is perfect for summer and warm weather travel.
Rayon
Made from wood pulp or cotton linters, rayon is one of the most absorbent fabrics and a good conductor of heat making it a preferred fabric for summer climates.
Silk
Light weight, breathable and durable not to mention luxuriously soft, however repeated exposure to the sun will erode the fibre, not the best for lengthy wear.
Worth A Note
Beat the heat and wear white and light coloured fabrics that reflect the sun and keep you cool.
Adea Clothing boasts moisture wicking quality basics that work great for travel in humid climates. Check out TFG's review of their Bra Friendly Camisole Tops.
Quick Drying Fabrics
Wet clothing provides little insulation, a nightmare in cold and wet environments, look out for fabrics that are quick drying such as:
Polyester
A strong, durable and wrinkle resistant fabric that dries very quickly, polyester does not absorb moisture meaning it can get humid when worn in warm weather, tongue twister!
Nylon
The fabric dries quickly and dirt does not cling making it an easy washable fabric, perfect for travel, like polyester it can be humid and clammy in the heat.
Coolmax
A high performance fabric that keeps the body dry by moving sweat away from the body to the outer layer of the fabric, COOLMAX is one of the fastest drying fabrics.
Worth A Note
Fast drying fabrics mean less dryer use, saving you time and money, bonus!
Anatomie Wear Clothing has a fantastic line of designer travel clothing with quality fabrics including TFG's top pick for best travel pants: the Skyler Slim Fit Pants.
Fabrics That Are Wrinkle Resistant
It's definitely got to be a fact that everyone hates the chore of ironing, so finding clothing made from fabric less prone to wrinkle is just wonderful (and such a time saver), look out for fabrics such as polyester, nylon, Lycra, knitted fabrics such as cotton and denim.
Worth a note
Use the bundle wrapping method when packing, removing the folds that cause the dreaded creasing, if a few stubborn wrinkles remain hang the garment in the bathroom whilst you take a shower, the steam will help smooth the creases.
If wrinkles drive you crazy or you travel for business, check out this Travel Steamer.
TFG Top Picks
Denim
Despite the fact that denim has received so much criticism in the past as a bad fabric for travel, it's actually the perfect fabric for travel in cold or mild climates.
It matches with all you clothing and can be dressed up or down which is great if you only want to pack a minimalist travel wardrobe. It's also fairly wrinkle resistant, moisture absorbing, and hardly needs to be washed. What more can you ask for!
Read more about the denim travel taboo and about choosing the best jeans for travel.

---
LIKED THIS POST? PIN THIS PIC TO SAVE IT!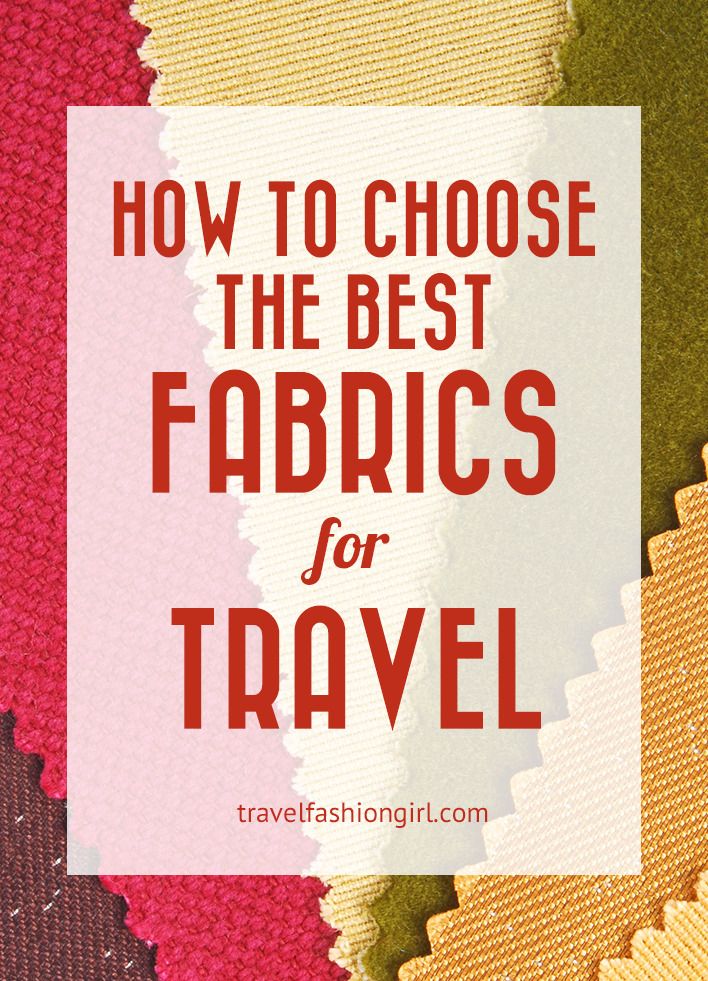 ---
Hope you've found this post on choosing the best fabrics for travel helpful. Please share with your friends on Facebook, Twitter and Pinterest. Thanks for reading!
---
Liked this article? Check out similar posts:
Share and Enjoy