---
Join our community of 500,000 stylish female travelers! Sign up for Travel Fashion Girl's newsletter and never miss a thing!
---
Travel packing cubes are the ultimate luggage organizers! They maximize the space in your bag so you can fit in all your belongings in an organized and efficient way using minimal space.
This article is going to tell you everything you want to know about packing cubes: how to use them (with video), the best ones to use, where to buy them, the best ways to pack using them, and also if they're worth it.
---
Packing Cubes Video Tutorial
---
Updated Sept 2016: I published this post about four years ago and have since received thousands of comments and emails from women all over the world. Not only did they find out that travel cubes are much more than just organizational tools, they've also learned that they are the secret to packing carry-on only. I hope you'll find this article as helpful as they did!
Please note: I am not sponsored by any travel company. I genuinely love these organizers and know you will, too!
Why I Love Using Packing Cubes
I'm a full-time digital nomad who's been living out of as suitcase since 2008. These travel cubes helped me achieve my goal of traveling carry-on only in my never-ending journey around the world.
Packing cubes are various types of organizational pouches for travel that are meant to help you have a neat and efficient suitcase. However, I've found a unique way to transform them into something even better!
I had to make a video to show you just how awesome they really are. (New version to be released in 2016!)
It's important to note that packing cubes do much more than just separate your tops from your bottoms. By using the method shown in this video tutorial, you can compress the space in your luggage, making it easier to travel carry-on only.
<

Why They're Worth It
With a price tag of roughly $20 for a set, I'd say they're definitely worth a try. I can't travel without mine and many travelers feel the same way.
While it's possible to use Ziploc bags to store your clothing, true packing organizers have several benefits and don't cost that much more money. These are my top 12 reasons why every traveler should use packing cubes.
Everything for a 1-week luggage-free vacation including one slim cube with all my clothes!
Travel Packing Cubes Video Tutorial
Travel cubes are traditionally sold to help you organize your suitcase. However, I have a unique insight on how to use them not just to organize but also to maximize your luggage space, allowing you to fit more stuff in less space.
I developed this method in 2012 and have since helped millions of women travel carry-on only by using packing cubes in the way shown in the video.
I've shown this technique at conferences, been featured in countless news outlets including Oprah, The New York Post, and MSN, and have even appeared on the Fox & Friends Morning Show as a packing specialist.
In this packing video tutorial, I show you exactly how you can compress a generous amount of clothing into a carry-on bag by rolling and adjusting your items.
I have used one of my Signature Capsule Wardrobes as inspiration: the 15-piece Maximista packing list, the maximum wardrobe size I recommend you pack for any trip.
The clothing used in the video is an example of what someone would pack for a long trip consisting of various climates, activities, and the need to be ready for anything.
Watch the video here:
Please visit this post for the picture tutorial.
As shown in the video, I use a 3-piece set of slim size packing cubes. There are various brands that offer this size but I use and recommend the eBags brand.
Please note: This was my first video three years ago but I now have newer videos available on YouTube.
When I first started using them in 2013, I was finally able to downsize my luggage from a 65L Osprey Aura backpack to the 40L Osprey Farpoint. Read my review!
I went from overpacking a large bag to traveling with only what I needed–carry-on only!
Now I pack my luggage in a variety of ways using these organizers:
Traveling luggage-free with one slim cube and all my belongings in the purse (shown above) for a one-week vacation to Puerto Vallarta.
I used two slims on a 4-week trip from Colombia to Portugal including a 2-week transatlantic cruise. I packed everything in the above laptop-size backpack. Read more!
Currently, I'm using only two slim cubes for a 4-month+ trip to Southeast Asia including ultra-light scuba gear in this 45L wheeled duffle. (Article coming soon!)

I also used two slims to travel carry-on on European budget airlines in the winter. Read about it here!

How to Organize Your Clothing
While there are many benefits to traveling with travel cubes, one of my favorite reasons is that they help you organize. When you're on the go, the last thing you want to do is waste valuable time searching for clothing.
Packing clothes for travel doesn't have to be a nightmare. Here are three ways to organize like a pro:
1. Organize Clothing Categories
The easiest way to pack your clothes for travel is to use a different packing cube for tops, bottoms, and other.
2. Organize Travel Outfits
Packing clothes for travel with organizers can separate travel outfits. Coordinate the first few days in advance then mix and match as you go.
3. Organize by the Weather
Packing clothes for travel to destinations with different weather can be done efficiently by separating clothes based on hot versus cold climates.
Use one packing cube to store the clothing for your hot weather destination and use the other for your cold weather destination. The third can be used for layering pieces. Create mini capsule wardrobes for each weather system.
Read this post for more details about how to organize your clothing for travel!
How to Choose the Best Travel Packing Cube
Travelers always want to know: what's the best packing cube? Well, every packing organizer serves a different purpose. It's best to have a combination of options to meet the needs of varying trips.
To understand the difference between cubes, folders, sacks, pouches, and other types of packing tools, please read this post on how to choose the best luggage organizer.
If you're unfamiliar with the idea of using luggage organizers like these, the first thing you need to do is determine your needs:
Do you want to downsize your suitcase to a carry-on?
Do you want to have a more organized suitcase?
Do you wish to compartmentalize your belongings more efficiently?
Are you traveling for business or leisure?
Are you traveling for a weekend or a month?
Are you traveling in summer or winter weather?
Whether you're a backpacker, leisure, or business traveler, everyone can benefit from using packing cubes. I've been told that families find these extremely helpful and have been able to pack just two carry-on suitcases for a family of four!
Ultimately, travelers should use different types of travel organizers because needs will change from trip to trip. First, choose one of these capsule wardrobes then review these packing strategies, as they'll help you determine which items would work best for your trip.
Here are a few things to consider when choosing a packing organizer:
What's the Difference Between Regular and Slim?
regular set in assorted sizes | slim set in one size
Travel packing cubes are available in various sizes but generally two different shapes: regular and slim. The regular cubes are square shaped and great for stacking in a regular suitcase while the slim ones are slender and can be placed alongside each other.
I originally ordered both the set in assorted sizes and also the slim set because it was difficult to gauge how big they were from the images.
When I received both sets, I was surprised at how large and wide the regular size cubes were and how small the slim set was in comparison.
Size Recommendation
A bit skeptical at first, I tested both and it turned out that the regular cubes are quite big and very generous. Too large, in fact, for my needs. They're more appropriate for a large size suitcase due to their size and shape.
Because I travel carry-on only and due to the measurements of my bag, the slim size works for me. I can fit anywhere from four thick, fabric pieces like denim or leather to 10+ summer-weight items in each one.
While I think the majority of travelers can make the most of their space with the slim sizes, I wouldn't recommend you use anything larger than a medium, particularly if your goal is to travel in a smaller suitcase.
Durability
I stuff so much clothing into these cubes, you'd think they'd rip easily–but they're made of extremely durable material with sturdy zippers, which is essential for a long-lasting product. I've even thrown them in the washing machine on several occasions and they're still going strong, three years later.
Additional Uses for Travel Packing Cubes
In addition to using them for everyday travels, I use them when I go trekking to places like Machu Picchu and can only carry a daypack. Using one cube with the clothing I need acts as an ideal travel organizer and fits neatly in a small bag.
I use them to hold useful items like sleeping liners, scarves, socks, a travel pillow, and clothing layers, when I have long transportation journeys or long flights and want to have easy access to my comfort items, as you can see in this post.
When I'm stationary for a few months, I sometimes don't have a lot of drawer space in my lodging. I continue using packing cubes to store clothes to make up for the lack of storage space.
In addition to clothing, you can also use them to store other things in your luggage, like electronics, documents, toiletries, and makeup.
They have endless uses at home, too. Read about them here!
Where To Buy
You can buy packing cubes in a variety of places but I prefer Amazon. You have the most choices, the best prices, plus you get free 2-day shipping with Prime! Shop now!

---
What do you think about travel packing cubes? Do you use them? Tell us in the comments!
---
For more tips on travel gear, please read:
---
LIKED THIS POST? PIN THIS PIC TO SAVE IT!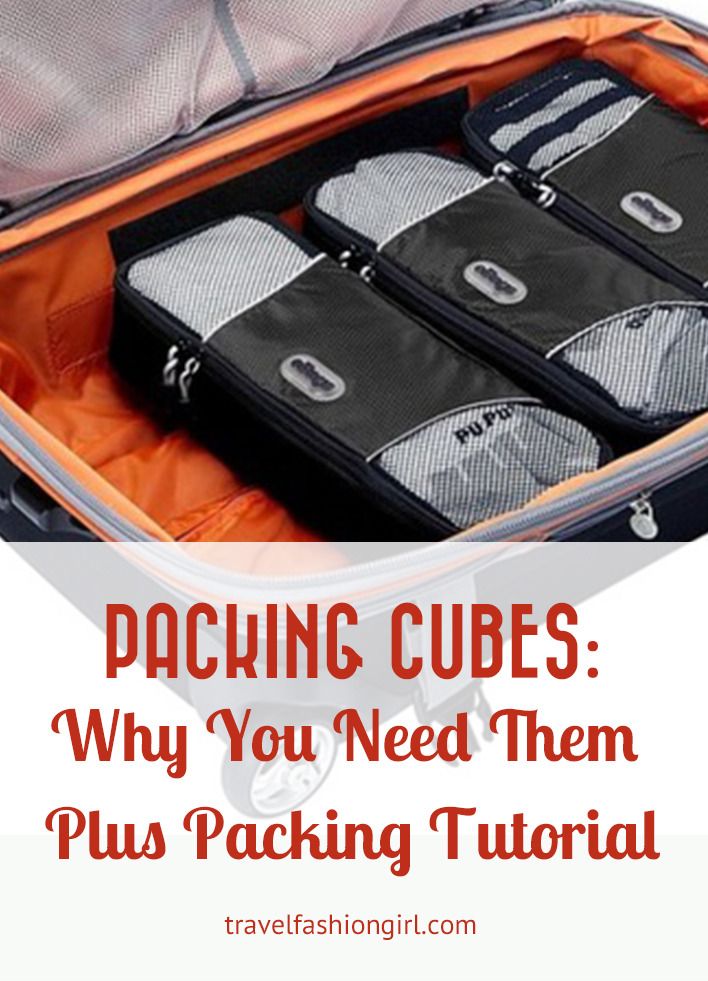 ---
If you found this post on packing cubes helpful, please share it with your friends on Facebook, Twitter, or Pinterest. Thanks for reading!
---
Liked this article? Check out similar posts: