Since I published this post I've received thousands of comments and emails from women all over the world. Not only did they find out that packing cubes are much more than just organizational tools, they've also learned that they are the secret to packing carry-on only. I hope you'll find this as helpful as they did!
Please note, eBags does not sponsor me in any way. I just love their packing cubes! Find out why!
---
Why Packing Cubes are a Must-Have Travel Essential
---
Packing Cubes are the ultimate travel organizers! They help you maximize the space in your bag so you can fit all your belongings in an organized and efficient way using minimal space.
It's important to note that packing cubes help you do much more than just separate your tops from your bottoms. By utilizing the packing method illustrated in this video tutorial, you compress the space in your luggage making it easier to travel carry-on only.
How I use Packing Cubes
I'm a full time digital nomad that travels 365 days a year. These packing cubes helped me achieve my goal of traveling carry-on only in my never-ending journey around the world.
In my post about Packing Carry-on for European Budget Airlines in the Winter, I showed you how it is possible to squeeze even non-practical items like my leather skirt and leather jacket into these little containers of packing perfection. They constantly amaze me so I had to make this video to show you just how awesome they really are.
About This Video Tutorial
In this packing video tutorial, I show you how you can compress a generous amount of clothing into minimal space by rolling and adjusting within packing cubes.
I have used my largest Signature Packing List: the Maximista so you can see that it really is possible to travel carry-on only with the generous amount of clothing featured in the 15 Piece capsule travel wardrobe from the Maximista packing list. The clothing chosen is an example of what I would pack for an indefinite multi-climate trip.
Packing Cubes Video Tutorial
As shown in the video, I use a different brand of packing cubes but I recommend this  Amazon Basics 4-Piece Packing Cube Set in non-assorted sizes. Although they offer a wide array of colors, my personal color of preference is Titanium because it matches my Farpoint Osprey 55 travel backpack which I highly recommend.
Read my Farpoint Osprey 55 travel backpack review.
What's the Difference Between Regular Size and Slim Size
AmazonBasics 4-Piece Packing Cube Set
These packing cubes are available in two different sizes: slim and regular. The regular cubes are square shaped and great for stacking in a regular suitcase while the slim ones are slender and can be placed alongside each other as I do (shown above).
I originally ordered both the packing cubes set in assorted sizes and also the 3 piece slim set in non-assorted sizes because it was difficult to gauge how big they were from the images. When I received both sets, I was surprised at how large and wide the regular size cubes were and how small the slim set was in comparison.
A bit skeptical at first, I tested both and it turned out that the regular cubes are actually pretty big and very generous. Too large in fact for my needs. They're more appropriate for a suitcase due to their size and shape.
Because I travel carry-on only and due to the measurements of my bag; the slim size fit my Osprey Farpoint backpack like a glove.
Because I am on the road full time, as a long term traveler I pack using the Maximista Packing List which I show you in the above packing video. I counted the amount of clothing I can squeeze into each packing cube and it varies from 4 large pieces like denim/leather to 10+ thin items like tops.
Durability
You'd think the way I stuff these cubes they'd rip but they're also made of extremely durable material with sturdy zippers which is essential for a long lasting product. I've even thrown them in the washing machine on several occasions and they're still going strong almost 2 years later.
Additional Uses for Packing Cubes
In addition to using these packing cubes for every day travels, I use them when I go trekking to places like Machu Picchu and can only carry a day pack.
I also use them to hold useful items like sleeping liners, scarves, socks, travel pillow, and clothing layers when I have long transportation journeys or long flights and want to have easy access to my comfort items. Using one cube with the clothing I need acts as an ideal travel organizer and helps everything fit neatly in a small bag.
When I'm stationary for a few months in LA or the UK, I still use the packing cubes to hold my clothes to make up for the lack of drawer space I have in my living quarters so I find them useful all the time. I'm actually planning to buy the regular size set in Large to permanently organize the clothing that I have in my storage for easy access when I'm in town.
Who Should Use Packing Cubes
Whether you're a backpacker, leisure or business traveler everyone can benefit from using packing cubes. I've been told that families find these extremely helpful and have been able to pack just two carry-on suitcases for a family of 4!
Use these packing cubes along with my international packing lists and you're on your way to becoming a packing expert!
Where To Buy
I bought my 3 Piece Slim Packing Cubes on eBags.com because I like that they offer free shipping which allowed me to return them if they didn't fit in my bag (but they did)! As a bonus, eBags is also linked to my Airline Alliance and I was able to earn a bunch of air miles with my order so I also ordered my Farpoint Osprey backpack here too instead of REI which offered less miles. I love hacking airline miles!
Buy the 3 piece eBags slim packing cube set here and 3 piece eBags regular size assorted packing cube set here. Shop for travel gear on eBags.com.
---
Are you a packing cubes fan? Tell us why in the comments!
---
For more tips on travel gear, please read:
---
LIKED THIS POST? PIN THIS PIC TO SAVE IT!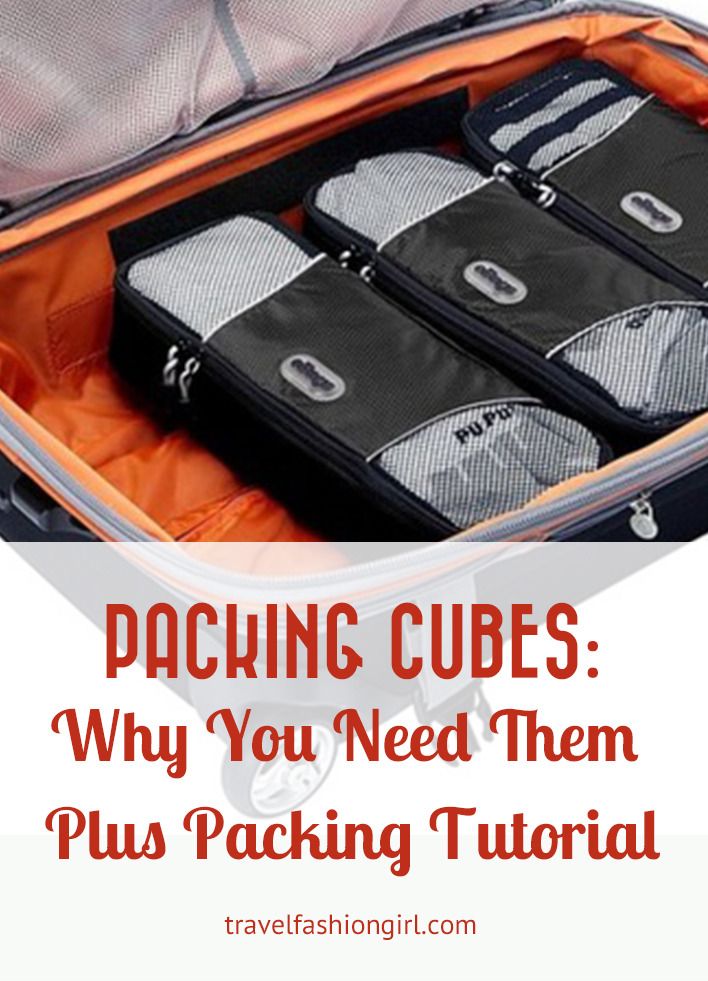 ---
If you found this post on packing cubes helpful, please share it with your friends on Facebook, Twitter, or Pinterest. Thanks for reading!
---
Liked this article? Check out similar posts:
Share and Enjoy