---
Need tips on what to wear somewhere else? For a full listing of all our destinations, please visit our packing list page!
---
Whether you're spending a summer abroad or finally taking that vacation you've been dreaming about for years, Travel Fashion Girl has the ultimate backpacking packing list for your European adventures!
Follow the travel tips below and then visit each seasonal packing list for more details.
SPRING I SUMMER I AUTUMN I WINTER
---
Backpacking Packing List for Europe
---
TABLE OF CONTENTS:
Packing for Europe
Europe is a dream destination for many Americans; it seems as if everyone around the world wishes they could travel this beautiful continent. From the royal history in England, the romance of the Eiffel Tower, the exquisite Spanish art, to the architectural intrigue of Rome, every country has its own special treasures to offer the eager traveler.
As you prepare your backpacking packing list, we've created a sample itinerary for your journey including Italy, France, Switzerland, the Netherlands, Spain, Hungary, Germany, and the UK.
Of course, because these packing lists are created with various European destinations in mind, you can still use them even if you're going to countries that aren't mentioned. Just customize it to fit your own trip!
How to Pack when You Backpack Europe
When traveling in Europe, you want to look stylish and chic but don't want to lug around an overweight bag or suitcase–TRUST ME. This is what my friend and I looked like on our first trip backpacking Europe and ouch, never again!
If you're backpacking Europe, my number one tip is to take a backpack instead of a suitcase. A backpack is more convenient, especially when going up and down endless stairs in the subway or at hostels.
These are the top 5 reasons to travel carry-on only to Europe.
Try to choose a backpack that can fit as a carry-on, especially if you're planning to use Europe's budget airlines with strict luggage dimensions. Be sure to adhere to their measurement requirements because those airlines aren't messing around with the size allowances! (Note that the carry-on allowance for Europe's airlines is smaller than in the U.S.) This is how I packed carry-on only for Europe in the winter.
Read this step-by-step guide on how to choose the best travel backpack.
Use packing cubes to maximize the space in your bag. Check out my packing video tutorial. If you insist on traveling with a suitcase, check out my top suitcase recommendations for Europe.
Europe's carry-on bag allowance: 55cm x 40cm x 20cm. Always check your airline's individual baggage rules and regulations in advance.
Packing for the Weather in Europe
To ensure that your backpacking packing list is finely tuned, make a list of your planned activities and check the extended weather forecast or average temperatures.
Ensure that the majority of your travel wardrobe contains low-maintenance clothing–that the items are easy to wash and dry. Look for fabrics that are quick drying, wrinkle resistant, and in dark colors, to hide stains.
Read more about choosing the best fabrics for travel.
Remember that you can re-wear clothing more than once, such as a good pair of jeans, a warm jacket, or a sweater. These items can also be dressed up or down to suit most situations.
Lastly, make sure your tops and bottoms mix and match with each other to create a number of different looks. The most successful travel wardrobes include clothes that are versatile and in solid colors.
Read these top 10 tips on creating a capsule travel wardrobe.
Please refer to the seasonal guides below for a full weather summary for major European cities.
Do's and Don'ts of Clothing in Europe
Before visiting a destination, do some research to ensure you're familiar with the country's practices and customs, and any time you're going to a religious or respected site, cover up as much as possible. Showing respect for a culture is of the utmost importance; the reception you receive will be far warmer.
Take Barcelona, for example. Fashion is more conservative here because religion is important in the lives of the locals and has an influence on the culture. You may be refused entry into sacred buildings, like cathedrals, if you do not dress accordingly.
But in other cities, like Zurich and Amsterdam, there's a more relaxed view on fashion. You can feel free to use artistic license when it comes to your wardrobe. In ultra-chic cities like Paris and London, two of the major fashion capitals of the world, style is a way of life.
As with most destinations, practical sense applies. Leave the beachwear on the beach because it doesn't translate well to streetwear in the city. The same goes for gym wear; unless you're actually headed to the gym, don't dress in your gym attire as the locals will instantly recognize you as a tourist for the lack of effort that has been put into your wardrobe.
In addition, we all love to dress up, but avoid heels because they'll leave you feeling uncomfortable. Opt for wedges if you must bring a heel. Do include one pair of shoes and one outfit that can be worn for dining out or experiencing the local nightlife.
Read these posts about the best travel shoes for Europe.
Toiletries
You can replenish your toiletries virtually anywhere during your travels. There are plenty of pharmacies in Europe that stock all of your essentials, so don't overstuff toiletries in your backpack.
Also, consider your makeup–in many European cities, women opt for a natural look. Since you're on holiday, simple, natural makeup is ideal.
Shopping in Europe
The shopping in Europe is amazing and you can find anything you're searching for. There are a number of local stores where you can replenish your travel wardrobe.
Berlin is known for its fashion: try stores like H&M, Gina Tricot, Funk Fashion, and Ono Koon.
Rome is home to many designer labels, but try Super and Dadada instead.
When in Zurich, head over to H&M, Jelmoli, and Migros and Coop.
London is one of the four major fashion capitals of the world; check out high street stores like Topshop, River Island, NewLook, and Primark.
Bohème, Promod, and Kebab are all worth visiting when in Prague.
When you are in Budapest, head over to H&M, Mango, and Retrock.
Paris is rich with fashion history; however, if you are looking to purchase items that come with a reasonable price tag, head to Monoprix and Tati.
Barcelonanians are known for their tailored, chic, yet modest wardrobe on the streets; head to favorites like Mango and Zara for your travel wardrobe essentials.
Lastly, Amsterdam is a quirky and casual city; you can pick up great pieces from C&A, Sissy-Boy, and Laundry Industry.
---
Backpacking Packing Lists for Europe
---
 Backpacking in Europe: Spring
1. Casual V-Neck T-Shirt 2. Embroidered Blouse 3. Button-Up Shirt 4. Denim Shirt 5. Shirt Dress 6. Skinny Jeans 7. Low Rise Skinny Jeans 8. Black Denim Shorts 9. Raincoat 10. Leather Jacket 11. Striped T-Shirt 12. Wool Cardigan Sweater 13. Loafer 14. Chelsea Boots 15. Scarf 16. Backpack
Backpacking Europe: Summer
1. T-shirt 2.  Casual V-Neck T-Shirt 3. Button-Up Shirt 4. Embroidered Blouse 5. Ribbed Dress 6. Striped Dress 7. Skinny Jeans 8. Black Denim Shorts 9. Raincoat 10.  Wool Cardigan Sweater 11. Viscose Dress 12. Striped T-Shirt 13. Gladiator Sandals 14. Flats 15. Floppy Hat 16. Backpack
 Backpacking Europe: Autumn
1. Casual V-Neck T-Shirt 2. Denim Shirt 3. Striped T-Shirt 4. Button-Up Shirt 5. Shirt Dress 6. Linen Slouchy Chinos 7. Skinny Jeans 8. Mid Rise Skinny Jeans 9. Raincoat 10. Leather Jacket 11. Hoodie  12. Cardigan Sweater 13. Loafer 14. Chelsea Boots 15. Scarf 16. Backpack
Backpacking Europe: Winter
1. Sweater 2. Striped T-Shirt 3. Denim Shirt 4. Button-Up Shirt 5. Oversized Shirt Dress 6. Knitted Dress 7. Skinny Jeans 8. Mid Rise Skinny Jeans 9. Winter Coat 10.  Down Jacket 11. Skater Skirt 12. Wool-Cashmere Knit 13. Tall Boots 14. Chelsea Boots 15. Scarf 16. Backpack
Travel Tips for Europe
TFG recommends
"Not all who wander are lost", but it never hurts to have a good travel guide book to lead the way! Personally, I'm partial to the Lonely Planet guide books, especially the budget series. If you're working with a smaller budget, check out this awesome guide for Europe: Lonely Planet: Europe On a Shoestring
.
Transportation
Fortunately, country hopping in Europe is relatively easy with an abundance of transportation options to help you tick items off your bucket list. Research in advance to see which mode of transportation best suits your budget.
Trains can be the most expensive way to travel when you compare them to cheap flights on airlines like Ryanair and EasyJet. For even more budget prices, check out long distance bus companies, too.
If you are planning an inter-railing trip around Europe, check out this post for some train travel essentials to make your journey more comfortable.
Accommodation
Hostels are a great way to find cheap accommodation and meet other travelers. Try well-known sites like Hostelwor
ld.com to research hostels, read reviews, and book in advance.
As a personal tip, instead of booking all your nights in advance, maybe just book one or two so you can first get a feel for the place without overcommitting. Of course, should you be traveling during a special event or holiday, book in advance.
Travel Insurance
If you plan on getting travel insurance, I highly recommend Travel Guard. I got a gross staph infection while on my RTW and it was nice to have $800 in expenses reimbursed into my depleted bank account at the end of my trip. You can read about my gross experience at Sick on the Road.
Money and Safety
ATMs tend to offer you the best exchange rate, so pull out cash as you go. Just be cautious about where you stash your cash! Spain is especially known for muggings and pickpockets.
Add items like the Secret Stash Bra Pocket
 and Underwear with Pockets to your packing list. For extra security, check out the "theft-proof" bags featured in this post about Cross-Body Purses.
Remember, the safest place for your passport is locked in your accommodation. Carry a photocopy or other ID when you're sightseeing or are out at night.
Group Travel: Tours are a great way to travel if you're not ready to travel alone. A few top choices include G Adventures' Rome to London Adventure
 which is great if you want to see the sights with less time and Contiki's European Whirl if you prefer more of a party. Alternately, let the pros at Stiletto Escape plan your adventure for you. TFG readers get 5% off (new bookings only)!

---
Visit each seasonal packing list for more details:
---
Want the ultimate guides for packing light? Read our Pack Light Stylishly book to get started and take our master class if you're ready to Stop Overpacking!
---
From the history to the royalty to the fashion and the shopping, whatever your motivation to make a trip abroad, one thing's for sure: it will be the trip of a lifetime! 
What's your favorite Europe travel destination?
---
Read More Packing Lists for Europe
Suggested Travel Resources:
---
LIKED THIS POST? PIN THIS PIC TO SAVE IT!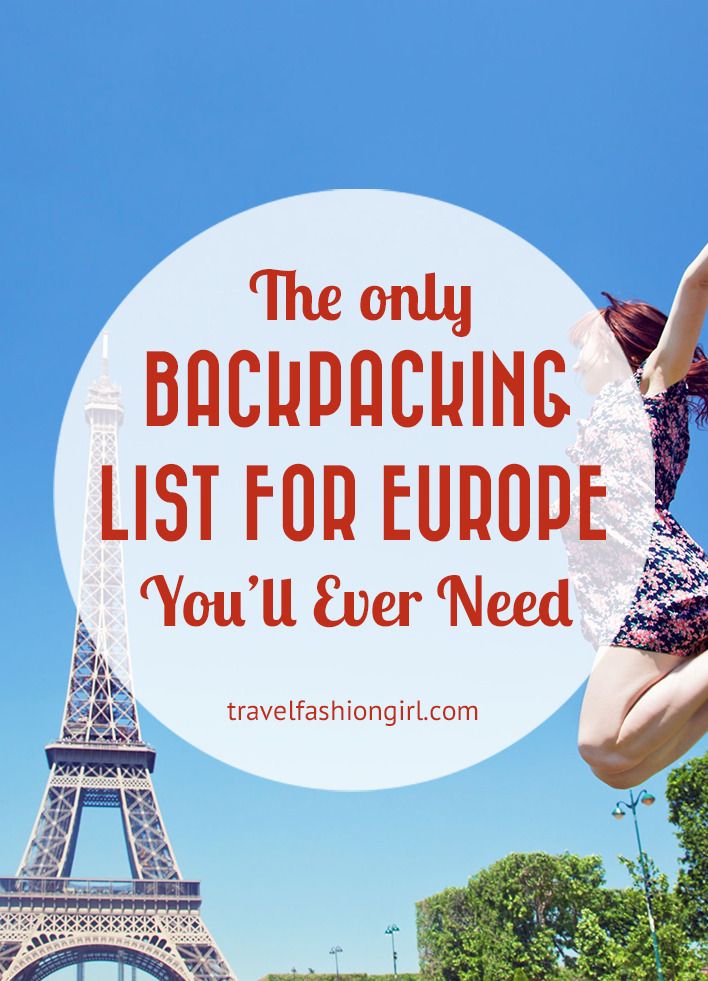 ---
We hope you've enjoyed our ultimate backpacking packing list for Europe. Don't forget to share this post with your friends on Facebook, Twitter, and Pinterest. Thanks for reading!
---
Liked this article? Check out similar posts:
Share and Enjoy