This post contains affiliate links. Visit our Disclosure page for details.
I've always been a fan of nude or ivory shoes and prefer them to black. When it comes to choosing the perfect heels for travel – nude is definitely the way to go.
While my long term travels don't usually require me to wear heels, this summer I'll be attending three weddings in Europe so I figured I'd shop early and get some that would also work for a few business meetings and the Women in Travel Summit in Chicago.
When it comes to business related activities, I just can't wear flats – it's engrained from my days of working in the fashion industry – I have to have my heels even in a trade show.
In order to embrace my new goal of minimalism in both travel and my life at "home", I want a pair of shoes that I can wear with everything. Nude heels are the perfect option!
---
The Ultimate Heels for Travel – Under $100!
---
Benefits
One of the best things about a pair of nude heels is that they match with everything – even an all-black wardrobe like mine.

They are appropriate for various settings – from special occasions to business and even a night out with friends, you can wear nude heels confidently for just about anything.

They elongate your legs which is always a bonus.

They don't have to be boring. The last thing I want is a boring pair of shoes. Remember, style is always in the details.

Details
Height
How high can you go? Choose a height that you not only feel comfortable wearing but that are also appropriate for various settings. While 4 inch heels may have worked in the fashion industry, they may not fly in a more conservative corporate environment.
Durability
If you plan to purchase a pair of shoes that you can wear with everything, you need them to last. Invest wisely. While a price tag does not guarantee longevity, don't let a higher cost scare you away from a pair of shoes that will last a lifetime.
Comfort
Sometimes, not always, paying for better quality shoes can not only offer you durability but also comfort. Regardless, I always recommend these gel insoles for heels –they're my little secret to standing in heels for hours at a time.
Style
Making the choice to own a few quality items encourages you to shop carefully ensuring that you select styles that will work past this season's latest trends. Choose a classic style that you'd love to wear for years to come.
Heel. Wedges, stilettos, or kitten heels? Not only does this choice have to do with your personal taste but if you plan to travel with them you should also consider your environment. For business travel, you may only be in hotels or buildings so a pointy heel isn't an issue but if you're traveling to Italy, for example, with cobblestone streets wedges may be the best option.
My Top 3 Choices For Travel
While my choices may not suit your style, these were the three top contenders in becoming one of my new ultimate heels for everything!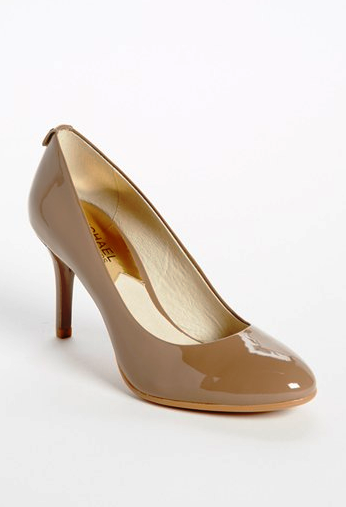 With a great brand name, classic style, and the highest comfort level ratings, these nude heels seem like the obvious choice. They offer the ideal balance that a variety of women of all ages can enjoy. For me, however, I need my shoes to have a little more…edge. Pass.
Need a great classic heel like this? Buy them here.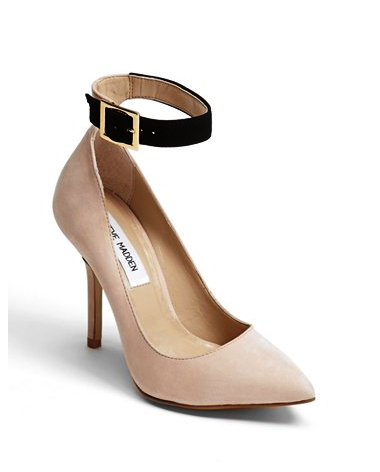 Steve Madden's always been my go-to brand for fun styles, decent quality, and an okay price. They last quite some time and always amp up the sex appeal.  While these are my top choice, the 3 ¾ heel is something I'm no longer used to so I'll have to give these a pass. Great for women that are used to rocking stilettos though!
SALE ALERT: They're currently 50% off! Shop now.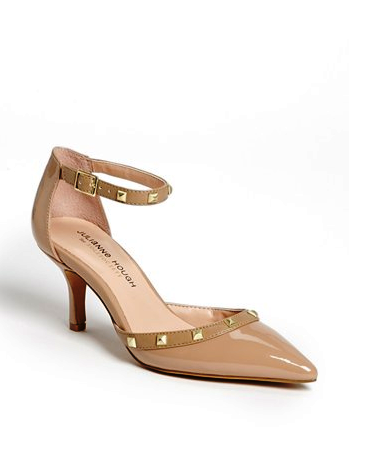 With a 2 ½ inch heel I feel these are more of a kitten heel than a pump but they do offer me the balance I am searching for. They're beyond affordable at $59.95; they have some edge with the gold grommet details; and the heel makes them a travel-friendly height. These are the winner!
I bought them and wore them throughout the WITS weekend and they worked out great! Comfort is ideal for heels and they looked so cute too! These will be joining me on my travels this summer.
Love them as much as I do? Shop now
.
You can see me wearing them here in my packing video from WITS.
Travel Stylist Tip: Avoid materials that can't withstand weather or constant wear such as suede. Unfortunately, this is my favorite material but for now, leather will have to do.

---
What are your ultimate heels for travel? Feel free to comment below.
---
Read the following for more ideas on travel shoes:
---
If you liked this post on the ultimate heels for travel, please share with your friends on Facebook, Twitter and Pinterest. Thanks for reading!
---
Liked this article? Check out similar posts: