IPANEMA flip flops are must have travel accessory because they work double duty! These sandals are made with the same materials as your regular "flip flops" but also serve a higher purpose: they're stylish! Wear them in the shower, on the beach, and for a night out – they do it all.
These hybrid flip flops are the perfect solution to aspiring minimalistas.

A popular iPANEMA collection is created by Brazilian model Gisele Bundchen. Her designs are sophisticated and stylish but still practical, comfortable, and affordable – comfort is key when it comes to travel packing!
---
Move over Haviainas! There's a new Brazilian sandal in sight for female travelers: iPANEMA.
---
These are my two favorite styles:
➊

Maya

Thong

I am absolutely in love with this style. I saw a girl wearing them in Bali and I've been obsessed ever since. $13-$28 on Amazon.
➋ 
GB Ethnic Sandal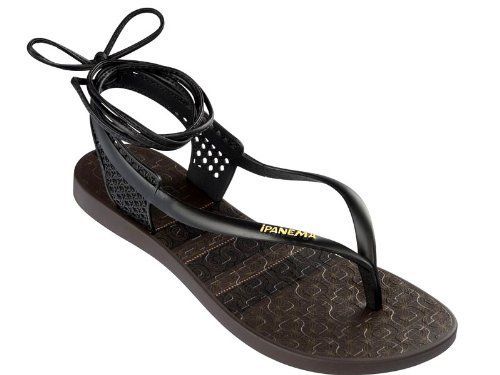 These are a super cute alternatives to boring old flip flops. $26-$29 on Amazon.
iPANEMA sandals are the perfect flip flops, thongs, sandals – whatever you call them, they're what you want in your travel shoes for women.
Instead of having a pair of "flip flops" plus a cute pair of sandals, save some space in your bag with iPANEMA sandals. They provide the ideal 2 in 1 travel shoes for every traveler. They truly represent Form, Function, and Fashion.


---
For more tips and ideas about travel shoes, please read:
---
---
Share your favorite travel shoes in the comments. Don't forget to share the love on facebook, twitter and pinterest! Thanks for reading!
---
Liked this article? Check out similar posts: