Wondering what to bring to Switzerland in winter? Read this post to learn the best clothing, shoes, and accessories to keep you warm on your European adventures!
---
What to Bring to Switzerland: Winter
Written By: Ali O'Neill
---
Renowned for its snow-capped mountains, sinfully good chocolate, and state-of-the-art watches, Switzerland is a destination that delights year-round but is particularly magical in winter.
Whether it's city sightseeing, world-class skiing, or fine dining you're after (or a little bit of each), there's something for everyone in this charming European country.

WEATHER
Winters in Switzerland are typically cold and dry; from January to February the daytime temperature range is -2 to 7°C / 28° to 45°F. In other words, it's likely to be chilly during your visit but not so cold that you can't go out and take in the sights enjoyably.
Start by reading these general tips on packing for winter travel:
This guide focuses on the packing necessities for a city getaway that may include a light hike. (Obviously, a ski trip will require a whole different set of must-bring items!)
Traveling to Switzerland other times of the year? Read our complete Switzerland packing list for more tips!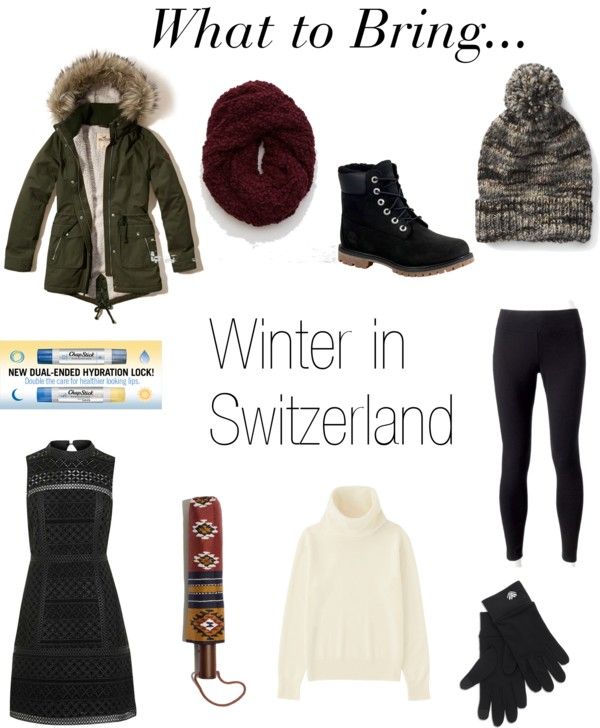 Parka | Dress | Turtleneck | Leggings | Beanie | Scarf | Gloves | Boots | Umbrella | ChapStick
To enjoy your time in Switzerland to the fullest, you'll want to ensure that you've packed to perfection; it's an expensive country for shopping, so you don't want to find yourself having to buy something simply because you didn't bring it with you.
As a rule, Swiss women tend to dress in a chic, conservative way, favoring high-quality, classic pieces in neutral colors. To fit in with the locals and stay cozy, here are some tips on what to bring to Switzerland.
➊

A Warm, Waterproof Coat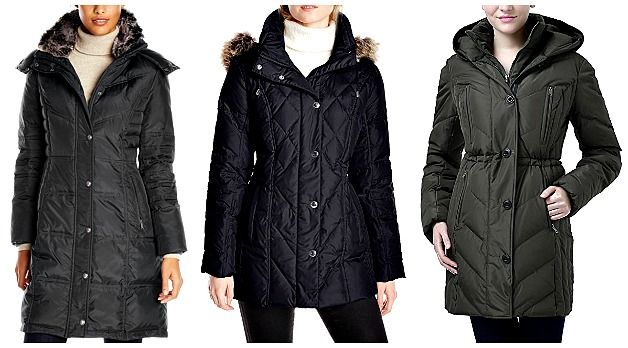 Down Coat | Packable Down Coat | Waterproof Parka
Switzerland, as you may have guessed, can be pretty frosty during the winter months, so a warm (preferably waterproof) coat is an absolute must.
A puffer-style coat has the bonus of being as toasty as it is trendy—opt for one in a chic black, navy, cream or khaki. Fur-trimmed hoods and waist-cinching drawcords are small touches that can elevate a coat from safe to stylish.
Take a look at these bold winter coats to infuse life into a neutral travel wardrobe!
➋

 A Cozy Hat

Wool Hat | Beanie | Faux Fur Beanie
Fact: whether you're planning on hitting up the streets for some shopping or the slopes for some skiing during your time in Switzerland during the winter, chances are your ears are going to get seriously cold unless you've got them well covered.
Your checklist on what to bring to Switzerland in winter should always include a cozy hat will keep you nice and snug.
These are the ski essentials you need if you plan on hitting the slopes!
➌

 Texting Gloves/Mittens

Thick wool mittens are great, but when you're doing some sightseeing you'll probably want to have easy access to your phone for snapping pics and checking directions. Look for a pair of gloves with touch-screen fingertips or mittens with a flap.
Add these stylish winter accessories for the finishing touch!
➍

 A Neutral Turtleneck
Sweater | Slim Turtleneck | Relaxed Turtleneck
A turtleneck is a timeless item that will keep you warm and add a dose of Euro chic to your look. Black, camel, cream, and gray are great neutrals that will play nice with everything in your wardrobe.
For a variety, try mixing and matching these neutral colors in your wardrobe!
➎

 Warm Leggings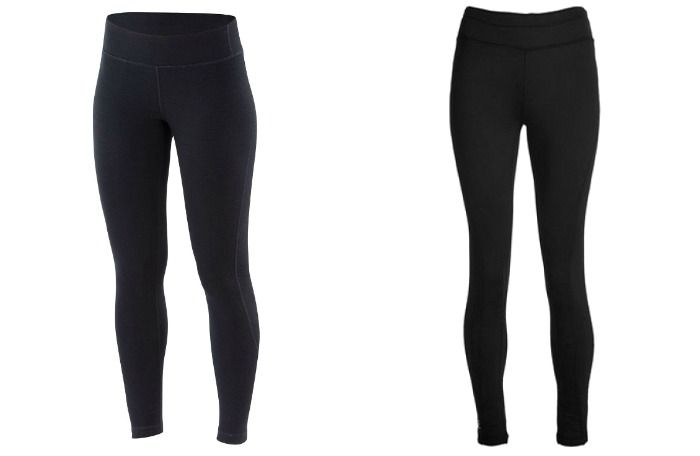 Ibex Izzi Leggings Pant / Mogul Leggings
Jeans are also an option for a day of sightseeing in the city or a bit of light hiking, but I personally find they don't retain heat all that well on a chilly day. As you plan what to bring to Switzerland, opt for a cozier alternative is a pair of thermal or wool leggings—keep it sleek with a simple black pair or more playful with a pattern.
Find out the ten best leggings for women as voted for by our readers!

➏

 A Snood
Infinity Scarf | Plaid & Tartan | Knit 
I'm a big fan of the snood (also known as a circle scarf); it offers a pop of color and texture to your look while serving the practical purpose of warming your neck. And unlike a traditional scarf, there's no fussing around with tying it just so—simply pop it on and you're good to go!
For more ideas, take a look at these stylish winter scarves!
➐

 A Foldable Umbrella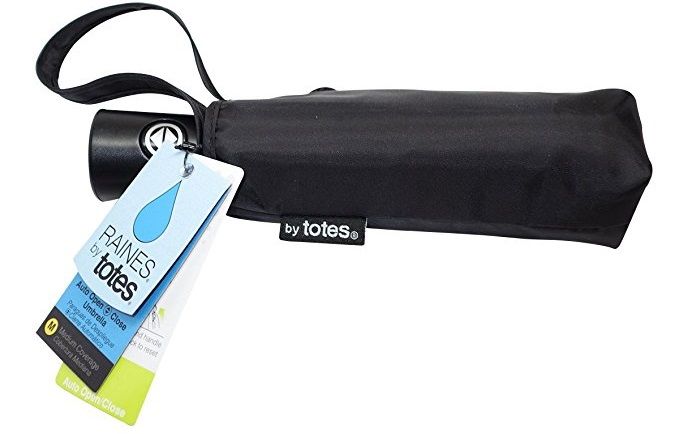 People typically associate Switzerland with snow, but you may very likely experience some rain during your trip—be prepared with a foldable umbrella that can easily be stashed into your handbag.
Here's what to wear on a rainy day!
➑

 Comfortable Walking Shoes/Boots

Snow Boot | Ankle Boot | Tall Boot
If you're planning on combining a city break with a bit of light hiking, as I did, bring along shoes that will work for both of those environments – something with good ankle support and a solid grip would be perfect.
This pretty much goes without saying, but your footwear can truly make or break your travel experience. And make sure you've broken them in well before your trip!
These are the waterproof leather boots our readers recommend!
➒

 A Chapstick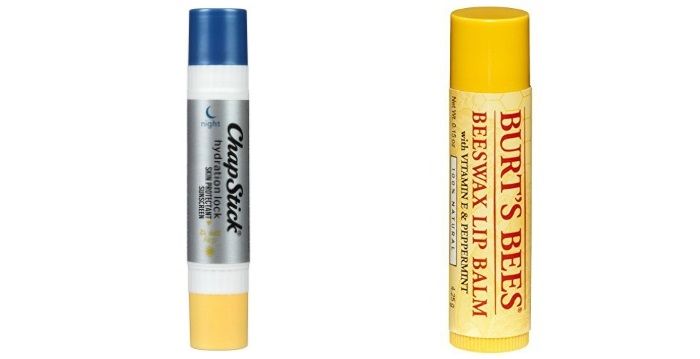 If you're coming from a warm and/or humid climate, you may find the cold, dry Swiss air a bit of a shock to the system. Be sure to bring a chapstick or two with you to prevent discomfort.
Follow these winter skin care tips to moisturize!
➓

 A Nice Dress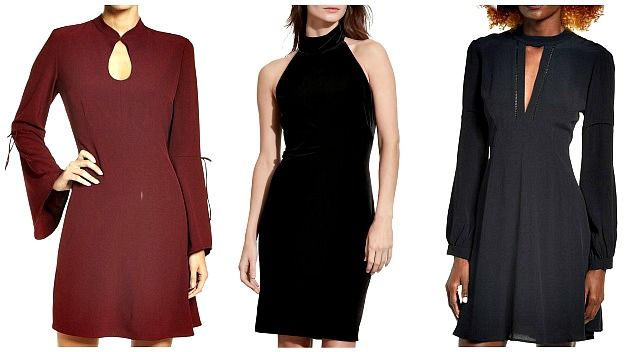 Crepe Dress | Halter Dress | Blouson Dress
When planning what to bring to Switzerland keep in mind that European cities tend to be a bit more "dressy" than those in North America, so bring along a nice dress to wear for an evening out or a meal at a special restaurant (especially if you're heading to Geneva, known for being a bit more formal than other cities in Switzerland).
For versatility, try one of these popular convertible travel dress styles!
Swiss Tips
The higher the altitude, the colder the temperature—this is something you need to take into account if you're planning a day trip to an alpine village from your city base. On average, you can expect temperatures to drop 1°C/2°F for every 150m/500 ft increase in altitude.
If you're visiting Switzerland on a trip that will take in other European countries such as France, Germany, or Austria, bear in mind that the currency is the Swiss franc (CHF), not the euro. Make it easy on yourself by keeping your francs and euros in separate compartments of your wallet to avoid confusion.
Wondering where to buy the best Swiss chocolate? Look no further than the grocery store. There's no need to splash out on expensive chocolate in Switzerland; just find a supermarket and stock up on familiar Swiss brands such as Toblerone and Lindt as well as many others you may not have heard of. You'll be totally spoilt for choice, as even the brands you've heard of will have flavors you definitely don't see at home.
Most stores are closed on Sundays—this may seem strange to someone from North America or the British Isles, but it's fairly common in many parts of Europe. Plan accordingly!

---
What are your tips on what to bring to Switzerland in winter? Share in the comments below!
---
LIKED THIS POST? PIN THIS PIC TO SAVE IT!
---
For more tips and ideas on Europe packing list, please read:
---
I hope you liked this post on what to bring to Switzerland in winter. Please share it with your friends on Facebook, Twitter, and Pinterest. Thanks for reading!
---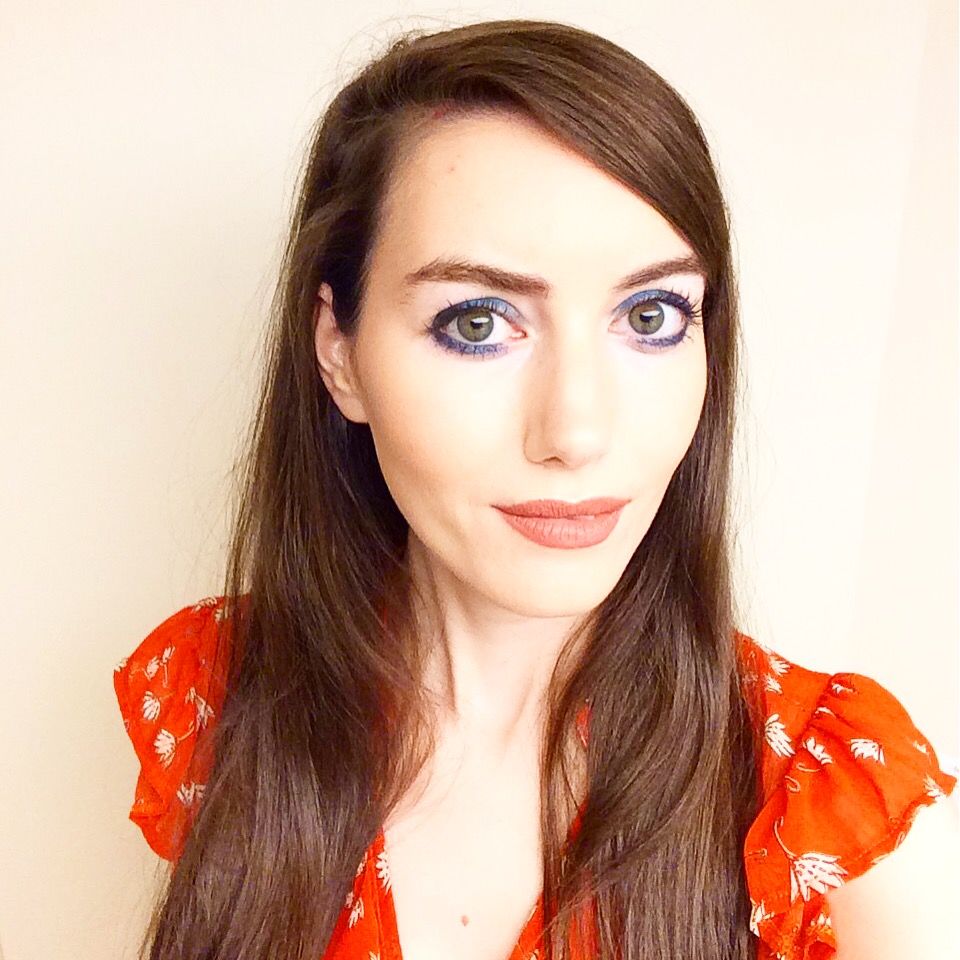 Author Bio: Ali O'Neill is an Irish-born, Canadian-bred writer who recently moved from Vancouver to Dublin. Passionate about travel, books, fashion, and beauty, she writes about her interests at Alison Genevieve. You can follow her adventures on Instagram.
---
Liked this article? Check out similar posts: