---
Need tips on what to wear somewhere else? For a full listing of all our destinations, please visit our packing list page!
---
Wondering what to pack for Hawaii? Here's a sample Hawaii packing list to help you prepare for your vacation!
---
What to Pack for Hawaii: Packing List
---
We've got insider tips on what to pack for Hawaii! For this packing list, I interviewed fashionista Erika Hollweg who attended university in Honolulu for four years and is originally from Los Angeles.
Sheila Beal is also sharing her advice on how to pack for the Aloha state. She's a Hawaii vacation enthusiast who shares award-winning travel advice on her website Go Visit Hawaii. Sheila's a North Carolina native and resident who travels to Hawaii two to four times per year to stay up to date on all the latest trends and news that Hawaii vacationers want to know.

Hawaii Travel Essentials
Sunscreen | Nars | Swimsuit |  Sunglasses
When planning what to pack for Hawaii, don't leave home without your sunglasses–preferably polarized–to cut out some of the glare on the ocean. Other beach essentials include two swimsuits, a cover-up, and flip flops.
And don't forget sunscreen, sunscreen, sunscreen! Hawaii's proximity to the equator makes the sun particularly strong. You can conveniently buy aloe vera gel if you get burned (as I did on my Hawaii vacation) but it's better to avoid getting burned in the first place!
This solid sunscreen is incredible for your face and helps eliminate liquids!
It's a good idea to add at least one pair of long trousers to your Hawaii packing list if you plan on participating in activities like horseback riding or all-terrain vehicle tours.
For outdoor adventures, a good hiking sandal works well for the trails and crossing small streams. Hats are also a great accessory for adventures and hanging out at the beach.
For non-traditional hiking sandals, take a look at these water shoes for women. You might be surprised!
Island Vibe
When you're planning what to wear in Hawaii, choose clothing that is casual and comfortable.
The islands invite you to relax. That attitude spills over into clothing for both locals and visitors. Flip flops are a staple in this chilled out paradise.
Check out my favorite flip flop style sandals!
What to Pack for Hawaii: Packing List
V-neck | Blouse | Tank | Top | Maxi | Dress | Romper | Shorts | Trouser | Sweater | Blouse | Dress | Short | Flats | Sandal | Hat | Tote
Climate
The great thing about planning what to pack for Hawaii is that the weather doesn't fluctuate significantly from season to season; however, it can vary depending on your elevation level and which island you're on, so pack according to your activities.
It's wonderfully warm year round–not cold and not too hot. Daytime highs typically average from the mid-70s to the mid-80s. Throughout the year, don't be surprised if it rains a bit; it's a tropical island!
At the highest elevations on some of the islands, it can get quite cold, so do your research and if you're heading that way, bring some layers.
Breathable fabrics and fabrics with cotton tend to be the most comfortable to wear in the somewhat-humid environment of Hawaii.
Find out how to choose the best fabrics for travel to Hawaii.
Winter evenings can sometimes have a bit of a chill, with temperatures dipping down to an average of 65°F. So, a light jacket or sweater is useful.
The rainy season is October through April, so pack your umbrella and a patient smile. The weather stays warm when it rains, so not many people wear rain jackets or boots. You'll still see flip flops all around.
Daytime Outfits
When planning your packing list for Hawaii, choose breezy tops and casual shorts or capris. Swimsuits with cover-ups are perfectly fine for daytime wear beachside. Use one of these trendy one-piece styles on and off the beach with a pair of denim shorts for the day or with a nice skirt at night!
Take a look at some of our favorite swimwear for women!
Nighttime Outfits 
For dinner or luaus in the evenings, wear a pretty top with capris or casual skirts. If you're a dress girl, go all out! Hawaii is the perfect destination for lovely summer dresses like these. Trade your basic t-shirt for a nice blouse.
Pack these dress sandals for an easy day-to-night look!
What Not to Wear in Hawaii
Avoid getting overly dressy in clothing like sequined dresses–you'll stick out like a sore thumb. Relax and get into the island vibe when planning your Hawaii packing list!
Avoid wearing a dress or skirt on boat tours (unless you have a swimsuit underneath that you don't mind being seen). Once you're on the water, the wind picks up and can easily lift a skirt or dress.
In general, short, flowy skirts and dresses are not a good idea as the trade winds are almost constantly blowing. Unfortunately, I can confirm this as my own knee-length flowy skirt flew up and over while walking seaside. Oops.
Shopping for the Necessities
If you forget to add an item to your packing list for Hawaii, you can find Walmart and Costco on each of the four major islands to purchase anything you're missing or if you want to stock up on essentials.
Whether you're planning a trip in the winter or summer, this Hawaii packing list should be of help! To learn more about customizing our guides to meet your needs, please read this.

---
 What are your tips on what to pack for Hawaii? Comment below!
---
We also recommend these packing tips for Hawaii:
---
LIKED THIS POST? PIN THIS PIC TO SAVE IT!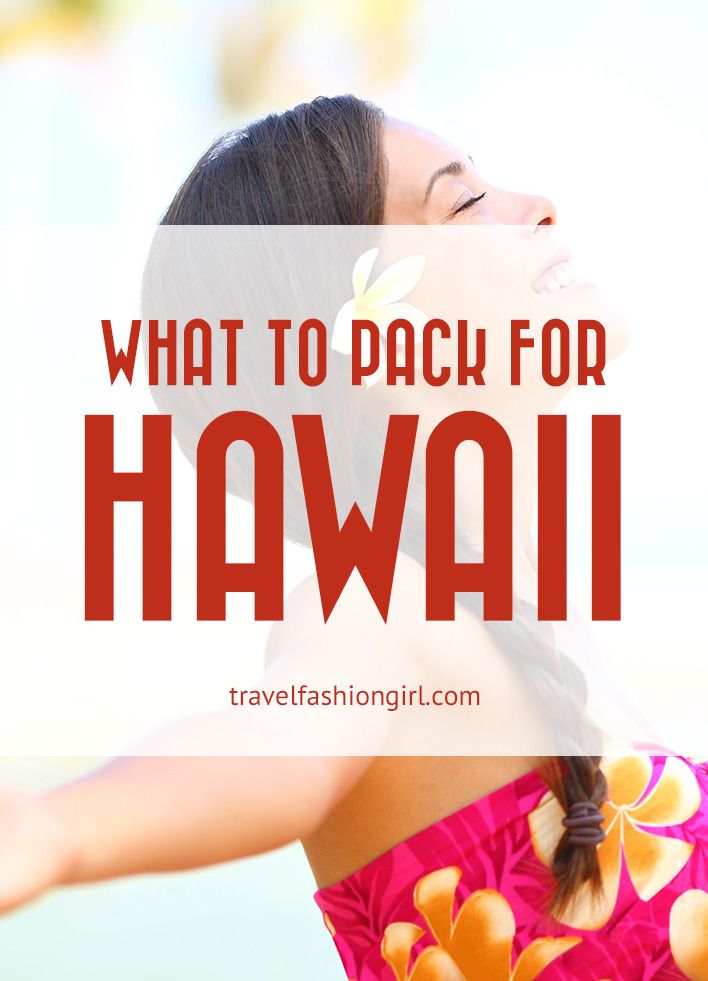 ---
We hope you've enjoyed this guide on what to pack for Hawaii vacations. Please share it with your friends on Facebook, Twitter, and Pinterest. Thanks for reading!
---
Liked this article? Check out similar posts: