For this edition of Locals Approved Packing Lists I received help from Inma in order to create an Galician wardrobe for your travel to the historic location is Galicia. 
Galicia is characterized by its hilly landscape and coastal areas, which make it a breathtakingly beautiful scenic destination. Imna has been bitten by the travel bug for many years. And was born and raised in Galicia, it is the place she always returns to after her travels. If you are interested in finding out more about her adventures you can check out her travel blog A World to Travel, facebook and twitter. Thanks Inma!
---
What to Pack for Spain: Galicia
---
Galicia Clothing Style
Fashion style in Galicia is considered to be mainly causal, with a formal touch for special occasions. However if you want to ensure do not look like a tourist during your trip avoid the classic tale tell signs like the combination of socks with sandals.

Travel Essentials
There are countless scenic paths that you can walk, if this interests you it would be beneficial to bring along a pair of hiking shoes and a day pack. To ensure you are protected from the weather you should include waterproof boots an umbrella and a good rain jacket to your travel wardrobe along with a pair of leggings and a sweater.
Shopping in Galicia
If you find yourself in need of additional clothing or accessories and are looking for stores that are budget friendly you can try out: the Inditex brands, of which Zara is best-known, also try Pull&Bear, Bershka and Oysho. If it is sports equipment that you are after then try out Decathlon and Sportzone, which have a great selection of cheap sports equipment.
What to Wear Galicia in spring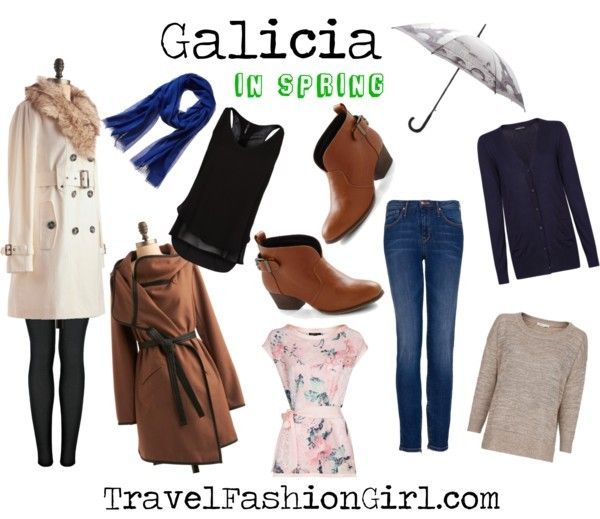 Sweater
/ Tank Top
/ Dress / Trench Coat
/ Coat  / Cardigan / Boots
/ Umbrella
/ Scarf
 / Jeans
Weather:
Inma says: During the spring seasons you can typically expect a lot of rain. Whilst the climate is rainy the weather tends to be temperate.
Start by reading these general tips on packing for spring travel:
Spain Packing List: Spring
Galicia has rainfall throughout the year, so to ensure you are well protected from the rain pack parkas, waterproof jackets, trench coats and a good and sturdy umbrella. you can opt for neutral colours although there are no specific guidelines, the neutrality of the looks allow you to mix and match far easier, and use accessories such as scarves to add a refined and womanly touch to your look.
Read these tips on what to wear on a rainy day!
Waterproof shoes are essential, leather boots or leather flats are always a good option as they are comfortable, waterproof and sturdy.
These are the most cute and comfortable ballet flats for travel!
Add Capri trousers and jeans to that will act as your base, and t-shirts and 3/4 tops will be perfect to wear on the warmer days, or underneath your waterproof gear.
What to Wear Galicia in summer
Blazer
 / Dress
/ Ruffled Top / Swimsuit / Trench Coat
/ Trousers
/ Pants
/ Bikini Bra
/ Bikini Bottom / Shorts
/ Skirt
/ Hat
/ Espadrilles
/ Canvas Tote
/ Sandals
/ Sunglasses
/ Umbrella
Weather:
Inma says: Summer can be really warm; in some regions you can get temperatures as hot as 40 degrees C, however the temperatures can also be cool, and you will not be without rainfall, although the summer months tend to be drier in comparison to other seasons.
Start by reading these general tips on packing for summer travel:
Spain Packing List: Summer
summer will allow you the fashion freedom everyone craves on holiday; you can pack your summer dresses, shorts and skirts in styles that you feel most comfortable in. Wear these will t-shirts and vests during the day. Summer is the season for colour and enjoyment, and there are many beaches where you can enjoy yourself. Bring your swimming costume, sunglasses and even a sun hat to ensure you are protected from the rays.
For added versatility, these are popular convertible travel dress styles!
When considering footwear you'll want something a little more beach friendly than ankle boots, so pack a pair of wedge sandals and flat pumps that are comfortable to walk in.
These are the most cute and comfortable ballet flats for travel!
Bring a pair of Capri trousers and a pair of jeans and a jacket just in case you encounter the cooler temperatures.

What to Wear Galicia in autumn
Jeans
/ Crossbody
/ Booties
/ Trench Coat
/ Harem Pants
/ Jacket
/ Tank Top
/ Longsleeve Top / Button Down Top / Sleeveless Top
Weather:
Inma says: the weather is rainy during the autumn season with mostly moderate temperatures.
Start by reading these general tips on packing for autumn travel:
Spain Packing List: Autumn
The packing list for Galicia during the autumn is no different from the packing list during spring. Simply refer to the spring list; you can however change the colors of your wardrobe slightly, ensuring that they are neutral with a pop of rich browns and burnt oranges.
What to Wear Galicia in winter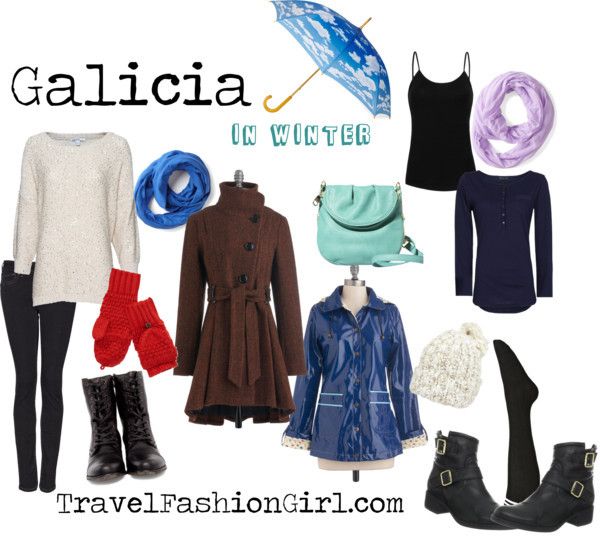 Sleeveless Top
/ Cardigan / Sweater
/ Raincoat
/ Coat / Bag
/ Light Scarf
/ Socks
/ Jeans / Umbrella / Bootie
/ Booties / Mittens / Hat / Scarf
Weather:
Inma says: temperatures range from 12 degrees C to minus 10 degrees C, with the chance of snow, although snowfall is often short-lived.
Start by reading these general tips on packing for winter travel:
Spain Packing List: Winter
when travelling to any icy destination you want to ensure that you are kept warm at all times. Layering is essential in achieving this, pack long tops and sweaters which you can wear underneath a waterproof jacket or a heavy coat.
Find out why thermals are a must for traveling light (and staying warm) in winter!
Trousers and jeans will act as the base of your outfit, again these are always best in darker shades to ensure you can easily mix and match your looks. Accessorize with gloves, a warm hat such as a beanie, thick socks and warm wrap scarves in patterns and colours of your preference.
You want to ensure your feet are kept warm and dry during the winter season; boots are the best shoes to guarantee that this happens, opt for a pair of leather boots with an inner lining for added warmth.
Find out why leather boots are some of the best travel shoes to Europe!
Final Tip
The weather should not act as a deterrent for this picturesque destination. Galicia is known as the "country of the thousand rivers" and is filled with untainted landscapes covered in a deep green. It is a region of Spain that is known for its fishing industry and farming which has have been the main source wealth for the region, throughout its history.
Galicia is relatively new to the tourism boom; however old coastal towns such Santiago de Compostela, have now become noteworthy tourist destinations which have a romantic and secluded feeling to them, when caught in a spell of rain.

---
Have a great time in Galicia! 
What are your tips on What to Pack for Spain: Galicia?
---
Please note: Most of Europe's Budget Airlines have this Carryon Bag Allowance: 55cm x 40cm x 20cm. Always check your airlines individual baggage rules and regulations in advance.
---
LIKED THIS POST? PIN THIS PIC TO SAVE IT!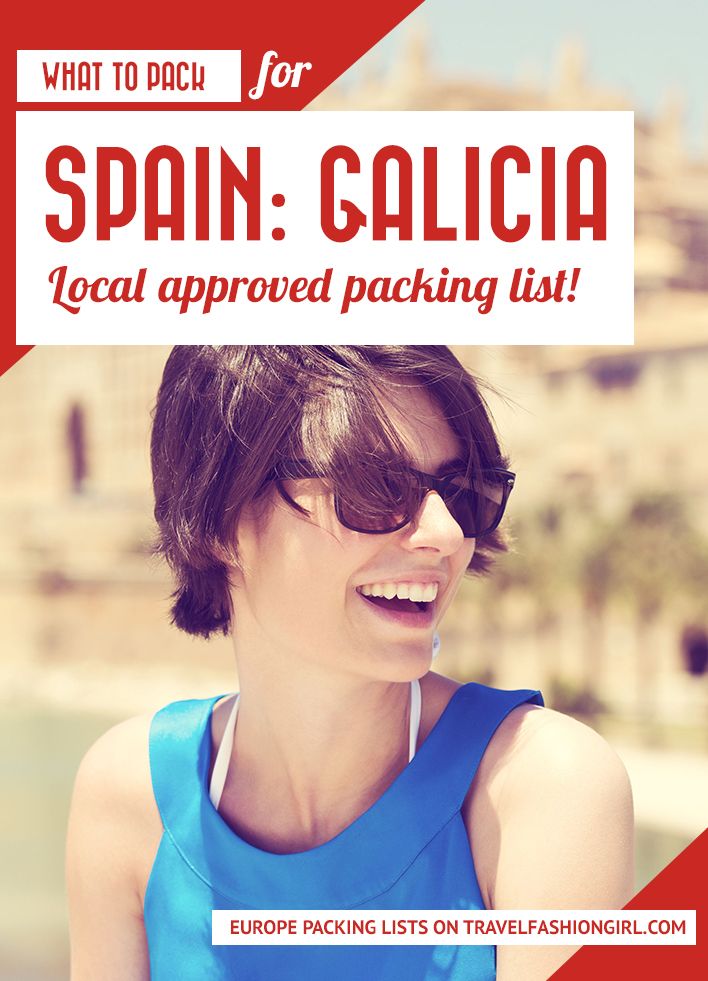 ---
For more tips, please read these Europe packing lists:
Suggested travel resources:
Please read our Ultimate Packing List for Europe featuring stylish outfits and travel tips for 9 countries.
---
Hope this packing list helps you plan what to pack for Spain so you can dress like a local. Don't forget to share the love on Facebook, Twitter and Pinterest. Thanks for reading!
---
Liked this article? Check out similar posts:
Share and Enjoy