---
Need tips on what to wear somewhere else? For a full listing of all our destinations, please visit our packing list page!
---
For this Local's Approved Seasonal Packing List, I interviewed Brandy Bell from the informative and quirky solo female travel blog, It's One World Travel. Brandy has lived in Madrid for the past 2.5 years and traveled extensively through the country.
The home of flamenco, tasty tapas, bullfights, and paella, Spain is classically conservative yet practically stylish. The country stays true to its original roots, paving the way for its history to still be evident despite its progress.
Traveling to Spain means beholding architectural wonders made by artisans of the past and the present: cathedrals, museums, and establishments all engrossed in a deep love for art.
Spain is one of the remarkably warm European countries. Be prepared to experience its diverse weather conditions depending on the time of year you visit.
Please read on to plan what to pack for Spain vacations and use one of the Travel Fashion Girl's Universal Packing Lists to create your own perfectly customized packing list.
---
What to Pack for Spain Vacations
---
General Clothing Tips
In Barcelona and the capital city of Madrid, people prefer to look more formal and dressed up. If you're traveling around the southern part of the country, like Andalucia, you may see a more relaxed, laid back style.
A safe choice is wearing jeans paired with a nice top and classic flats. When visiting cathedrals, bring along a shawl or scarf to cover up and respect local religion.
If you're planning to go out at night, then plan to dress up a bit. If you're staying in a beach town, you can go for a more casual look.
Spain may be a sizzle in summer days, but that's no reason for you to walk outside in flip flops; they're only worn inside the house here. Instead, go for sandals, flats, or trainers. You'll need comfortable footwear to protect your feet from cobblestone streets.

What to Pack for Spain in the Winter
1. Thermal Top 2. Denim Shirt 3. Button-Up Shirt 4. Ruffled Sleeve Blouse 5. Viscose Dress 6. Shirt Dress 7.  Skinny Jeans 8. Mid Rise Skinny Jeans 9. Leather Jacket 10. Raincoat 11. Knitted Cotton Sweater 12. Skater Skirt 13. Leather Tall Boots 14. Black Flats 15. Faux Fur Vest 16. Mini Leather Saddle Bag
Winter in Spain occurs from December to mid-March. It snows in many parts of the country in the beginning of the season, and in January to February there's a lot of rain showers in the north. Occasionally dry and drafty, you'd better layer up if you're visiting in winter.
Women can be seen wearing fur jackets, while down jackets are popular for younger people.
When it rains heavily, people only wear footwear like galoshes or rainboots. For the most part, girls much prefer leather boots for a more fashionable look.
What to Pack for Spain in Spring
1. Ruffled Sleeve Blouse 2. Sleeveless Blouse 3. High Neck Tank 4. Chiffon Blouse 5. Multicolor Split Tie-Waist 6. High Slit Sleeveless Shirt Dress 7. Jersey Pants 8. Skinny Regular Jeans 9. Raincoat 10. Cardigan Sweater 11. Jersey Top 12. Midi Skirt 13. Loafer Shoes 14. The d'Orsay Flat 15. Oversized Panama Hat 16. Mini Leather Saddle Bag
Spring opens up with a bit of the winter frost; March and April are still chilly but it starts to warm up in May. It will still be cold during the first weeks of the season, so make sure you have a warm jacket in your luggage. Warmth comes with the sun, but as soon as it disappears you can feel the draft, so it's best to layer your clothing.
Bright colors, pastels, and florals are appropriate for this season, as everyone mimics nature's vivid colors. Long tunic tops are paired with leggings, replacing trousers and denim.
Dining out is popular in this fair weather, but make sure you bring along a scarf or a jacket.
For footwear, ladies prefer boots because it is easier to walk in the melted snow without a hassle.
What to Pack for Spain in the Summer
1. Floral Print Top 2. Sleeveless Blouse 3. High Neck Tank 4. Chiffon Blouse 5. Off-the-Shoulder Dress 6. High Slit Sleeveless Shirt Dress 7. Jersey Pants 8.  Black Denim Shorts 9. Denim Jacket 10. Cardigan Sweater 11. Jersey Top 12. Midi Skirt 13. Gladiator Sandals 14. The d'Orsay Flat 15. Oversized Panama Hat 16. Mini Leather Saddle Bag
Spain's summer season will certainly toast its travelers, with the hottest temperatures arriving in mid-August. Madrid's summer temperature is dry heat, which invites women to bare their bods! When the sun's blast hits Spain, there's no such thing as too much skin.
For clothing, anything goes–including sandals and miniskirts. Leggings are good to wear during the day under a skirt, because you can easily remove them when it gets hotter.
Flip flops are a no-no, but a pair of cute sandals is a must. You can pick up a cheap pair at Maripaz with 5-15 euros. You can also pick up essentials at Primark. H&M and Zara are very popular and widely available, too.
What to Pack for Spain in Autumn
1. Ruffled Sleeve Blouse 2. V-neck Blouse 3. Striped T-Shirt 4. Button Up Shirt  5. Viscose Dress 6. Shirt Dress 7. Skinny Regular Jeans 8. Skinny Jeans 9. Leather Jacket 10. Cashmere Poncho 11. Denim Shirt 12. Midi Skirt 13. Boots 14. The d'Orsay Flat 15. Oversized Panama Hat 16. Mini Leather Saddle Bag
Temperatures drop in Spain during autumn, which is from September to November, but it varies according to the location. In the north in Galicia, it can be very cold this season; in Madrid and the south, you can feel the heat until mid-October. That's when it starts to be cold again.
The city moods change completely as everyone returns from their August holidays. Summer skin disappears and you can see people sporting clothes in autumn colors.
As the tinge of chill arrives, it is recommended to layer practically, including items like a waist-length coat, scarf, and hat. Most of the autumn fashion here focuses on shoes: high-heeled boots are a must in September.
Important Travel Tip
Petty theft in Spain is very prevalent. In fact, the country is ranked #1 in the world for travel insurance claims.
Always keep an eye on your things, and remember to pack them securely.
Make your clothing theft-proof and choose items with strong zippers. Jeans are handy for this reason: you can put important items, like your wallet and phone, in your front pockets, where it's very difficult for a wandering hand to snatch it.
Pick up functional yet attractive items that have strong safety features for your belongings. Take precautions so you can rest easy as you walk around the Spanish streets, enjoying the scenery.

---
A special thank you to Brandy from It's One World Travel for sharing her insight and helping us figure out what to pack for Spain vacations.
What are the essentials in your Spain packing list?
---
Please note: Most of Europe's budget airlines have this carryon bag allowance: 55cm x 40cm x 20cm. Always check your airline's individual baggage rules and regulations in advance.
---
More Europe Packing Lists:
Suggested Travel Resources:
Please read our Ultimate Packing List for Europe featuring stylish outfits and travel tips for 9 countries. 
---
LIKED THIS POST? PIN THIS PIC TO SAVE IT!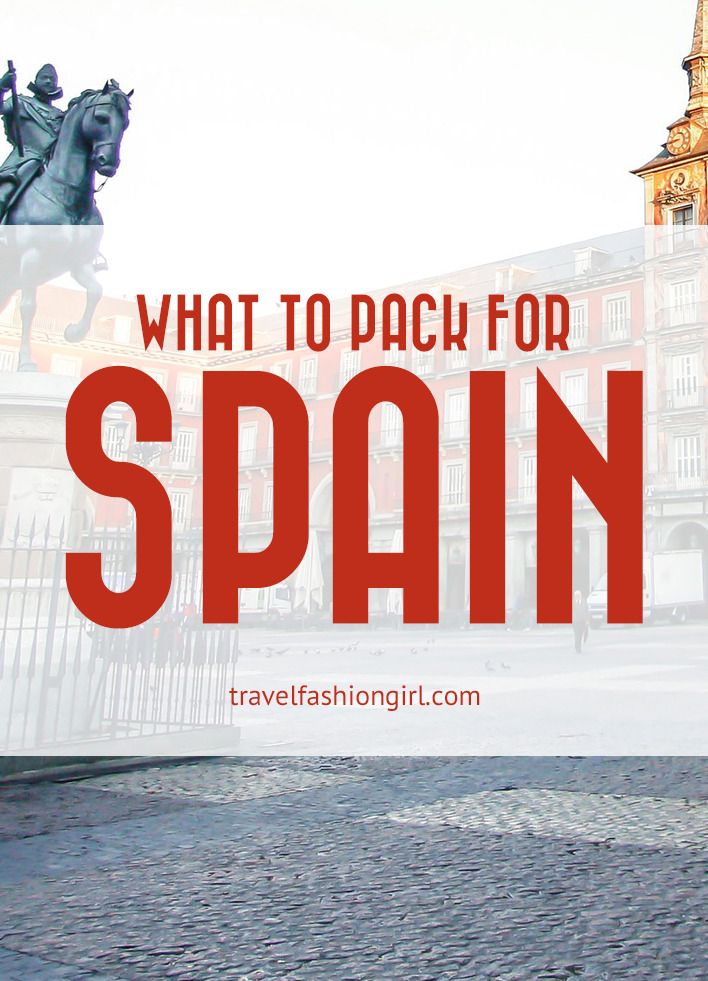 ---
We hope this packing list helps you plan what to pack for a Spain vacation. Don't forget to share the love on Facebook, Twitter, and Pinterest. Thanks for reading!
---
Liked this article? Check out similar posts:
Share and Enjoy