For this edition of Locals Approved Packing Lists, expat Liz Dunn has helped me to put together an authentic local's guide when planning what to pack for Switzerland holidays.
Liz, originally from Australia, moved to Zurich 16 months ago, to experience a city that is fresh and exciting. Zurich is a beautiful and clean city filled with different cultures and cuisines, which you can enjoy among picturesque scenery. Thank you Liz!
---
What to Pack for Switzerland Holidays: ZURICH
edited by Cailyn Cox
---
Zurich Clothing Style
Zurich is known to be a place that is both conservative and casual, which means that it is acceptable to wear jeans and even sneakers for almost any occasion. The summer months see the city come alive to enjoy the glorious sunshine, celebrated with bright block colors and striking summery floral print dresses. Whilst it is a city with fashion freedom, it is still important to remain neat and presentable.
Travel Essentials
For Zurich weather you won't find the need for an umbrella. It's not that it doesn't rain, but rather due to the fact that the wind is too strong and it would be impractical for an umbrella. Alternatively a warm waterproof jacket will fill the role of the umbrella. There are outstanding hiking trails in the Swiss countryside, so if you're interested in hiking then bring your hiking boots or trainers.
Zurich Shopping
If you are in need of an addition to your travel wardrobe then stores such as H&M, and Migros and Coop will stocks a variety of items that are useful for the Swiss weather that come with a reasonable price tag. Coop or Migros also stock a selection of cured meats and cheeses and breads which you can treat yourself to. Switzerland is not known to be budget friendly, and unless you have unlimited spending try to avoid stores such as Manor, Jelmoli and Globus, which will require you to pay a premium price.

Zephyr Top (similar) / Denim Tank (similar)
/ Cardigan
/ New Apartmint Top
/ Linen-Blend Jacket (similar) /
Metallic Moto Jacket
 (similar)
/ Bustier
(similar) / Polka Dot Sweater
(similar) / Floral Top
/ Denim Shorts
 (similar) / Satin Trousers
  (similar) / Jeans
/ Yellow Bag
/ Sunglasses
/ Booties
 (similar) / Flats / Sneaker
What to pack for Zurich in spring
Weather:
Liz says: Spring weather can be unpredictable and so it is important to remember to layer. You can wake up in the mornings to 4 C / 39 F degree weather, which can warm up to around 25 C / 77 F degrees over lunch time and will cool down again in the early evenings to around 12 – 15 C / 53-59 F degrees, so it is important to be prepared for anything. Your daily outfit for spring would be a light top teamed with a pair of jeans and a warm jacket.
Packing List:
As mentioned, Zurich weather can be unpredictable, and layering is important to ensure you are comfortable. Start with your base, a good pair of jeans or trousers in a darker shade, which you can team with a light blouse or vest in a bright color as it is spring and you are celebrating this. This outfit can be accompanied by a light jacket or a cardigan to protect you from the chill of the mornings and evenings.
Ballet flats are cute as they are comfortable and will keep your feet warm, you can purchase your favorite pair in a selection of different colors such as a floral print. Sandals are also a great addition to your spring wardrobe for the hotter days, again you can purchase a selection of patterns and prints that best suit your personality.
You can add a pair of denim shorts to your wardrobe, which can be worn with your flats and a jumper during the day. Do not forget your sunglasses to protect you from the sunshine and the glare.

Jacket
/ Dress in Red
/ Knitted Top
/ Nude Tie Neck blouse
/ Zephyr Top (similar)
/ Dress
/ Shakespearean Dress
/ Denim Short / Mint Skirt
/ Skirt
 (similar) / Trousers
(similar) / Jeans
(similar) / Leggings
/ Bag
(similar) / Hat (similar) / Shades
(similar) / Boots
(similar) / Flats
/ Jacket (similar)
What to pack for Zurich in summer
Weather:
Liz says: you can expect weather that can range from between 12-15 C / 54-59 F degrees up to a very warm 30 C / 86 F degrees. The warmer weather allows for greater fashion freedom with your wardrobe.
Packing List:
The evenings in summer can still get quite cool, so include a light jacket for the cooler nights, additionally a rain jacket would be beneficial to protect you from the elements and the occasional rain shower. This can be worn with a pair of jeans or trousers of your choice.
Sunglasses, boob tubes and vests can make an appearance during the summer months, in bright bold colors and worn with denim shorts or shorts in rich darker shades. Light summery dresses and skirts in cotton and linen are a great fabric for the summer season to allow for breathability.
During the cooler summer days, you can wear a maxi dress, which will give your legs protection from the breeze whilst maintaining that chic, ladylike summer style.
No outfit is complete without suitable and comfortable footwear; summer follows the same rules as spring with regards to its footwear choices and is the perfect season for flat ballet pumps and comfortable sandals.

Knitted Top
/ Top Floyd
/ T-Shirt / Trench Coat
/ Never Been Butter Top
/ Denim Shirt / Cardigan
/ Hoodie / Leggings
/ Harem Pants
/ Scarf
/ Paisley Scarf
/ Boots
What to pack for Zurich in autumn
Weather:
Liz says: Autumn weather can be unpredictable; it can range from sunny days to rain and even snow. Autumn is a difficult season to dress for due to the fact that outdoors is cold, and inside the buildings and public transport the central heating leaves you hot. The perfect idea for dressing in this weather is layering. The season contains short days and along with the disappearing light comes a noticeable drop in temperature.
Packing List:
The colours of autumn should reflect the colors of your wardrobe; this is a fantastic season for rich earthy colours such as browns, tans and oranges. Scarves are a wonderful accessory for any outfit and you can purchase them in one of these tones to brighten up an otherwise neutral outfit.
Layering is essential, so include 3/4 tops and long sleeve tops to suit the weather, you can dress these with a jumper for the warmer days or a jacket or warm coat. A pair of jeans or pants will look stylish with a pair of warm and waterproof boots, leather boots are the perfect companion for any autumn wardrobe giving an edge to your wardrobe.
During the evenings if you wish to be slightly dressier, include a blazer in your wardrobe, this can be worn with a rich scarf and will create a classy look.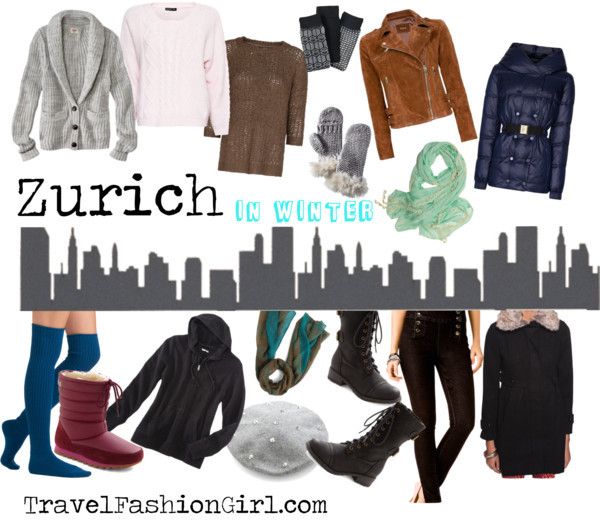 Cardigan / Sweater / Sweater Halvo
/ Biker Jacket
/ Coat
/ Hoodie Jacket / Buttoned Waist Coat
/ Socks / Mittens /
Mint Scarf
/ Scarf
/ Ophelie Hat / High Socks / Snow Bordeaux Boot
/ Black Boots
/ Jeans
What to pack for Zurich in winter
Weather:
Liz says: the winters in Switzerland are cold, grey and dull and it is difficult to find a balance between the freezing cold outdoor temperatures and the indoor heating. During winter you can expect rain, and snow with few day-light hours. The weather is unpredictable and the fog can restrict your travels if you are planning on going up the mountains.
Packing List:
Boots are the perfect winter footwear; purchase a pair that is both waterproof and lined to keep your feet dry and warm at all times. Layering is essential for winter and the difference in temperatures from the outside to inside can be quite extreme include your vests, 3/4 tops and long sleeve shirts that you can wear with jumpers (try to stick to a neutral colour to ensure it is easier to mix and match) and a nice warm coat. A woollen scarf, gloves, ear muffs or a hat are also essential accessories for any winter wardrobe to keep your extremities warm and protected from the cold.
Do not forget your jeans, and include a pair of thermals for the bitterly cold days, which you can wear underneath your clothing.
A helpful tip is to bring along a pack of tissues, as the cold can cause havoc with your sinuses and you'll want to be prepared.
A Final Tip
Be daring on your Switzerland holidays and explore places that lead away from the main streets. In addition common courtesy and an interest in the culture can go a long way in helping you during your trip. Although most Swiss people are able to speak English it shows respect if you attempt to address them in their native tongue "Sprechen Sie Englisch?" ("Do you speak English?") This will result in you receiving a much warmer reception.
An amazing place for Swiss food, and reasonable priced, is Zeughauskeller on the Bahnhofstrasse, however be sure to book in advance to avoid waiting.
---
Enjoy your Switzerland Holidays!

What are your tips on What to Pack for Switzerland Holidays?
---
Please note: Most of Europe's Budget Airlines have this Carryon Bag Allowance: 55cm x 40cm x 20cm. Always check your airlines individual baggage rules and regulations in advance.
---
For more tips, please read these Europe packing lists:
Suggested travel resources:
Please read our Ultimate Packing List for Europe featuring stylish outfits and travel tips for 9 countries.
Hope this packing list helps you plan what to pack for Switzerland Holidays: Zurich so you can dress like a local. Don't forget to share the love on Facebook, Twitter and Pinterest. Thanks for reading!
---
Liked this article? Check out similar posts:
Share and Enjoy