Wondering what to wear in Galway in fall and winter? This is what you need to bring if visiting Ireland's beautiful west coast!
---
What to Wear in Galway: Fall and Winter
Written By: Fiona Ní Chéirín
---
If you're planning a trip to Ireland, don't just pack for the specific season in which you're visiting, because weather in Ireland can be VERY unpredictable.
See our Ireland packing list here!

Even in the summer months–when you'd think that shorts and sleeveless tops should fill your suitcase–that's just not the case! Instead, during the summer, you could wear a pair of sandals one day and a wooly pullover the next! (Here are some tips on what to wear in Ireland in summer!)
The same goes for every other season–you just never know. The phrase "the luck of the Irish", definitely doesn't apply to our weathermen!
Let's take a look at fall and winter and which items are worth packing when traveling to County Galway, which is situated along the tourism trail known as the Wild Atlantic Way.
Normally, the weather in fall turns a little cooler–not that it was super warm before that! But here are some essential things to know what to wear in Galway if you're traveling in fall and winter.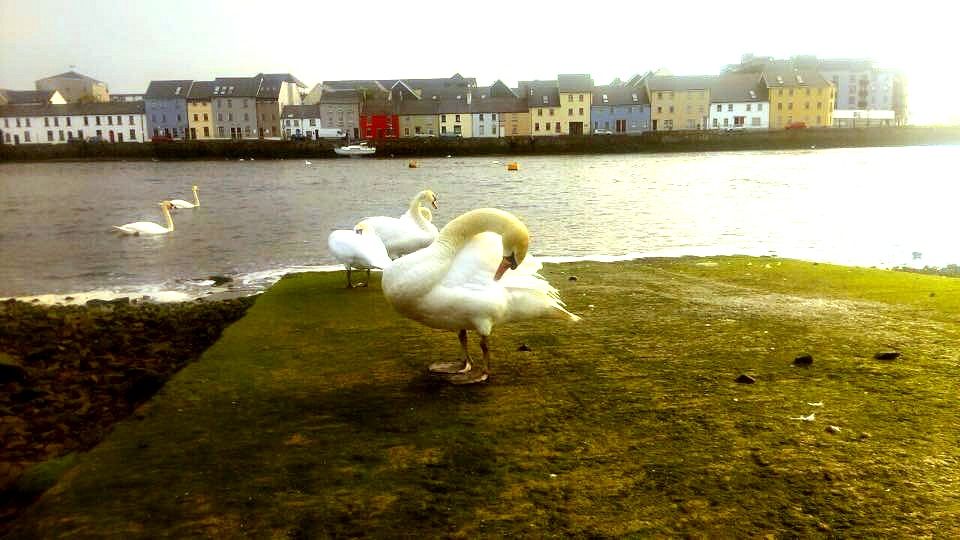 ---
What to Wear in Galway in Fall
---
This is what to pack for Galway in fall:
➊

 Waterproof Jacket
The North Face Waterproof Jacket
This is one very important item to throw in your bag if you're planning a trip to Galway. We're well known for the occasional drizzle; it doesn't matter which season it is!
There are so many great affordable brands for raincoats at the moment, plus they're light to carry, so definitely worth investing in. Waterproof jackets are not too heavy to wear even if the weather is humid.
Here are some stylish travel raincoats!
➋

 Warm Tops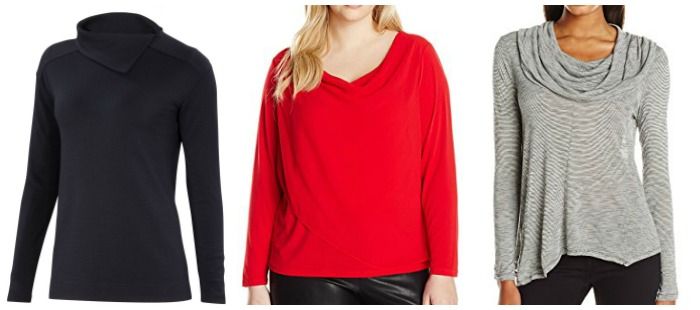 Ibex Top / Knit Top with Overlay Plus / Jersey Top
It's definitely worth packing two to three warm tops. Ideally, layer light long sleeve tops; it's not too warm, yet appropriate to keep the chills away. (Learn to layer here.)
When planning what to wear in Galway in fall keep in mind that there may bring some rain, but often the temperature doesn't call for heavy attire.
Find out how to stay warm in cold weather!
➌

 Formal Clothing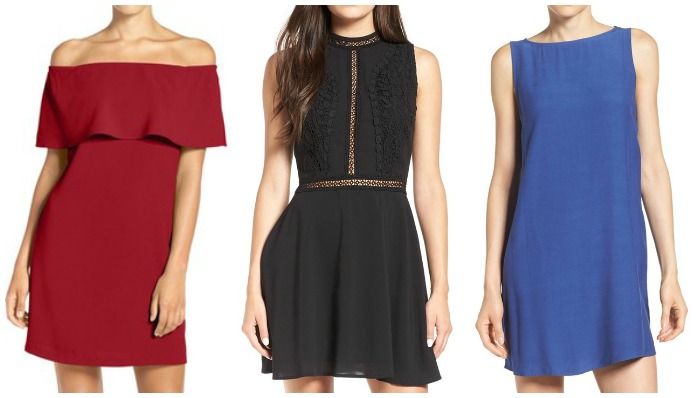 Off the Shoulder Dress / Crochet Fit & Flare Dress / Shift Dress
Galway has some very beautiful restaurants, especially in the heart of the city at Quay Street. Galway is a relaxed city–it wouldn't be frowned upon to go out wearing a pair of sandals or runners; however, it does have some fine restaurants, so it's worth making the effort to pack that special dress.
Here are a few tips on the best heels for travel!
➍

 Runners

Even though Galway is ranked as the 4th biggest city in Ireland, the streets are closely connected, making it easy to get around on foot. You can see a lot in one day, so it's worth throwing in a pair of running shoes or sneakers to make it all more enjoyable.
Also, if you enjoy exercise, you should definitely head out to Salthill; the beautiful seaside-resort close to the city. You can walk from the city to Salthill in about 15 minutes.
There, you'll find the stunning Salthill promenade with all of Galway's fitness fanatics either running, jogging, walking, or enjoying a nice stroll with beautiful views of Galway Bay.
Alternatively, try one of these versatile sneaker styles!
➎

 Backpack
Herschel Backpack / Fjallraven Kanken Daypack / Longchamp Backpack
If you're visiting Galway during the fall, there are plenty of day trips to get you away from the hustle and bustle of the city. It's worth packing a small backpack to carry all the little essentials.
You can take a day trip out to Connemara, where you'll experience nature at its best, with beautiful landscapes, beaches, and mountains. You can also visit the Connemara National Park and work up an appetite by climbing Diamond Hill, or take a boat to the famous Aran Islands.
With all this travel, a cute backpack would be very useful!
➏

 Camera
Galway is a cultural city and just voted European Capital of Culture 2020. With many famous landmarks such as The Spanish Arch, The Claddagh (which is world famous for the Claddagh Ring) the Galway City Museum, and more, it would be a shame not to have the photos to look back on of your time in West of Ireland's most beautiful city.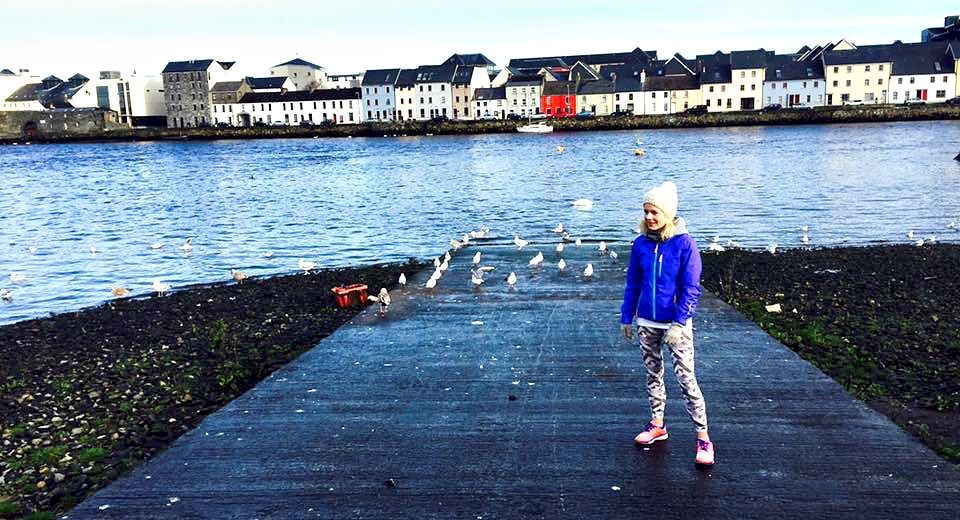 ---
What to Wear in Galway in Winter
---
This is what to pack for Galway in winter:


➊

 Winter Coat
Wool-Blend Coat / Down Coat / Wool-Blend Parka
Winter in Ireland could bring you dry weather but the temperature normally won't exceed 12°C/54°F. (Check the weather before you go for the most accurate forecast.) The main item you should pack is a warm coat or jacket that you'll find yourself wearing each day on your trip.
Read this guide on how to pack for cold weather!
A warm down jacket is great if you're planning many outdoor activities but if you plan on spending most of your time in the city, opt for a chic but warm wool-blend coat like the ones shown above.
Remember that you'll most likely be wearing your coat in most of your pictures. Why not use a fun bold winter coat instead of a traditional black style?
➋

 Waterproof Jacket
Waterproof Down Parka / Single-Breasted Trench / Classic Trench
As with fall, remember to bring a waterproof jacket when planning what to wear in Galway in winter. It's not going to take up much room in your bag, so throw in a raincoat, as we're prone to some nasty gray clouds in winter. It's best to be prepared!
➌

 Wool Clothing
Ibex Dress / Tippi Turtleneck / Ibex Izzi Pants
While you want to be warm on your trip, you don't need to sacrifice all style. I'd recommend packing some warm wool basics that you can mix and match with other items of clothing.
For example, try a long wool cardigan, a long sleeve top, and maybe a few pairs of tights that you could pair with a skirt or layer with a dress.
Find out why merino wool is the best fabric for cold weather travels!
➍

 Jeans
Midrise Ankle Jean / Vixen Sassy Ankle Jean
Who doesn't like wearing a nice pair of jeans? They're probably the most comfortable and easiest items of clothes to wear for travel to Europe. They'll keep you warm and can be dressed up or down.
➎

 Hat & Gloves
Touch Tech Gloves / Silk Scarf / Slouchy Beanie
There's a lot to do and see in Galway, therefore you'll find yourself doing a lot of walking on foot, as the streets are very closely connected. Make sure to bring a warm hat and a pair of gloves to keep you nice and cozy!
Take a look at these stylish winter accessories for more ideas!
➏

 Boots

Buckle Waterproof Boot / Waterproof Snow Boot / Waterproof Short Boot
The best kind of footwear to wear in Galway during winter is a nice pair of boots. Bring one pair in a neutral color that goes with everything, either a pair of ankle boots or knee high boots would suffice.
If you'd really like to explore the city, throw in a pair of running shoes. There's nothing like being comfortable when you're out for the whole day. Or maybe, you might fancy a nice stroll along Salthill Promenade; Galway's beautiful seaside resort.
Take a look at these waterproof boots for cold weather travels!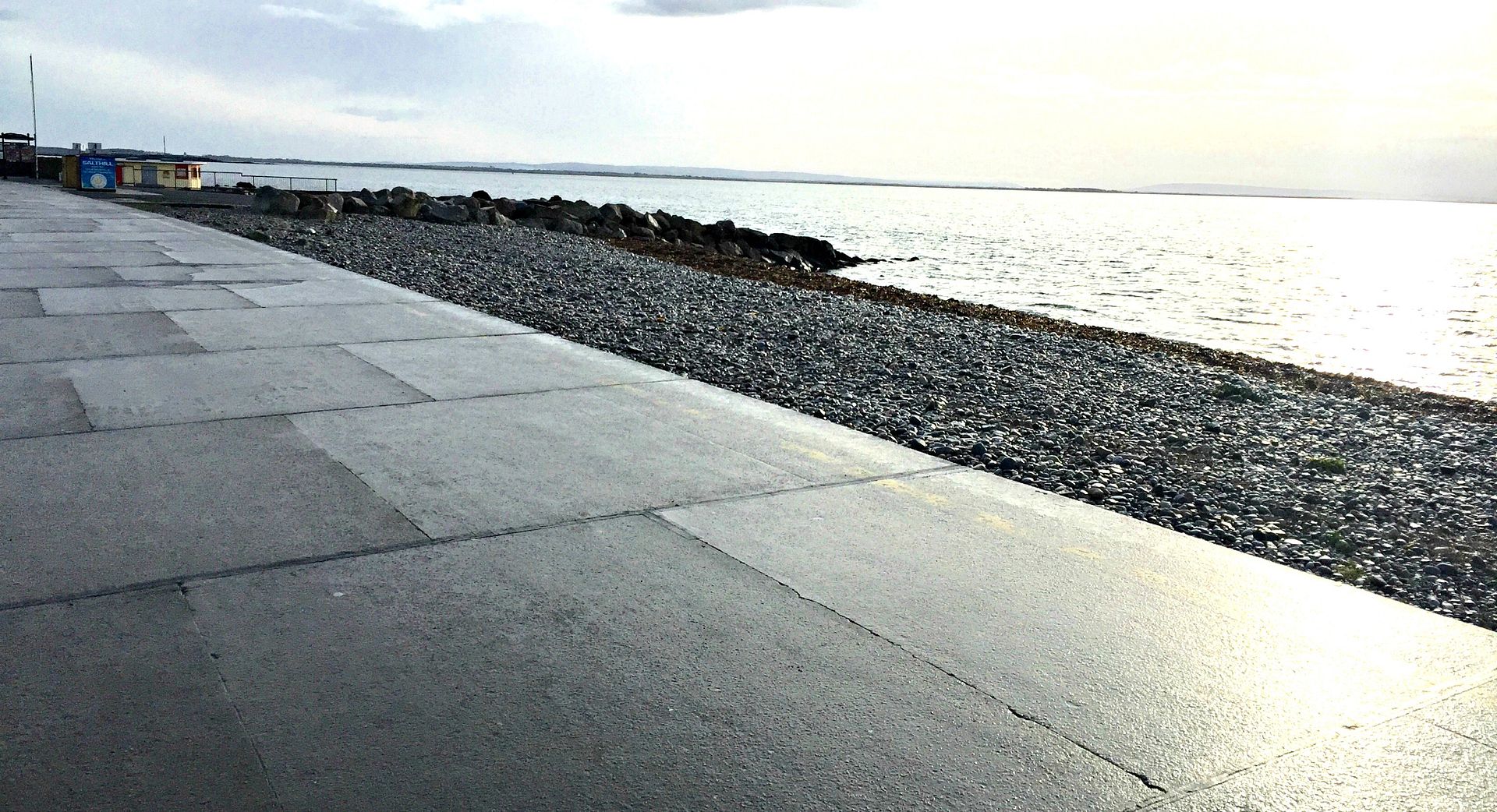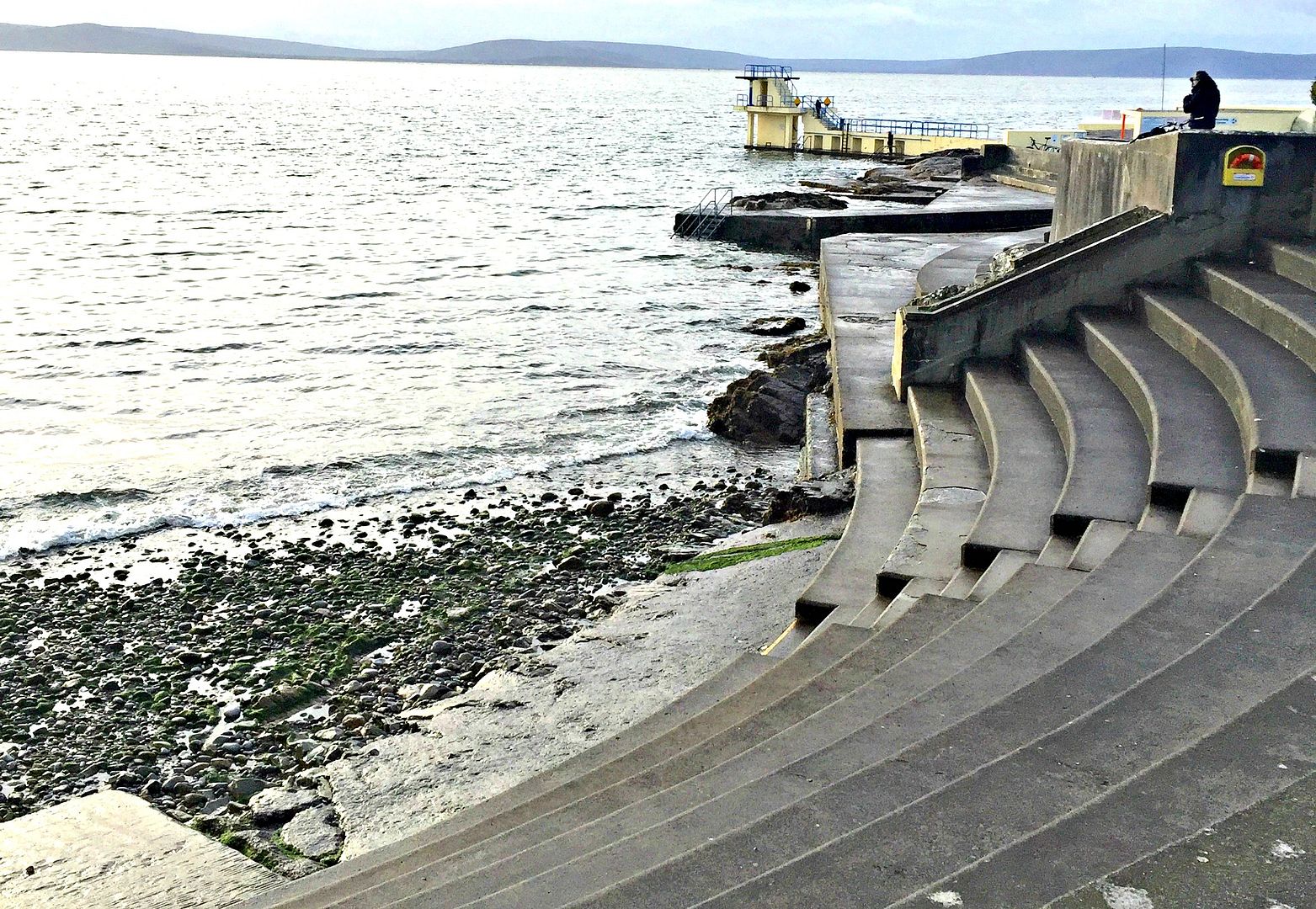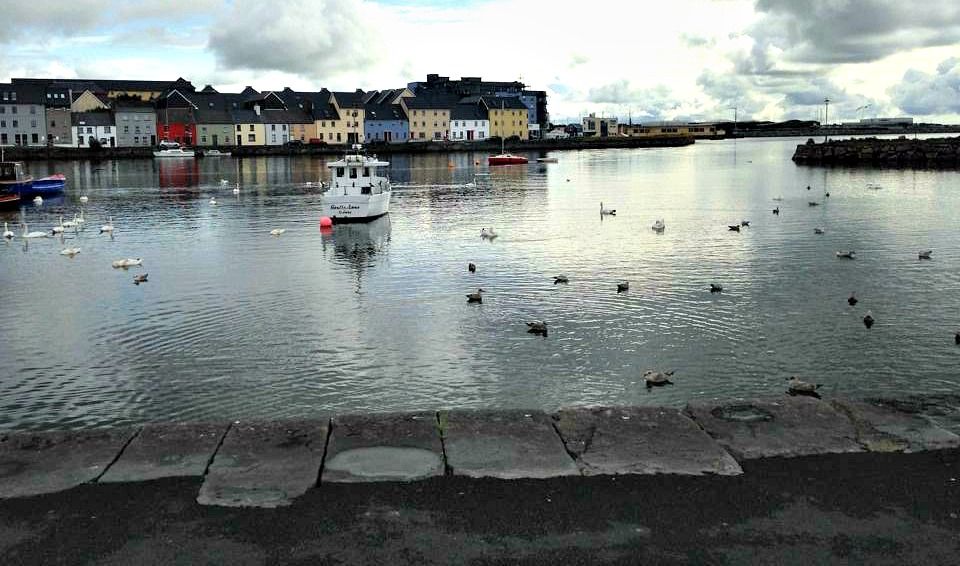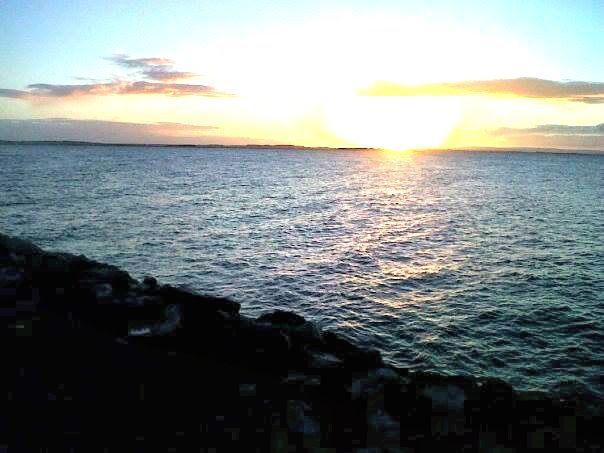 ---
What are your tips on what to wear in Galway in Fall and Winter? Share them below!
---

Please note: Most of Europe's budget airlines have this carryon bag allowance: 55cm x 40cm x 20cm. Always check your airline's individual baggage rules and regulations in advance.
---
LIKED THIS POST? PIN THIS PIC TO SAVE IT!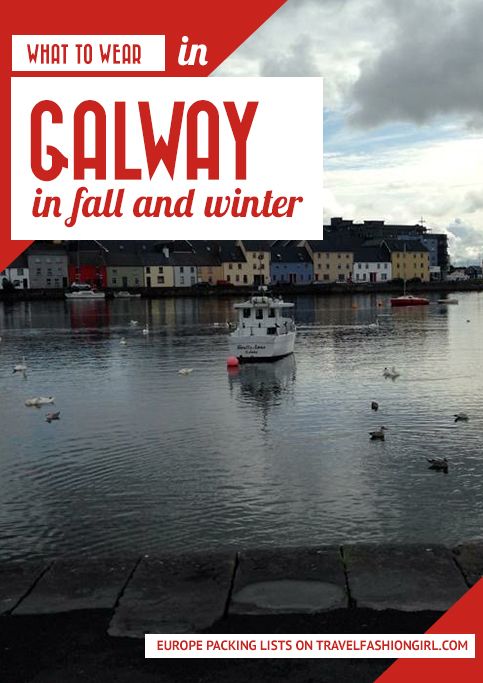 ---
For more Europe Packing Lists, please read:
Suggested travel resources:
Please read our Ultimate Packing List for Europe for more tips!
---
I hope you liked this post on what to wear in Galway in fall and winter. Please share with your friends on Facebook, Twitter, and Pinterest. Thanks for reading!
---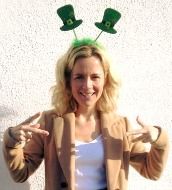 Author Bio: My name is Fiona Ní Chéirín and I live in County Galway in the West of Ireland. I work as a Freelance Assistant Producer in the Irish TV Industry, therefore I'm free to pack that case and set off exploring the world whilst staying stylish at the same time! Hope you enjoy all my travel advice!
---
Liked this article? Check out similar posts:
Share and Enjoy