For this edition of Locals Approved Packing Lists, Bex has helped provide insight on a local's opinion for what to wear in Greece.
---
What to Wear in Greece: Athens
edited by Cailyn Cox
---
Athens Clothing Style
To ensure your wardrobe allows you to blend in with the locals, it is important to remember that Athens is known to be a city that is smart-casual, which means that the men are dressed impeccably and the woman are unashamed of their bodies, and opt for clothing that enhance this, such as short skirts and incredibly high heels.
It is acceptable to wear jeans around the city, providing you dress them up with a smart blazer or   blouse and elegant accessories. The most important factor when travelling to Athens is of course to remain neat and presentable.
Travel Essentials
As you plan what to wear in Greece, keep in mind that you will need sunglasses year round, even during the winter months. In winter however you do see a drop in temperature, and you will need warmer clothing such as sweaters and waterproof jackets to protect you from the elements.
Since there are many historic and beautiful sites throughout the city, such as walking up the Acropolis, you must ensure that you have appropriate footwear, as the easiest method for getting around and sightseeing is on foot. Your footwear should comprise of boots for the colder months and simple comfortable brogues for the warmer months.
Athens Shopping
If you find you have left behind an item, or you need to add to your holiday wardrobe, stores such as H&M, and the Greek chain store Sprider have good quality and reasonably priced clothing. You can wander through Ermou Street, which is just off Parliament Square, and is the shopping district of Athens and the best place to find a large variety of shops to fill your every need.
What to wear in Greece, and in Athens in particular, plan for smart-casual attire. Bring a pair of heels or better yet, comfortable wedges, on your trip to dress up your outfit for the evenings or if you're dining out.
What to pack for Athens in spring
1. Halter Top 2. Slit Side Top 3. Sheer Top (similar) 4. Printed Chiffon Shirt 5. Crop Top 6. Printed Dress 7. Tunic Dress 8. Sheer Midi Skirt 9. Skinny Jeans 10. Roll Up Shorts 11. Color Block Blazer 12. Loose Cardigan 13. Tassel Loafers (similar) 14. Ankle Boots 15. Crossbody Bag 16. Sunglasses 17. Printed Scarf 18. Travel Umbrella 19. Fedora Hat (similar) 20. Black Belt
Weather:
Bex says: Spring weather can range between warm to hot, with an average temperature between 19 degrees C to the mid 20's or 66F -77F.
Greece Packing List:
As mentioned, Athens weather is warm, so you can enjoy the freedom that comes with the weather. Spring is considered the best season to plan a trip to Greece as the temperatures are more moderate in comparison with the summer months.
When planning what to wear in Greece in Spring, include jeans and smart capris trousers in darker shades which you can team with bright vests and blouses for the warmer days, and long sleeve shirts and 3/4 tops for the cooler days and bring a light jacket for the evenings to ward off the chill.
Accessorise with outfit with sunglasses, and a chic sun hat. Skirts and shorts are perfect to wear during the day worn with ankle boots. You can purchase your favourite pair in a selection of different colours, but black is a great colour as it allows you to wear them with any clothing items and they are forgiving with regards to dirt. Remember Athens is a city where the easiest way to explore and get around is on foot, walking shoes are essential!
What to pack for Athens in summer
1. Stripe Crop Top 2. Black Crop Top (simialr) 3. Cold Shoulder Top 4. Spaghetti Strap Top 5. Off Shoulder Ruffle Crop Top (simialr) 6. V Neck Dress 7. Summer Dress (similar) 8. Denim Shorts 9. High Waist Shorts 10. Denim Skirt (similar) 11. Pleat Vest 12. Waterfall Cardigan 13. Flat Sandals 14. Ballerina Flats (similar) 15. Straw Bag 16. Sunglasses 17. Straw Hat 18. Travel Umbrella 19. One Piece Swimsuit (similar) 10. Layered Necklace
Weather:
Bex says: Athens is HOT during summer, in particular August, you can think a sweltering 40C/104F degrees and higher, which means that the city virtually shuts down as the locals attempt to escape the heat.
Greece Packing List:
you will be experiencing very hot temperatures so you may as well take full advantage of all the clothing that embodies the perfect summer wardrobe. A beautiful bright summer bikini will be your best friend, team it with a floppy sun hat for extra protection from the sun, and do not forget your sunscreen lotion and sunglasses.
When planning what to wear in Greece in Summer, you will want to pack tank tops, vests, shorts, mini-skirts and light dresses, these can all be in bright colourful shades to reflect the season, in addition to the colours, opt for thin light materials such as cotton and linen for extra breathability and coolness.
This is one time when you should leave your boots at home, and bring out summery sandals in a variety of patterns and shades; you can also opt for a pair of comfortable flat pumps, which can be easier to walk in than sandals.
The summer evenings include cocktail parties and Open Air cinema screenings, which are the perfect occasion for you to wear your best cocktail dress and enjoy an evening out on the town, relishing in the culture and cuisine.
Whilst it is unlikely that you will need a jacket during summer, pack a light cardigan just in case you experience a cooler evening.
What to pack for Athens in autumn
1. Cold Shoulder Top 2. Draped Blouse 3. Wrap Bralet 4. Cropped Top 5. Denim Shirt 6. Draped Bodycon Dress 7. Bodycon Dress (similar) 8. Harem Pants 9. Knit Bodycon Skirt 10. Studded Shorts (similar) 11. Bomber Jacket (similar) 12. Faux Leather Jacket (similar) 13. Suede Ankle Booties (similar) 14. Cowboy Boots 15. Saddle Bag 16. Cat Eye Sunglasses 17. Travel Umbrella 18. Captain Hat (similar) 19. Layered Necklace 20. Leopard Scarf
Weather:
Bex says: it remains warm on your trip to Greece until November, autumn is not definable as a season, between the summers and winters, however the temperatures do fluctuate, with the possibility for rain. You will find an average temperature ranging between 18C/64F to 23C/73F.
Greece Packing List:
When planning what to wear in Greece in autumn then it would be best to refer to that of spring's guidelines, as the weather is very similar between these two seasons and you would need very little, if any variation with perhaps only the addition of a waterproof jacket and a scarf.
What to pack for Athens in winter
1. Henley Shirt 2. Button Blouse 3. Side Slit Sweater 4. Round Neck Jumper 5. Turtle Neck Sweater 6. Sweater Dress 7. Sweater Dress (similar) 8. Skinny Jeans 9. Plaid Skirt 10. High Waisted Leggings 11. Hooded Coat 12. Tweed Coat 13. Waterproof Boots 14. Faux Suede Boots (similar) 15. Leather Satchel 16. Beanie Hat (similar) 17. Leather Gloves 18. Infinity Scarf 19. Cat Eye Sunglasses 20. Tights (similar)
Weather:
Bex says: Greek winters can be cold, and it can even snow in Athens during the winter seasons, with less daylight hours you will find an average minimum temperatures during the day will reach between 5C/41F- 8C/46F degrees and drop at night to about 3C/37F degrees.
Greece Packing List:
To ensure your winter wardrobe is practical, stylish and keeps you warm add gloves, a warm hat and a thick woollen scarf. Use the base of jeans, and it could be beneficial to include a pair of thermal underwear or silk long johns that you can wear underneath your jeans on the colder days. Layering is important, so think long sleeve tops, jumpers and even t-shirts for the warmer indoor temperatures.
---
When planning what to wear in Greece in winter, choose boots that are waterproof and lined with materials such as wool, will ensure that your feet are kept dry and warm at all times, also include a waterproof jacket and/or a coat, to protect you from the elements!
What else would you suggest when planning what to wear in Greece?
---
Please note: Most of Europe's Budget Airlines have this Carryon Bag Allowance: 55cm x 40cm x 20cm. Always check your airlines individual baggage rules and regulations in advance.
---
For more tips, please read these Europe packing lists: 
Suggested travel resource:
Please read our Ultimate Packing List for Europe featuring stylish outfits and travel tips for 9 countries.
---
LIKED THIS POST? PIN THIS PIC TO SAVE IT!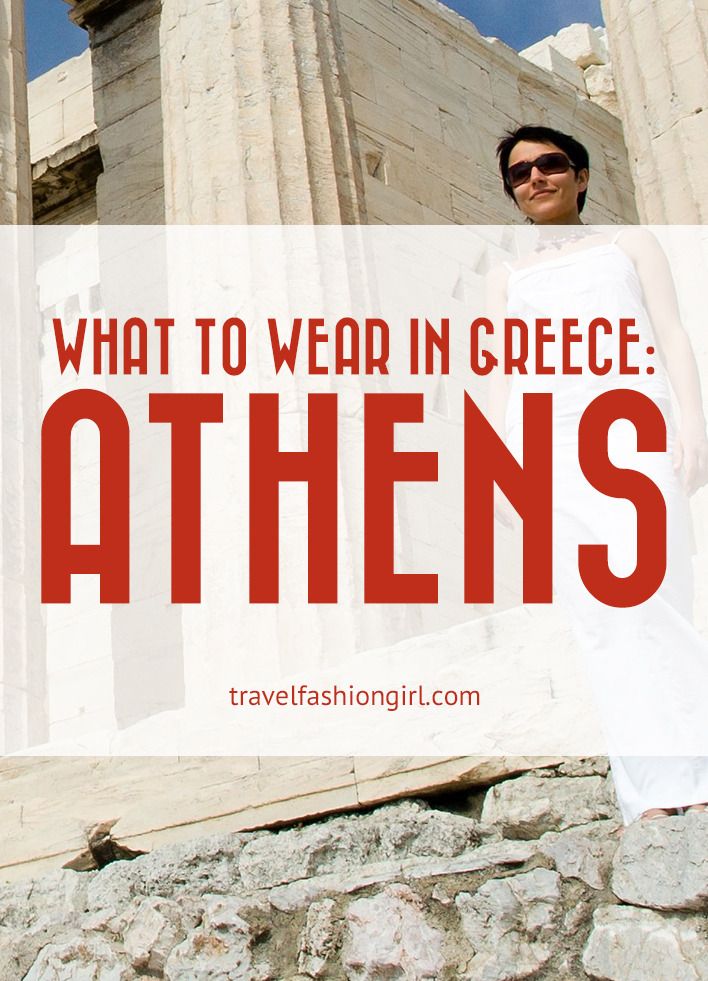 ---
Hope you liked this post on what to wear in Greece. Don't forget to share the love on Facebook, Twitter and Pinterest. Thanks for reading!
---
Author Bio: Bex, has lived in Greece for 4 ½  years and of that time she has lived in Athens for 3 ½  years, she is an award winning blogger, teacher and published short story writer, and a self-confessed Winnie the Pooh and cat lover. Not only is she a travel enthusiast, she also gives great tips on what any stylish traveller will need when on holiday in Athens. You can check out her website here: www.lifebeyondbordersblog.com
---
Liked this article? Check out similar posts:
Share and Enjoy