For this edition of Locals Approved Packing Lists I received help from Ashlea, in order to help you plan what to wear in Ireland when visiting Dublin. Ashlea is a 22 year old actress and model who has lived in Dublin for the last 2 years. An outgoing and vivacious person she has a zest for life and Starbucks soy-milk hot chocolates.
---
Visiting Dublin: What to Wear in Ireland
Written by: Cailyn Cox
---
Dublin Clothing Style
When considering what to pack when visiting Dublin, remember that the city is a very trendy city combining formal and casual wear.
However the most important thing is to always look presentable and avoid anything too revealing such as crop tops or short shorts as you will be cold, and will look inappropriate.
Whilst color is worn during the warmer months, at all times avoid the neon colors.
Travel Essentials
When planning what to wear in Ireland, remember that it is a country that is known for its 4 seasons in one day weather; unpredictable would be a good word to describe it.
You will need a travel umbrella or waterproof gear such as a parka, and sensible walking shoes, all variations of women's leather boots or a similar water-resistant material will work nicely.
Again, avoid trainers, unless you are actually going to the gym.
We love these womens leather boots!
Shopping in Dublin
When visiting Dublin, don't forget about its many shopping malls and popular shopping areas that include, Grafton Street and St Stephens Green.
If you are looking for a shop that will stock all your clothing needs and at a reasonable price then you can head to Penney's. They tend to keep up with the latest trends and stock just about everything.
Another fantastic and affordable shop is Bershka, which tends to be stylish, although at times the items can be slightly juvenile.
Sheer Top
/ Spring Zephyr Top
/ That's Demure Like It Top
 / Faux Leather Trim Jacket
/ Knit Sweater
/ Sweater Foiling
/ Gap Wool Puffer Bomber / Jeans
/ Flight Cru Bootie in Whiskey
/ Banana Republic Paige Wristlet / Rain Along the Seine Umbrella
/ Banana Republic Tonal Cotton Scarf / New to New England Flat
What to Wear in Ireland: Dublin in spring
Weather:
Ashlea says: you can expect mild temperatures with the occasional rain showers, wind and spells of sunshine. The days grow longer during the spring months, and further in the country you will see green landscapes, yellow tulips and countless spring lambs.
Packing List: 
Spring in Dublin is cool, so you will find the need for a good pair of jeans in the darker shades – black is always a trusted favorite. You can team your jeans with comfortable and flat walking shoes such as a pair of ballet travel flats or even converse style shoes in black or navy. However you should still be prepared for wet weather, so bring a pair of waterproof flat boots or ankle booties. Don't forget your waterproof gear, whether this may be a jacket or a strong but small fold-up umbrella.
Layering is essential, light sweaters, jackets and t-shirts/tanks are perfect, try to stick again to the neutral colors however you can include tops in pastel colors, as pastels are feminine, and bright whilst also complimentary to any skin tone. Your final splash of color can come from a simple crossbody bag, and scarves, cashmere or silk scarves are perfect for the spring weather and look elegant, instantly enhancing a look.
We love these cross body purses for travel especially when it comes to avoiding theft.
Trench Coat
/ Poetry Festival Cardigan / Sweater Serg
/ Dress Cottli
/ Skirt Elastic
/ Jeans
/ Textured Woven Shorts w/ Belt
/  Ditsy Triangle Denim Shorts / Tights for Every Occasion in Black
/ Banana Republic Lana Paisley Silk Scarf / Gap Leather Sneakers / Dashing to Bootie in Deep Taupe
/ Gap Wooden Wedge Sandals / Style My Sunshine Hat
/ Unisexy Sunglasses
/ Duck Duck Umbrella in Red
What to Wear in Ireland: Dublin in summer
Weather:
Ashlea says: the summer days grow longer and you can expect more daylight and beautiful late crimson sunsets with moderate to warm temperatures. Summer is a much drier season and everyone appears happier; however you can still expect rain and wind, so ensure you come prepared.
Packing List:
As mentioned summer is a drier season. However, you should always be prepared for the rain. The best thing is to always check the weather forecast before you leave home!
Bring your umbrella and hoodies as they are not as heavy duty material to those you'll need in winter, but will protect you from the chill. Also pack a cardigan that you can wear with your summer dress, maxi dress or maxi skirt and shorts.
Stockings or tights are always a great option to wear underneath dresses or shorts for warm layers if needed. Always pack a pair of jeans. They're comfortable and durable and will keep you warm.
Summer is all about the celebration of color, but avoid colors such as neon. While they are worn here they are not considered fashionable, rather opt for the pastel colors again, or rich deep shades such as burnt orange and burgundy.
A scarf will add warmth and a subtle hint of color to any outfit, you can also bring a blazer on your travels. Opt for black, as you can then team it with any look adding a touch of sophistication when worn with simple jeans.
Lastly shoes, bring ballets flats, and another pair of closed shoes such as brogues or ankle booties to protect you from the elements and the colder days. A third pair of shoes are walking shoes of your preference such as Toms, Converse, or something with more support. Read more about how to choose the best shoes for travel.
 These ankle booties are a versatile, stylish option when visiting several countries in Europe.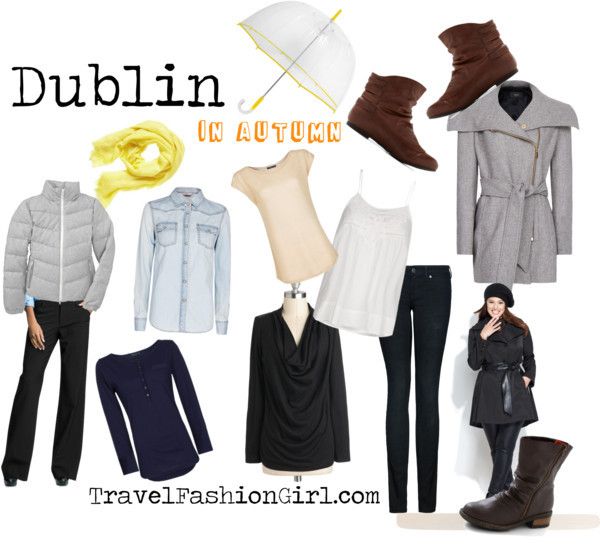 Gap Wool Puffer Bomber / Denim Shirt
/ T-Shirt Newbasic
/ T-Shirt Vanity
/ Best Day of the Chic Sweater
/ Top Mosti
/ Trench Coat
/ Trench Coat
/ Jeans
/ Trousers
/ Orange Grove Excursion Boot
/ Buckle Buccaneer Bootie
/ Un-teal the Clouds Clear Umbrella in Canary
/ Crinkle in Time Scarf in Glow
What to Wear in Ireland: Dublin in autumn
Weather:
Ashlea says: the autumn seasons have very strong winds and frequent rain with a visible drop in the temperature.
Packing List:
For autumn you want to ensure you are kept warm and dry, bring a warm jacket to protect you from the wind-chill and a trench coat for added warmth.
Layering is once again needed for the colder weather, so add warm wool jerseys, and long sleeve tops and simple plain t-shirts to your look. You can dress these with dark skinny jeans, and tailored trousers in darker colors.
Ankle booties or warmer calf length boots are also a great look for the autumn, opt for boots in leather or a faux leather material to ensure that your feet are kept dry and protected from the elements. What look is complete without accessories? Accessorize your looks with bright scarves in which ever pattern or shades best suit your personality, and make you feel most comfortable.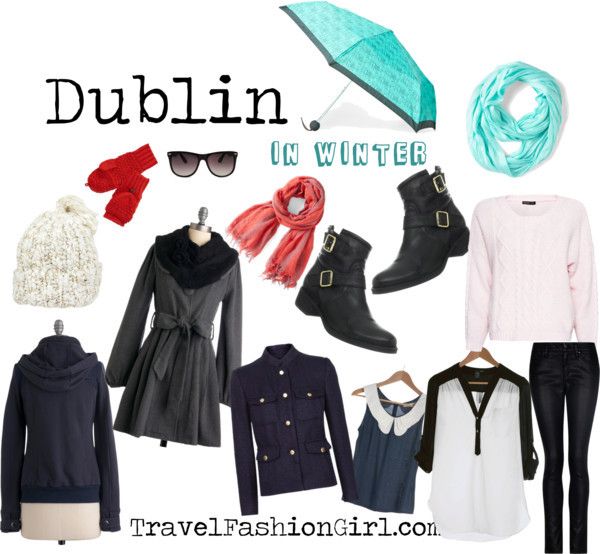 Leipzig Hoodie in Navy
/ Chimney Plume Coat / Jacket Biker
/ Retro Bike Ride Top
/ Pam Breeze-ly Tunic in Black and White
/ Sweater Tucan
/ Jeans
/ Brighten Up Circle Scarf in Sky
/ The Glow of Glass Scarf
/ Tiarraa Black Leather
/ Steve Madden Solid Cuff Hat / Gap Moss Stitch Convertible Mittens / Sunglasses
/ Umbrella
What to Wear in Ireland: Dublin in winter
Weather:
Ashlea says: you can expect cold temperatures on your winter vacation, with shorter days and heavy rainfall accompanied by strong winds and possible snowfall. Winter is the time to dress up warm.
Packing List:
Tall or mid-calf boots should be your winter pick; opt for a pair that has a warm inner lining for extra warmth and water-resistant on the outside to protect you from the cold and wet weather.  Don't forget a warm hat, such as a beanie, or ear muffs and a thick scarf and gloves. All of these items will act as insulators and can correspondingly be used as accessories to your wardrobe, choose them in shades and styles of your preference.
Jeans and thick trousers in the darker shades will act as your neutral pieces, which you can then wear with long sleeve tops, hoodies, and a warm winter coat. Layering is key! Lastly, bring along a waterproof proof jacket and a heavy duty umbrella.
Thermal under layers are highly suggested to be worn underneath all clothing such as this polyester/merino wool top and bottoms. The don't smell easily or need to be washed often. In fact, if you get cold easily or aren't used to cold weather, pack merino wool or silk under layers year round unless the weather forecast states otherwise.
Check out these stylish waterproof jackets for your winter travels.
Travel Tips
Ireland is one of the most beautiful places you can visit. When visiting Dublin you'll find a vibrant, cultural hub filled with history, you will be surrounded by longstanding architecture and museums, which include the Writers Museum, and the Viking museum, to name but a few.
The Irish people, regardless of the weather are perhaps some of the friendliest and genuine people you will ever meet. They will be more than happy to help you should you need directions or anything else.
The hop-on-and-off bus is a great way to explore the city, the driver's commentary is amusing and animated, the tour is in English but there is the option to listen on headphones in a variety of other languages, if you prefer. Looking for authenticity? There are countless historic pubs in the city such as Temple Bar and Johnnie Foxes, both are worth a visit and not to mention the famous Guinness Storehouse and the Jameson Brewery.
There is so much cultural diversity found within Dublin that is certain you will find something to suit your taste preferences during your vacation. You will have an amazing time in Dublin, regardless of the erratic weather, the general ambiance is grand (a word you will hear often).
---
Enjoy your trip to Ireland!
What are your tips on What to Wear in Ireland?
---
Please note: Most of Europe's Budget Airlines have this Carryon Bag Allowance: 55cm x 40cm x 20cm. Always check your airlines individual baggage rules and regulations in advance.
---
For more tips, please read these Europe packing lists:
Suggested travel resources:
Please read our Ultimate Packing List for Europe featuring stylish outfits and travel tips for 9 countries.
Hope this packing list helps you plan what to wear in Ireland when visiting Dublin so you can dress like a local. Don't forget to share the love on Facebook, Twitter and Pinterest. Thanks for reading!
---
Liked this article? Check out similar posts:
Share and Enjoy