When in Rome, do as the Romans! When visiting a new city, the best way to dress appropriately is by taking a look at what the locals are wearing. Rome native Lucia is here to offer Travel Fashion Girls advice on what to wear in Rome when you visit her beautiful city during the summer.
Bonus Tip: read this and find out what to wear to the Vatican!
---
What to Wear in Rome: Italy Packing List for Summer
---
To enjoy your stay in the Eternal City, you need to pack the right clothes so you can comfortably take in all the beautiful Italian sights. Here is my Italy packing list for Rome, as well as additional tips for visiting my city during the summer:
What to Pack for Rome, Italy
1. Tank Top 2. Ruffle Tank Top 3. Long Sleeve Tee 4. Tank Top 5. Printed T Shirt 6. Little Black Dress 7. Kaftan Tunic 8. Zipped Biker Jeans (similar) 9. Body Shaping Leggings (similar) 10. Denim Shorts 11. Tribal Print Kimono 12. Shimmer Cardigan 13. Leather Crossbody 14. Tennis Shoes 15. Thong Sandals 16. Wayfarer Sunglasses 17. Fringe Scarf 18. Buckle Belt 19. 2 Piece Bikini 20. Mini Bracelet
One t-shirt: This is necessary if you plan to visit St. Peter's Basilica or any other church, since visitors are not allowed to enter with bare shoulders or legs. Choose a light-colors t-shirt to stay cool in the hot weather.
Three cotton tank tops: These will be your allies during the days spent walking through the city to visit monuments. If you don't want to carry too many colors, then go for black: Italians consider this color elegant and you will be always fine dressing in black.
One long sleeve shirt: This is in case the temperature is a cooler than expected. White or black, it will pair perfectly with a pair of jeans.
One long dress: This is for a special occasion: you could end up dining in a charming hotel or being invited to a party. Be sure to have something elegant with you! (Like a little black travel dress!)
One pair of jeans: Dark blue. Italians wear jeans a lot, in different colors, and match them with almost everything. (Should you really pack jeans?)
One pair of leggings: They go with everything and are good for layering. (See how to mix and match travel outfits with leggings.)
Two pair of shorts: Denim or solid dark colors.
One swimsuit: Not too far from Rome is Ostia, a perfect place for a one-day trip to the seaside. Don't forget your swimsuit!
One tunic: Solid color, to be worn with leggings or as a cover-up if you go to the beach.
Shoes: One pair of Brazilian sandals for the beach. One pair of black sandals for the evening. And one pair of athletic shoes for walking in the city. There's a lot to see in Rome, so there's a lot of walking, too: choose something comfortable!
Makeup and accessories: Don't bring a hat with you: you'll probably buy one in Rome–white with a black ribbon!

Sunglasses / Infinity Brick Scarf / Gladiator Sandal / Ballet Flat / Cross-body Convertible Tote / Lonely Planet Italian Phrasebook
---
Now, we don't have to wonder what to wear in Rome – Thank you, Lucia, for the great Italy packing list and travel outfit tips!
What tips would you add?
---
 Please note: Most of Europe's Budget Airlines have this Carryon Bag Allowance: 55cm x 40cm x 20cm. Always check your airline's individual baggage rules and regulations in advance.
---
More Europe Packing Lists:
Please read our Ultimate Packing List for Europe featuring stylish outfits and travel tips for 9 countries.
---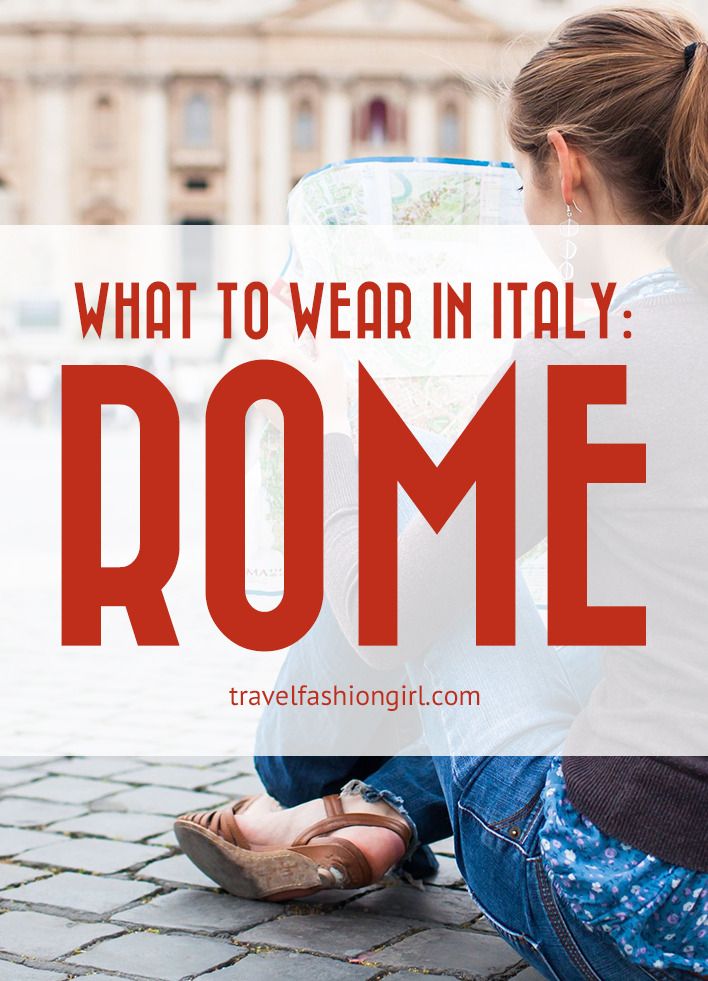 ---
I hope this packing list helps you plan what to wear in Rome so you can dress like a local. Don't forget to share the love on Facebook, Twitter, and Pinterest. Thanks for reading!
---
Author: Lucia is a girl from Rome that loves chocolate, Antonello Venditti's songs, and travelling. When on vacation, she prefers visiting cities, monuments, and museums, rather than going to the beach, and that's why she almost always returns home as pale as when she left. Lucia writes on behalf of Charmerelax.
---
Liked this article? Check out similar posts:
Share and Enjoy